Kelly Ball and Pia Koch share a laugh before they perform a two hands piano piece at Classical Open Mic at Buzzbrews in Feb 2018. Photo by Serkan Zanagar.
---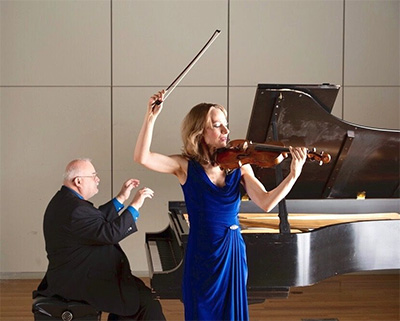 It's a Tuesday night at Buzzbrews Kitchen in Dallas' Uptown neighborhood, where tattooed waitresses with Bettie Page-inspired hairstyles are ferrying plates of hot pancakes and bacon to their tables.  On any given night inside this eclectic little joint of pop art décor, one may hear 80s new wave or 90s pop music piped through the overhead speakers.
Not tonight. Instead, on a stage in the corner of the room amid the clinking of silverware and chatting guests, four musicians are performing a piano quartet by 19th-century German composer Johannes Brahms.
While classical music within the space of neon Bud Light signs and psychedelic oil paintings of 20th-century music icons may at first seem like an unlikely pairing, this has been a weekly Dallas tradition for nearly eight years.
Welcome to Classical Open Mic Night, hosted by Open Classical DFW.
"I have a long history of doing alternative things in classical music," says Open Classical DFW's founder Mark Landson, who first stumbled across the classical open mic night in 2011. By that point, the classically-trained violist and Eastman School of Music alum had been searching for ways to create a solid community of classical musicians and fans in North Texas. His first shot at organizing classical music concerts began more than a decade earlier when he created a chamber music series at a restaurant on McKinney Avenue.
But something clicked that night at Buzzbrews. "Then, boom. The light just went off," he says. "I was like, 'Of course…Classical Open Mic, that is the answer. That is how you can galvanize a community."
The event was under different leadership at the time and attendance was often inconsistent. It also wasn't bringing in much money. "No open mic in the history of the world has made a lot of money," Landson explains. "But that doesn't mean that you can't make money using this as part of the puzzle. Use it as community outreach, a way to gain an audience, create those professional opportunities, then you can raise money as a nonprofit organization."
When the founders of the classical open mic night announced in 2011 that they were planning to scrap it, Landson and pianist Thiago Nascimento stepped in. Within a year, they started filling the restaurant every Tuesday evening. It was around that same time that Landson began dating Patricia Yakesch, who used her marketing background to help with promoting their events. During their first year of dating, the couple worked tirelessly to build an audience for Open Classical DFW activities, passing out cards at Klyde Warren Park events, creating a database of names, and ramping up their social media exposure.
In time, Landson negotiated a payment with Buzzbrews to cover the cost of hiring Nascimento as the house pianist and later, clarinetist Brent Buemi as the emcee. The group worked out a deal with Metroplex Piano to provide a glossy black Yamaha upright piano for the gig. They even introduced a tip jar.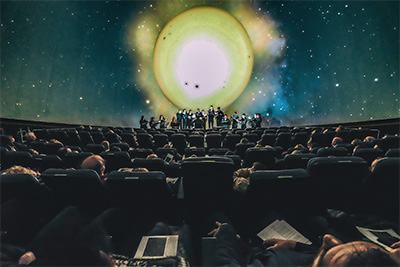 As Classical Open Mic continued to expand, Landson began directing his energy towards finding more performance opportunities for local classical musicians. A major milestone came in 2014, when Open Classical DFW received its official IRS designation as a 501(c)(3). Soon a board was formed, and the base of financial support broadened.
To date, Open Classical DFW has hosted 50 chamber music concerts in various venues across North Texas.  In 2017 alone, Landson was able to pay 65 musicians to perform. For an organization that operates purely on fundraising, many would say that's impressive.
A large chunk of Open Classical DFW's programming is devoted to its Artist Series, which works to present concerts for small and medium-sized classical groups in DFW. Landson refers to the series as the listening experience, while the weekly Buzzbrews event is the social one. "It's a way to give opportunities for classical musicians to be self-starters, to create projects, and have a way to get them out to the public," Landson says. "It's like Shark Tank for classical music. We invest in the promotion, advertising, etc."
One of Open Classical's newest collaborators is the Verdigris Ensemble, a new Dallas-based choral group led by Artistic Director Sam Brukhman. He and Landson met last fall and quickly found common ground on the need for innovation in classical music. When Brukhman told him about their upcoming concert based on the Apollo 8 mission, the two agreed that it was a perfect opportunity to work together. "About a week later, he (Landson) messaged me, saying that the UTA Planetarium might by a really cool space to experiment with live visuals while Verdigris performed," Brukhman says. "He sent me a live video of the space and I instantly told him, 'we need to do this.'"
In a region branded more for football stadiums and shopping malls, there's a lot to be said about celebrating and supporting classical music and the people who play it. Welcoming outside talent is also essential, which is why Open Classical routinely hosts performers from other cities, states, and even countries. In April, they hosted two concerts by the Texas Guitar Quartet. In May, the Houston-based Dancewicz-Doucet Duo will perform. Colorado's Altius Quartet and Rochester, New York's The Windsor Trio have also visited. "Altius Quartet and Windsor Trio are great examples of chamber groups who have won national competitions but are not in the regular big management tour circuit," Landson says. "(They're) high quality groups not yet entrenched with a ton of high paying concerts. We give them a way to make money and build their story coming through DFW."
The story-building continues in multiple ways. Back at Buzzbrews, Nikola Olic and Kelly Ball are having dinner while an electric guitarist plays a Bach piece for open mic night. The couple has been coming to Classical Open Mic nearly every week since they began dating in 2012. In fact, it's where they met. Olic sees this period of Dallas' cultural climate as being in a sort of renaissance, especially within the past ten years or so. "In terms of physical spaces that we have, in terms of the orchestra and their capabilities, and the groups that perform here, it's a very potent space," he says. "And there is no doubt in any of our minds that there's an absolute space for this. People come here from all sorts of established environments to join us and have a good time and there have been so many collaborative experiences. I feel that Dallas easily has space for this and we're looking forward to what's happening in the next ten years."
—AMY BISHOP