KAWS, WHERE THE END STARTS, 2011.
Acrylic on canvas. 84 x 120 inches. Collection of the Modern Art Museum of Fort Worth, Gift of the Director's Council and Museum purchase, 2012.
---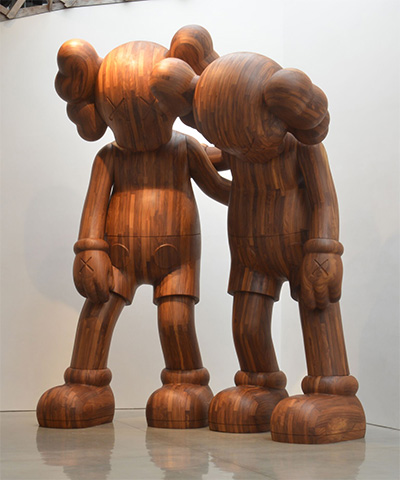 Brian Donnelly—better known as KAWS—has created art that is lowbrow, highbrow, commercial, and fine. Essentially recognizing no difference between art and commerce, he is known for a massive body of work that includes graffiti, painting, product design, toy making, and sculpture. But KAWS is in his early forties and probably less than halfway through his career.
Where the End Starts, which runs through Jan. 22, 2017,could be a wry response to the thought of a retrospective or to use the verbiage of the Modern Art Museum of Fort Worth, a "major survey exhibition" of 20 years of work.
"Artists don't like to hear 'retrospective,'" says Curator Andrea Karnes, who starting working with KAWS in 2011. "They think that means they are dead or about to be." The show shares the name of a KAWS painting in the Modern's permanent collection.
In several ways, KAWS has become a part of pop culture. He has contributed to animated series like 101 Dalmatians, Daria, and Doug. He designed Japanese toys, shoes for brands as big as Nike, and limited edition bottles of Dos Equis. He also provided album artwork for artists including Kanye West and illustrated magazine covers for such publications as The New Yorker. Back in 2013, KAWS even redesigned the statues presented at the MTV Video Music Awards.
This all started on the streets. KAWS grew up skateboarding in New Jersey and started painting graffiti. With an interest in design and logos, he chose his name for aesthetic reasons. Visually, it simply made a good tag. He started painting cartoonish figures with x-ed out eyes. After moving to New York City, these characters were used to subvert advertisements.
"I wouldn't say that he is ideologically like most graffiti artists," Karnes says. "For a lot of them it is difficult to straddle the line between illegal works on the street and entering the institution. There is not that same kind of conflict with KAWS. Graffiti art was just a way to work out his visual vocabulary and get his ideas in front of large audiences."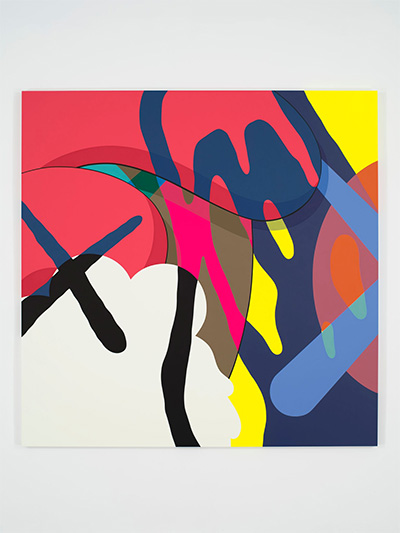 But KAWS is not simply a graffiti artist who transitioned to galleries. His imagery is inspired by pop culture and art history. He covers every possible layer of design, selling high and low like Claes Oldenburg or even Andy Warhol.
"For KAWS, part of his conceptual core is that visuals are equal whether they are in the form of a toy or a large-scale sculpture," Karnes says. "He wants to break the hierarchy of what is considered an important image, whether it is in pop culture or a museum."
Some of the early works on advertising posters were captured by collectors and included in this exhibit. They have aged very well. The spermatozoa-shaped figure with x-ed out eyes often becomes a mask for fashion models. Sometimes it has a long tail that wraps around women wearing undergarments or bathing suits. It serves as a logo on bottles.
The masks fantastically subvert the imagery, but eventually KAWS himself becomes a brand and branches out. His tag alone becomes enough to subvert Captain Morgan ads. A model holds an infant cartoon. In his work with model Kate Moss, she does not wear a mask so much as she starts to become it. A male mode has the cartoon figure tattooed on his chest.
After painting on billboards and photographs, KAWS demonstrated a desire to become a staple of pop culture rather than subverting it. He references The Simpsons and The Beatles, SpongeBob SquarePants and The Smurfs. But after using universally recognized imagery and repetition as starting points, KAWS makes slight changes that radically re-contextualize the imagery. This takes the viewer to some unsettling places, particularly with paintings of the "KIMPSONS." Homer, Marge, Bart, Lisa, and Maggie have their eyes x-ed out. They literally lose their heads, remove them from their bodies, and swap them.
From there, KAWS dragged his cartoon characters through several chapters of Modernism before turning them into sculptures of all sizes. This exhibit features sculptures that range from life-size to monumental. With x-marks for eyes, these figures often look like tragic variations of Mickey Mouse. They hug and pat each other on the back. Loners cover their eyes in disbelief or exhaustion, sit on the floor, or struggle to stand straight. A bronze sculpture has a child peering out from behind a parent's leg. A large fiberglass figure sticks its chest out with authority.
Paintings become denser, fragmented, and more abstract. Even Charlie Brown is so saturated that he would be completely unrecognizable if not for the familiar shape of his slouched walk. SpongeBob SquarePants is reduced to an eye and a scream. Titles like NYT, A Trade of Trust, and Another Generation Lost clearly start to convey more serious subject matter.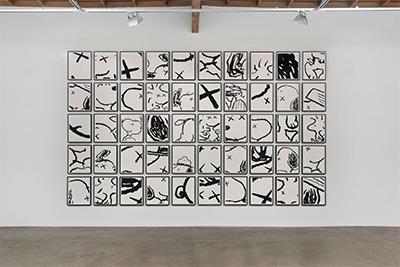 For some, people with a different ethnicity all look the same. For example: When the suspect is a black male, every black male can be a suspect. It happens all the time. There are people who can't tell Snoop Dogg from Samuel L. Jackson and some of them have badges. In a 2016 series called Five Suspects, KAWS seems to consider this idea with five portraits of Snoopy, Charlie Brown's pet beagle in the comic strip Peanuts. All are the exact same size and shape, but sloshed with different color schemes of acrylic paint. They are all the same but different, open to psychological interpretation like a Rorschach test.
Where the End Starts features 100 paintings, sculptures, and drawings. It also includes collaborations with fashion designers, toys, and skateboard decks.
"I think the title of the show is appropriate," Karnes says. "Like his work, it is happy and sad. Where the end starts is often an indicator of a new beginning, but it is also the end of something."
–JEREMY HALLOCK