Dallas Black Dance Theatre artistic director Bridget L. Moore in rehearsal with the company.
Photo by Xavier Mack.
---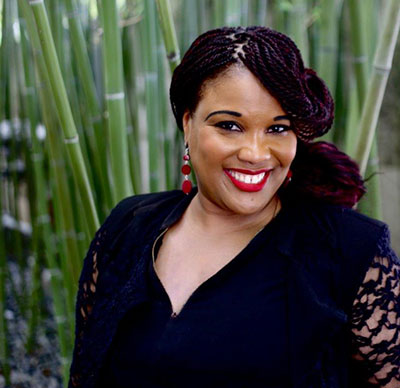 Bridget L. Moore can't quite see her alma mater from the window of her Dallas Arts District office. Named artistic director of Dallas Black Dance Theatre earlier this year, she works a block from Booker T. Washington High School for the Performing and Visual Arts, then called Arts Magnet High School. It was there that as a teenager she received her first formal dance lessons.
Moore grew up a few miles south of downtown in Oak Cliff. Among her earliest memories is moving the living room furniture out of the way so she had space to perform, an early sign of where she was headed, though no one could've known she would one day become the most sought after choreographer in North Texas.
Her single mom couldn't afford to enroll her in dance classes. Instead, Moore was taught by her elementary school janitor, a retired dancer. With the principal's permission, they would practice in the hallway before the morning bell rang. "I always was very clear that I wanted to create — anything that would allow me to be expressive," she says in a conference room at the Dallas Black Dance studios, a beautifully renovated YMCA that catered to African-Americans in the segregation era. "I'm at my happiest when I'm creating. That would never change."
Moore has hit the ground running since she was selected in January to take over Dallas Black Dance Theatre, spending a lot of her busy schedule creating for the company as well as for other local groups. Even before she took the full reins in June, she choreographed a duet called Uncharted Territory that premiered at dance presenter TITAS' annual Command Performance and expanded Southern Recollections: For Romare Bearden, a work that Dallas Black Dance commissioned her to make in 2013. Both appeared on the company's spring program.
Then in the fall, Moore choreographed a piece for Dallas grant-maker TACA's annual fundraising gala that brought together members of Dallas Black Dance Theatre, Bruce Wood Dance and Dark Circles Contemporary Dance. She also made two new works for her company's DanceAfrica festival. "I love working with people," she says. "You don't do things by yourself."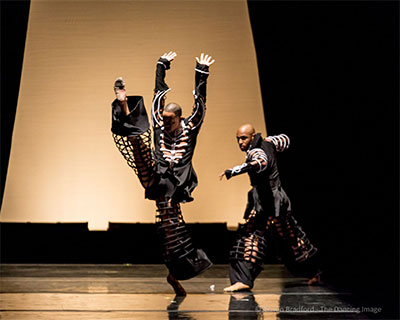 Right now, Moore is preparing for Dallas Black Dance Theatre's "Director's Choice" shows, which take place Nov. 3-5 at the Wyly Theatre. Her contribution is a new version of Uncharted Territory expanded for the whole company. As Moore seeks out young voices to complement hers, the program includes works by three choreographers new to the troupe: Houston's Andy Noble, Booker T. alum Rebecca Troyak and Atlanta native Juel D. Lane, a filmmaker and member of Camille A. Brown's company.
Before the season is over, Moore also will be involved in two collaborations. With Bruce Wood Dance and Houston's METdance, Moore is creating a new piece that the companies will perform together in both cities next year. And she and Dallas musician Kevin Hamilton, who attended the Arts Magnet with her in the late 1980s, are working on a tribute to R&B legend Donny Hathaway for Dallas Black Dance Theatre's spring concerts.
What ties all these choreographies together is Moore's eclectic, evolving style, which is hard to pin down. And she likes it that way. "I don't like to be put in a box," she says. "I don't want people to look at the work and say, 'Oh, she only does this, she can only choreograph in this aesthetic.' I see my work as an evolving piece of art. It can change at any given time, and it should. We live in a world that is constantly changing. So when someone asks me to create, no matter what genre it is, I don't say, 'I don't do that style.' I always do it."
To that end, she's soliciting feedback on social media to help her expand Uncharted Territory. The piece was inspired by her travels in Asia, particularly India, while she was teaching for the past three years at Sungkyunkwan University in South Korea. The post gave Moore time to think about her choreographic ideas and to ponder her future in the United States. Before she was hired by Dallas Black Dance Theatre, she was in the early stages of starting her own company. Like the challenge of creating work in a genre she isn't steeped in, she made Uncharted Territory to gauge her own reactions to an unfamiliar situation.
Moore noticed that in the evening Indian women rarely traveled by themselves in public. Alone for six weeks in a country where she didn't speak the language, it got her thinking about cultural identity, which more than a particular dance style is at the heart of her work. That focus developed while she was a member of Ronald K. Brown's EVIDENCE, A Dance Company from 1999 to 2007. She gets teary talking about the lasting impact that Brown has made on her life and work.
"He really made sure we understood what we were dancing about. We were not coming into a space and just moving. There was a thought process behind the movement. There was a story to be told," she says. "I learned a lot about who I am as an individual from being in Ron's company. He taught me a great deal about my culture. People love his work because it's relatable. I see that in my work, too. I want it to be relatable."
—MANUEL MENDOZA