Abilene + Albany
Drawn In/Drawn Out
Presented at Abilene's Grace Museum and Albany's Old Jail Art Center, this two-venue show features works by Helen Altman, Vernon Fisher, Heyd Fontenot, Joseph Havel, Robyn O'Neil, Rusty Scruby, Matthew Sontheimer and Eric Zimmerman, among others. Feb. 8-April 19, The Grace Museum and The Old Jail Art Center.
---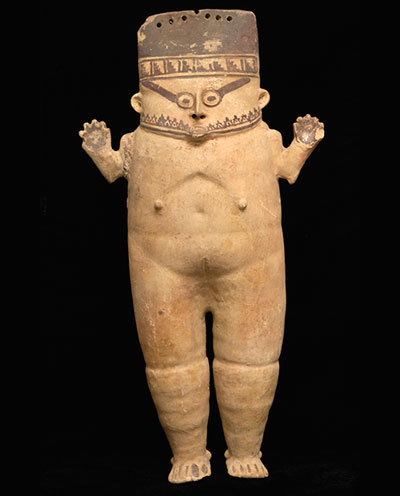 Austin
Between Mountains and Sea: Arts of the Ancient Andes
Ranging from intricately woven textiles to painted ceramic vessels and modeled effigies, the exhibition was conceived by the Blanton and guest-curator Dr. Kimberly L. Jones, while she served as a UT Austin lecturer and curator of UT's Art and Art History Collection before her recent hire by the Dallas Museum of Art. It traces the artistic development of the ancient Paracas, Nasca, Wari, Moche, Chancay, Sicán, and Chimú cultures from the Early Horizon (900–200 BCE) through the Late Horizon (1470–1532 CE) periods. Feb. 1-Aug. 17, Blanton Museum of Art.
---
The World at War, 1914–1918
Marking the centenary of the start of World War I and drawn from the Harry Ransom Center's collections, this exhibition explores war from the point of view of its participants and observers, preserved for a 21st-century generation through letters, drafts, and diaries, memoirs and novels, photographs and works produced by battlefield artists, and propaganda posters and films.. Feb. 3-Aug. 3, Harry Ransom Center.
---
Living in the Layers: New work by Peggy Weiss and Micky Hoogendijk
A pairing of two Austin-based artists whose work is inspired by dreams and memories. Weiss, a photographer and collage artist, will unveil a new video and installation. Hoogendijk, a photographer, creates portraits and images inspired by the Dutch masters. Feb. 22-April 5, Davis Gallery.
---
Sara Madandar: something left behind
The Austin-based artist presents work related to what she calls her "attempts to untangle and make sense of time [which] originate in my emigration from Iran to the United States, a set of experiences I have deemed 'Lost in Space and Time.' " Feb. 22-March 1, Co-Lab Projects.
---
Flatbed Contemporary Print Fair
Publishers of fine art prints, printmakers and university print programs will be on hand to show their work and offer it for sale. Ongoing demonstrations and talks will be taking place in the Flatbed Press Studio. Preview gala 6-9 p.m. Feb. 14; fair 10 a.m.-5 p.m. Feb. 15, Flatbed Press.
---
Charles Long
With CATALIN, "a Wagnerian hybrid environment of sculpture, film, music, fragrance, theater, performance, and grand spectacle" at Jones Center; and Pet Sounds, sculptures at Laguna Gloria that "begin as railings and morph into luscious, playful blobs that engage the viewer with murmurs, vibrations, and strange sounds when touched," Long explores the human condition "and the fragility of our physical and psychological worlds." Through April 20, The Contemporary Austin.
---
Beaumont
Mirrored and Obscured: Contemporary Texas Self-Portraits
Featuring both literal and unconventional self-portraits, this exhibition includes work by Adela Andea, Debra Barerra, Michael Bise, James Drake, Sharon Kopriva, Laura Lark, Lawrence Lee, Mary McCleary, Sherry Owens, Sam Reveles, Shaun Roberts, Rusty Scruby, Gael Stack, Kathy Vargas, Jonathan Whitfill, Ann Wood and Xiaoze Xie. Through May 11, Art Museum of Southeast Texas.
---
Corpus Christi
Ansel Adams: Western Exposure
A selection of more than 120 of the legendary landscape photographer's images, drawn from his personal collection, owned by his family. Through May 5, Art Museum of South Texas.
---
Dallas + Fort Worth
Samurai: Armor from the Ann and Gabriel Barbier-Mueller Collection
The first traveling exhibition in the Kimbell's new Renzo Piano Pavilion traces the evolution of the distinctive appearance and equipment of the Japanese Samurai from the 12th to the 19th centuries. Highlights include warriors' helmets of lacquered metal, adorned with emblems often inspired by nature; combat-ready samurai in full regalia on similarly armored steeds; and accoutrements used for both battle and ceremonies. Feb. 16-Aug. 17, Kimbell Art Museum.
---
Alexandre Hogue: The Erosion Series
The land-management failures that spawned the dust-bowl decade of the 1930s became the impetus for some of Hogue's most powerful imagery—the Erosion series. Organized by the Rockwell Museum of Western Art in Corning, N.Y., this exhibition will present the artist's erosion works along with supporting drawings for several of the paintings. Feb. 16-June 15, Dallas Museum of Art.
---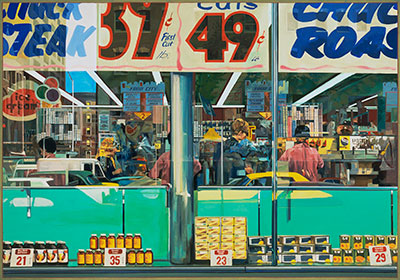 Art and Appetite: American Painting, Culture, and Cuisine
Organized by the Art Institute of Chicago, this traveling show explores how the topic of food has "allowed American artists both to celebrate and critique their society, expressing ideas relating to politics, race, class, gender, commerce, and how these categories define American identity." Featured artists include Richard Estes, Marsden Hartley, Edward Hopper, Roy Lichtenstein, Norman Rockwell, Wayne Thiebaud, Andy Warhol, Feb. 22-May 18, Amon Carter Museum of American Art.
---
FOCUS: Fred Tomaselli
Don't miss this fantastic grouping of the artist's visually overloaded photo-collage paintings from the past decade, joined by a selection of his New York Times series, in which the artist prints the Times front page on watercolor paper, then doctors the main photo to witty, surreal effect. Through March 23, Modern Art Museum of Fort Worth.
---
Vivan Sundaram: Re-take of Amrita
The show tells the story of the Indian artist's extended family "as seen in photographs and albums made by his grandfather, Umrao Singh Sher-Gil (1870–1954), a philosopher and amateur photographer. Produced between 2001 and 2005, the digital photomontages of Re-take of Amrita combine images that encompass three generations and incorporate not only Sundaram's family but also the paintings, mirrors and household interiors of the period, collapsing both time and space into contemporary fictions." Through June 2, Crow Collection of Asian Art.
---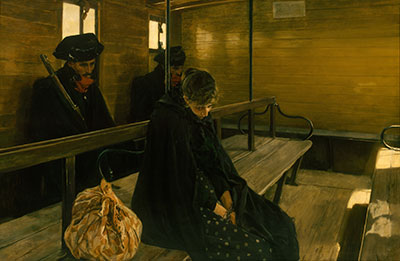 Sorolla and America
Joaquín Sorolla y Bastida (1863-1923) was the Spanish artist best-known internationally until the arrival of Pablo Picasso, with blockbuster U.S. shows in 1909 and 1911. Guest-curated by Blanca Pons-Sorolla, the artist's great-granddaughter, this traveling exhibition features works relating to his American connection and explores how Sorolla was received by American audiences. Through April 19, Meadows Museum.
---
Arthur Peña: slight shift, steady hand
Playing off the narrowness of his corridor space's walls, the Dallas painter first leads viewers through a mini-obstacle course of stacked panels of foam installation board—mounted on the walls, not stacked on the floor—before rewarding them with handsome collages of razor blades and a mural-sized grid of black, gray and white drawings that channel both Cy Twomby and Robert Ryman. Through March 9, Dallas Contemporary.
---
Great Escapes
Featuring works by Scott Barber, Burgess Dulaney, Jim Hodges, Lawrence Lee, Skeet McAuley, Ike Morgan, Ann Stautberg, Valton Tyler, Bob Wade, John Wilcox, Robert Wilhite and Danny Williams, the show explores the idea of escaping from a dire situation or close call. Through March 8, Barry Whistler Gallery.
---
NasherXChange
The Nasher Sculpture Center marks its 10th anniversary with an ambitious constellation of citywide public art commissions by Rick Lowe, Charles Long, Vicki Meek, Lara Almarcegui, the Good Art/Bad Art Collective, Rachel Harrison, Liz Larner, Ruben Ochoa, Ugo Rondinone and Alfredo Jaar. Last chance: Through Feb. 16, Nasher Sculpture Center and various sites.
---
Measured Indifference, paintings by Jay Hendrick
Trying "to join modernist flatness with a street art vocabulary in an attempt at finding value in the idea of painting," Hendrick paints on garbage produced by art institutions, including discarded paintings by undergraduates. Last chance: Through Feb. 15, Cohn Drennan Contemporary.
---
The Art of the Chair
In their collaboration with TACCHINI, Swedish designers Mårten Claesson, Eero Koivisto and Ola Rune unveil brightly colored, biomorphic soft seating designs "destined to be part of the Google-icious future of commercial interiors." Last chance: Through Feb. 15, SMINK.
---
Sam Schonziet: Nature is the Devil's Playground
Using pictures shot on his iPhone during California excursions as a starting point, Schonziet acts on his interest "in being in a place, turning that place into a digital image, turning this previously small digital image into a machine made and very large physical object and then finally to manipulate the image or to dominate the image with a man-made gesture."  Last chance: Through Feb. 8, RE Gallery.
---
John Adelman: One of Two
Adelman's beautifully compelling drawings show what the right set of hands—not to mention rigorous conceptual systems and a sufficiently obsessive sensibility—can produce with humble black, blue or white gel ink pens. They are not to be missed. Last chance: Through Feb. 15, Holly Johnson Gallery.
---
El Paso
Gaspar Enríquez:  Metaphors of El Barrio
Known for integrating the iconography of youth culture with that of Catholic and pre-Columbian imagery, the El Paso portrait painter and longtime teacher is being honored with a 30-year survey. Through May 11, El Paso Museum of Art.
---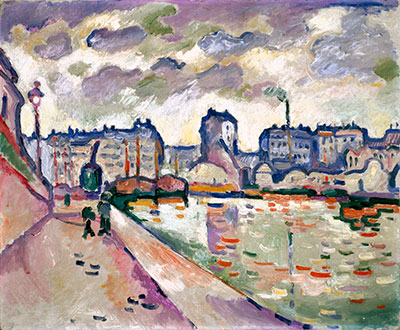 Houston
Georges Braque: A Retrospective
A year after the hosting the Guggenheim's black-and-white survey of Picasso's career, the Museum of Fine Arts, Houston is the lone U.S. stop for his friend and collaborator's first stateside retrospective in 25 years. Originating last fall at the Grand Palais in Paris, this one's fortunately in full color, since Braque was a Fauvist before he and Picasso invented Cubism. The show also includes his late still-lifes and lyrical abstractions. Feb. 13-May 11, Museum of Fine Arts, Houston.
---
Magritte: The Mystery of the Ordinary, 1926–1938
Home to the world's largest privately assembled Magritte collection, the Menil co-organized the first exhibition exclusively focused on his breakthrough Surrealist years with the Museum of Modern Art and the Art Institute of Chicago. Following Magritte from Brussels to Paris and back again, the show "will conclude at a historically and biographically significant moment: 1938, just before the outbreak of World War II and the year Magritte delivered his most revealing account of the experience of life and art that made him a surrealist painter." Feb. 14-June 1, The Menil Collection.
---
Dark Light: The Micaceous Ceramics of Christine Nofchissey McHorse
Working from traditional materials and techniques, the Navajo artist's vessel-based art blends the boundaries of pottery and sculpture, erasing the line between function and form. Her first traveling exhibition highlights "the unadorned sophistication of the sultry curves, black satiny surfaces, and modern forms of her Dark Light series, created from 1997 to present." Feb. 7-May 11, Houston Center for Contemporary Craft.
---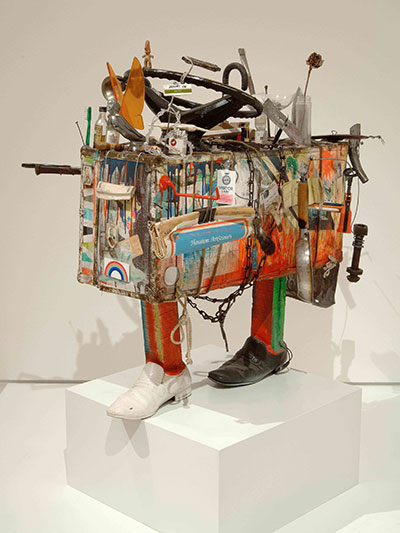 Bert: Back and Beyond
Marking the one-year anniversary of the death of the late Houston painter and sculptor Bert L. Long Jr., this commemorative exhibition opens from 6-9 p.m. Feb. 1 with a fundraiser for the Houston Artists Fund to raise money for the monograph Riding the Tiger: The Art and Life of Bert L. Long, Jr. Feb. 1-March 8, Deborah Colton Gallery.
---
Ryan Hawk
Guest curator Max Fields presents a one-week pop-up exhibition for Hawk, who uses live and recorded performance as the foundation of his installations and sculptural objects, "often utilizing current technologies to investigate the relationships that form when high modernist aesthetics and performance/action art are framed in a contemporary context." The show includes a live performance at 2 p.m. Feb. 8 as well as large-scale installations, prints, drawings, and video works. Feb. 7-14, Art League Houston.
---
Outside the Lines
Since Halloween, CAMH has filled both its floors with a six-part exhibition presented in two rounds—all devoted to contemporary abstraction. Now we're in Round 2. Texas artists David Aylsworth, Christopher Cascio, Joseph Cohen, Nathaniel Donnett, Geoff Hippenstiel, Floyd Newsum, and Shane Tolbert are represented alongside such figures as David Hammons, Amy Sillman and Charline von Heyl. Through March 23, Contemporary Arts Museum Houston.
---
El Ultimo Grito
Known as El Ultimo Grito and based in London, the husband-and-wife team of Rosario Hurtado and Roberto Feo are winners of the 2012 London Design Medal and are "internationally known for creating an eclectic range of objects and installations that defy easy categorization." Their Rice Gallery installation will "expand upon their approach to design and construction in which they rely on their hands, bodies, and readily available, inexpensive materials to 'free' them from traditional methods of production." Through March 16, Rice University Art Gallery.
---
CrossSection: Latino Artists in Texas
Curated by Benito Huerta, this group show features politically charged works by Margarita Cabrera of El Paso, Adriana Corral of San Antonio, Rigoberto A. Gonzalez of Harlingen, Carlos Donjuan of Dallas, and Gabriel Martinez of Houston. Through March 16, Houston Museum of African American Culture.
---
SonicWorks
This multi-platform exhibition explores the expanding field of experimental sound art and practice. Focusing on contemporary artists whose materials range from the conventional to the absurd, the show features discrete sound works, sculptural intervention, multi-media installations, live performances on Wednesday evenings and related ephemera. Last chance: Through March 1, DiverseWorks.
---
Anton Ginzburg: Terra Corpus
Organized by Blaffer director and chief curator Claudia Schmuckli, the Russian American artist's first U.S. solo museum show presents At the Back of the North Wind and Walking the Sea, parts one and two of "a trilogy of works in film, photography, sculpture and painting developed around historical and cultural conceptions of mythical or legendary landscapes and places that have conquered popular imagination and spawned collective memories." Through March 15, Blaffer Art Museum.
---
Wallpaper, Notions and Preserves: a curious purveyance
Edward Lane McCartney presents the kind of politically charged, often wry wearable art and sculpture he's known for alongside colorful, optically kinetic cut-paper formations inspired by Carlos Cruz-Diez. The Franco-Venezuelan master's influence has proved liberating; the gallery fills alive with color and energy. Last chance: Through Feb. 15, Hooks-Epstein Galleries.
---
Miguel Angel Rojas & John Sparagana // El Cuerpo Sutil
Sicardi Gallery presents two textile-based installations by Rojas alongside with Sparagana's hand-fatigued, sliced, painted, and re-mixed media images–some of his most haunting to date, in my view. Why show them together? The gallery says both artists "probe the depths of political unrest, the hidden narratives behind objects and images, and the points at which empathy and perception connect." Last chance: Through Feb. 22, Sicardi Gallery.
---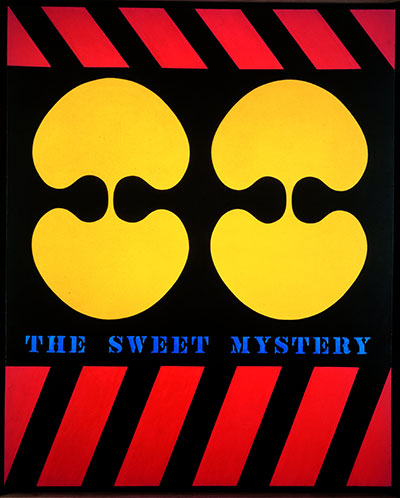 San Antonio
Robert Indiana: Beyond LOVE
Everyone knows the iconic LOVE sculptures and paintings, but this Whitney Museum of American Art-organized survey rounds up more than 100 paintings, sculptures, and works on paper to present the full range of his work over the course of five decades. The McNay is supplementing the Whitney retrospective with a small show focusing on his costumes for Gertrude Stein and Virgil Thomson's opera about Susan B. Anthony and another one featuring Indiana's monumental screen-prints exploring the relationship between Marsden Hartley and Karl von Freyburg. Feb. 5-May 25, McNay Art Museum.
---
Mungo Thomson: Crickets for Solo and Ensemble
The Los Angeles-based artist worked with composer and sound engineer Michael Webster to transcribe a French compilation of field recordings of crickets from around the world into a musical score, then auditioned musicians to try to play it. "During the rehearsals and production of the ensemble work, I recorded 'solos'—that is, individual performers impersonating the chirp of a single cricket," Thomson says. "So upstairs is the ensemble, and downstairs are the solos, playing in handmade cricket cages." Through April 27, Artpace.
---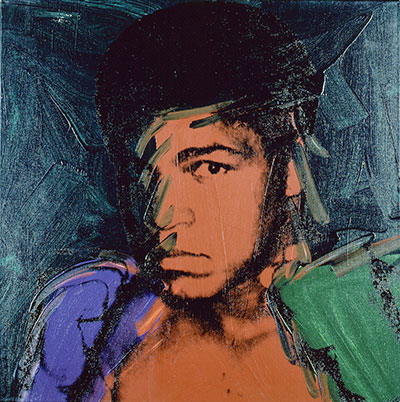 Andy Warhol: The Athletes
To complement its presentation of new American art curator and chief curator William Keyse Rudolph's Thomas Sully retrospective, SAMA is presenting the Athletes series by Warhol, an even more media- and business-savvy American portraitist. Commissioned by Warhol's friend and collector Richard Weisman, the series features Muhammad Ali, O.J. Simpson, Dorothy Hamill, Kareem Abdul-Jabbar, Chris Evert, Jack Nicklaus, Willie Shoemaker, Rod Gilbert, Tom Seaver and Pelé. Jan. 31-April 27, San Antonio Museum of Art.
---
Thomas Isaac: Stardance
In the Los Angeles-based Isaac's video work, both the soundtrack—a three-minute commissioned sound piece by Adrian Frasier—and the video, which was created by mixing together Star Wars and Dances with Wolves using an analog mixer, are slowed down to the running time's full three hours to create an artificial "dreamtime." Last chance: Through Feb. 16, Blue Star Contemporary Arts Museum.
---
Eight, Eighteen
Teresa Hubbard and Alexander Birchler present two video installations — Eight, which was first presented in 2002 at Artpace, and the world premiere of its follow-up, Eighteen — and a selection of other recent video and photographic work. Eight revolves around a young girl's birthday party and her home on a rainy night. Almost a decade later, Hubbard/Birchler began searching for the actor and found her in Boston, where she has grown up to become a dancer. Through March 29, Linda Pace Foundation.
---
San Marcos
Man and Beast: Photographs from Mexico and India
Coinciding with the publication of a Witliff Collections book of the same title, the exhibition brings together more than 90 images taken by documentary photographer Mary Ellen Mark in Mexico and India, countries she has repeatedly visited since the late 1960s. Many of the people represented here are performers and trainers with various itinerant circuses. Through Dec. 7, Witliff Collections at Texas State University.
---
Wichita Falls
Texas Sculpture Inside and Out: Invitational Exhibition
This exhibition is held in conjunction with the 2013 Texas Sculpture Network Symposium and consists of three parts: outdoor monumental sculptures, indoor sculpture and works on paper made by sculptors. Through Feb. 22, Wichita Falls Museum of Art at Midwestern State University.
---