Maarten Isaäk de Heer, FEBRUAR, detail.
Photo courtesy of the artist.
---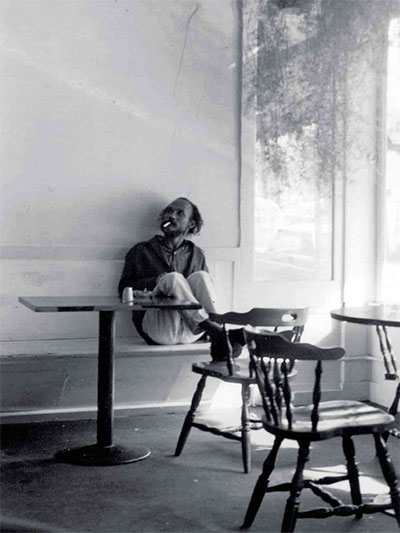 Houston Cinema Arts Festival artistic director Richard Herskowitz mentioned early on in the festival that immersive cinema may be the one of the few ways to get away from our habit of constant distraction. Two days after the election, I needed all the distraction that I could get, which is perhaps why the VR Gallery became my go to refuge during the 2016 HCAF, which ran Nov. 10-17, 2016. I could have parked for hours in Rachel Rossin's Oculus Rift work I Came and Went as A Ghost Hand. Watching her vivid paintings blown apart into sharp corners and sumptuous floating islands, I felt as if I could navigate my own way within her luscious 3D paintscapes.
I watched Dutch animation artist Maarten Isaäk de Heer's elegant, but bleak FEBRUAR on three different platforms: The fulldome program at Houston Museum of Natural Science, in the VR Gallery, and on a phone. FEBRUAR drops us in the middle of a damp forest with trees not unlike Houston's own Live Oaks, while a group of hooligans camp out in a nearby apartment. Wild boar-like creatures come and go, as does the rain and circling vulture-like birds. It was as dark as my mood during the beginning of the festival. After leaving the fulldome version with my senses heightened, I felt as if I was still in his austere winter landscape. "Exactly," said de Heer, when I described my experience. In the VR version I became part of the shady action, especially as I looked down at my feet to notice blood on the path. On the artist's phone, I could use my own body to select what to watch, which was definitely more interactive and considerably less creepy. Also on view in the VR Gallery, running on a 17-minute loop, was de Heer's [mu:sterman] -a Flood Story. Less menacing than FEBRUAR on the surface, it was still disturbing in its subversively chipper tone, as we watch a bunch of  pastel-hued animals adapt to a deluge, a familiar topic for Houston folks. Here we can see the kind of dense narrative building that is a cornerstone in his work. Our attention is invited in many directions at once, and that's the point in his sprawling motion paintings.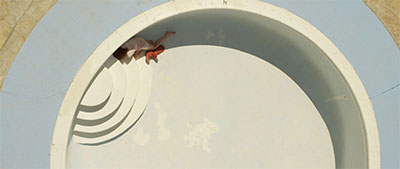 Celia Rowlson-Hall, the dance film star of the festival, screened several of her short films at Aurora Picture Show followed by a Q & A with Frame Dance Productions founder and dance filmmaker Lydia Hance. Rowlson-Hall, who graced the cover of Dance Magazine in 2014, has carved a unique career path that encompasses poignant and powerful short films like The Audition and Prom Night (where she also is the central character), commercial work like her fabulous Vogue piece with Lil Buck (who is headed to the Dance Salad Festival this season), and her now famous pantsuit video homage to presidential candidate Hillary Clinton, which for us dems proved one of the more painful moments of the festival. She also screened her eerie first feature MA, an abstract retelling of Mother Mary's pilgrimage. Mostly silent, MA weaves its odd spell in a surreal Southwestern landscape. This is where her background as a dancer is most evident, revealing a new physical potency and spatial intelligence. She is definitely an original filmmaker to watch.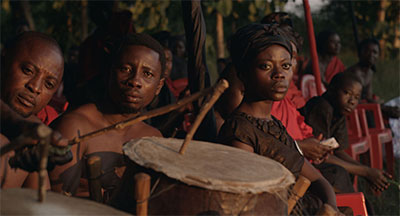 When Herskowitz circled the name of Ghanaian-American filmmaker and producer Akosua Adoma Owusu on my program guide I knew to pay attention, and I was glad that I did. I attended both her Triple Consciousness presentation and her MFAH discussion with Alison de Lima Greene. It's here where the festival hits its stride for folks like me who come to learn something new. It's one of the great perks of HCAF to be introduced to artists like Owusu, who are the verge of blowing up.  We get an inside view of their process and progress, in her case, her move to narrative filmmaking. Most intriguing was her semi-autobiographical film Kwaku Ananse, which draws from West African mythology of Anansi the Spider. I appreciated how her work exists on multiple borders, between Ghana and America and between museum-based and narrative film work. Kenyan video artist Wangechi Mutu's surreal The End of carrying All, which ran for a month at the MFAH's Cullinan Hall at MFAH, was another highlight.
The rest of my HCAF experience was less planned, and perhaps as it should be. Wandering into new films/new artists should be part of the discovery process in any film fest. I popped into Billy Woodberry's And When I Die, I won't Stay Dead on my way to see Argentina. Twenty minutes into Woodberry's elegy to San Francisco beat poet Bob Kaufman and I wasn't going anywhere. Woodberry crafts a moving portrait of an under recognized poet through photos, testimony and poetry. Dallas-born Woodberry was part of the LA Rebellion, a movement of African and African American filmmakers that also includes Houston's Carroll Parrott Blue, who was on hand for the post-show Q & A.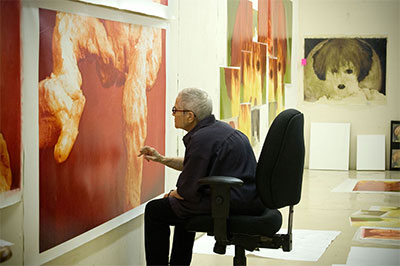 Other gems included Beth B's straightforward, no nonsense documentary on her mother, Ida Applebroog, Call Her Applebroog, and her frisky tour though New York's underground burlesque scene, Exposed. Una Lorenzen, Heather Millard and Thordur Jonsson's charming Yarn had me at opening vista of sheep roaming the hills of Iceland. Yarn goes way beyond the yarn-bombing we are used to in Houston, to include a range of fiber artists. Ari Davidovich's Bird in the Room chronicles the life poet and songwriter Tirza Atar (daughter of the celebrated poet Nathan Alterman) with a brutal honesty.
The Cinespace contest returned with the $10,000 prize going to French filmmaker Sébastien Tulard for 1950 DA, (a reference to real near-Earth asteroid), which chronicles the story of young outcast Axel, who communicates with the heavens via his homemade radio. Tulard's endearing black and white film finds a different way into this space-based material  focusing more about life on earth.
Several outstanding films opened over the holiday season that were screened at HCAF: Jackie, Lion, La La Land and Maya Angelou: And Still I Rise screens at the MFAH on Jan. 15-16.
I'll close this report with festival's very Texas-y opening film at the MFAH, Honky Tonk Heaven, Sam Wainwright Douglas and Brenda Green Mitchell's lively documentary on Austin's famous music spot, The Broken Spoke, reminding us all that Austin is changing at a rate that we better pay attention to before it's too late.
This year's festival had a smaller footprint, and rightly so, as this was a transitional year with shifts in leadership. All in all, there was still plenty to do, see and, most importantly, learn.
—NANCY WOZNY