How many Latinx Broadway musicals can you name? Unsurprisingly, this question doesn't offer a plethora of responses, but there is one show that defied the odds and told a Latinx story written by Latinx writers on Broadway—In the Heights, playing in a first-rate production through Oct. 20 at the Dallas Theater Center (DTC). In the Heights, with music and lyrics by Lin-Manuel Miranda and book by Quiara Alegría Hudes, won four 2008 Tony Awards and has become the most recognizable Latinx musical. Under the direction of James Vásquez, DTC's In the Heights is everything you would expect from the show. It's full of hope and a celebration of home, all told through a Latinx lens.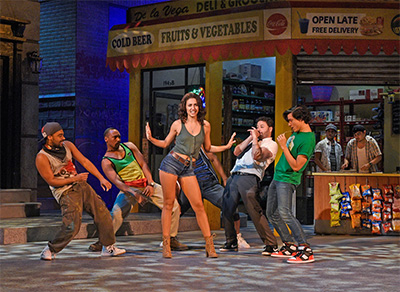 In the Heights depicts three summer days in the Washington Heights neighborhood of New York City. As a heatwave and a blackout hit the city, the residents come together to look back on the past, find closure in their relationships, and move into the future with no regrets. At the center of the story is Usnavi (Xavier Cano), who runs the corner bodega that serves as a focal point of the community. At the top of the show, Usnavi introduces us to the community: Nina (Tiffany Solano DeSena), who returns home after losing her scholarship to Stanford; Benny (Devin Roberts), Nina's love interest who is not Latino and works for Nina's father; Daniela (Talia Thiesfield), who runs the local salon; Abuela Claudia (Nancy Ticotin), the neighborhood's communal grandmother figure; Vanessa, a hair stylist who wants to move Uptown and get out of the barrio; and several others.
Abuela Claudia introduces the backbone of the show—and in many ways the foundation for Miranda and Hudes work at large—in "Paciencia y Fe" (Patience and Faith), a song in which she details the struggles she has faced in life from growing up poor in Havana to immigrating to New York to becoming the matriarch of the block. Played masterfully by Nancy Ticotin, Abuela Claudia sings:
"And ay Mamá,
What do you do when,
Your dreams come true?
I've spent my life,
Inheriting dreams from you"
Like many immigrants from Latin America, the decision to come to the United States was not in Abuela Claudia's hands. Much of her life was planned by her mother, including the dream of finding success—and more importantly home—in New York. Nearing the end of her life, Abuela Claudia has already achieved some version of the so-called "American Dream." As the song hits its climax, she reveals that she has the winning $96,000 lottery ticket. Instead of excitement, she is at a loss. Her mother could never have prepared her for this and she is in uncharted territory much like many children of immigrants who grow up in the US and face an entirely different reality than their parents ever could have imagined they would face. Abuela Claudia's message permeates the show's other story lines. And, ultimately, as she tells everyone, all they need to get by is patience and faith (not to mention each other).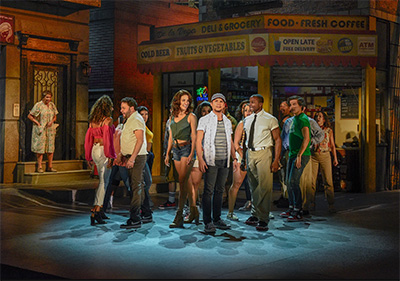 In the Heights opens with one of the best title songs of the past few decades of musical theater. In a quick eight minutes, Usnavi introduces us the entire block as well as his central dilemma—he runs a bodega that he inherited from his parents but he longs to return to the Dominican Republic. Facing what is arguably the most challenging role in the show based on the mere fact that he has to follow in Lin-Manuel Miranda's footsteps in a role Miranda wrote for himself, Xavier Cano soars. After shooing Graffiti Pete away from his bodega, he faces the audience and tell us "Hey y'all, good morning" and we are hooked. As we come to learn, Usnavi's parents came to the US in hopes of a better life, opened a bodega, died young, and left him with the bodega. He struggles with wanting to fulfill the dreams they had for him and his desire to know what life would be like if he were to return to Playa Rincón and open a store on the beach.
Following "In the Heights," we are introduced to Nina, who has been off at Stanford University. As everyone tells us, she was the one to make it out of the neighborhood. She is their success story, which makes it even more difficult for her to tell everyone that she had to drop out when she couldn't keep up with her classes because she was working two jobs to pay for books and living expenses. Her parents, Kevin and Camila (David Lugo and Crissy Guerrero) left Puerto Rico to escape their parents and pursue their dreams in New York. Their dream? To provide Nina with the life they never could have. The mere act of going to college is a success so when Nina returns home, she struggles with being autonomous and living up to her parents' high expectations that she will be "to one to make it out."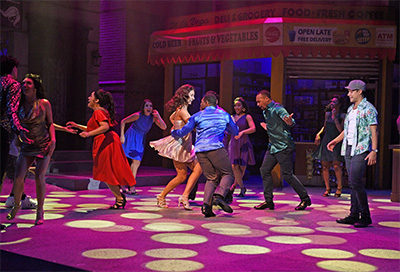 In the hands of an artistic team that lacks cultural competency of the Latinx community, these narratives of immigration, inherited dreams, and finding home could easily result in two-dimensional stereotypes. Under the direction of James Vásquez, DTC's In the Heights is full of depth and nuance. This production a classic take on the show with a twist, being true to Thomas Kail's original 2008 Broadway production, while still being unique in its own way.
Perhaps the most noticeable difference is the staging itself. The Wyly Theatre's flexible performance space features a thrust configuration for this production with audiences surrounding Usnavi's block on three sides. Vásquez quite literally places the audience on the block, with Washington Heights' brownstones towering above the audience and the iconic George Washington Bridge, or the GWB as everyone calls it, standing in the distance. Dahlia Al-Habieli's scenic design is at once recognizable to anyone who has been to New York and flexible as a performance space with ramps, nooks, fire escapes, steps, and sidewalks for Vásquez to play with.
Rickey Tripp's choreography pays homage to Andy Blankenbuehler's Tony Award winning work while not being derivative. This In the Heights still relies heavily on Latin and contemporary hip hop dance moves, but does not simply regurgitate the show's original choreography as if often done. The ensemble, which features a full spectrum of Latinx identities (re: the cast is comprised of many racial and ethnic identities), effortlessly transitions from salsa to hip hop. In many ways, the highlight of this production is the ensemble.
The cast uniformly shines, but DTC Resident Acting Company members Tiffany Solano DeSena and Christopher Ramirez (Sonny) deliver knockout performances in roles that were seemingly written for them. As much as Solano DeSena makes you feel her pain at not living up to her parents' high expectations, Ramirez leaves you in stitches laughing from his expert comedic timing.
Just as with musical offerings in previous seasons such as Hair and The Rocky Horror Show, the Dallas Theater Center once again proves that they are at the top of the game as far as producing exciting musical theater in Texas. DTC's In the Heights is not simply a Latinx story, but it is an American story. It's a story about the beauty of the United States. It's a story that anyone can relate to regardless of their ethnic or racial identity. Miranda and Hudes' musical is as relevant now as it was when it debuted in 2008.
-TREVOR BOFFONE