Abel Flores as Zun, apothecary of the needy in the Dead White Zombies production of Holy Bone.
Photo by Alisa Eykilis.
---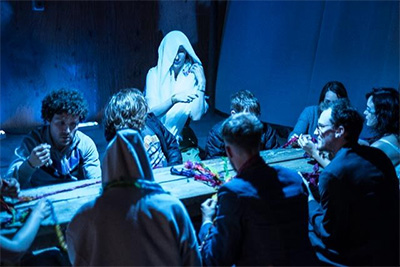 Thomas Riccio's Dead White Zombies (DWZ) latest project is his most accessible but least challenging production produced under the Zombies umbrella. Holy Bone, which runs at various locations in West Dallas through May 27, is really the culmination of a series of performative experiments Riccio has been running since last Fall, when he and his performers began appearing unannounced in various retail and restaurant venues for what he called performance "instigations." I never witnessed a performance, although who is really to say? But according to Riccio, Holy Bone as it is being performed now was seeded by those pop-up performances.
All of Riccio's productions, which he conceives, produces, and directs, are influenced by the research and performance work he has done throughout the world on indigenous performance and ritual practices. He uses the DWZ performances to re-create and translate, in a way, these ideas and practices for western audiences through experimental, immersive theater.
Generally speaking, Holy Bone, like previous DWZ shows, is somewhat impenetrable. Theater-goers descend upon Tacos El Mariachi, an actual taco joint, where they will hopefully find a DWZ representative who will give them at least a semblance of an introduction concerning what is about to happen, before sending them, in groups of six, on their journey.
Six or seven productions in, Dead White Zombies shows have a recognizable aesthetic I'm calling industrial bohemian; the spaces are a little bit of the end times and a little bit of your creative friend's living/studio space.
As a group, audience members journey from one vacant warehouse or retail establishment (outfitted with that same DWZ aesthetic) to the next, and at each stop you're greeted (or accosted) by a Boner, as the performers in Holy Bone are called. Boners engage audience-members either directly or indirectly (mostly directly in this DWZ performance, which is a significant departure from previous shows) with questions, ruminations, or just conversation concerning our experience of the world; most often challenging that experience and our perceptions, asking us to reconsider our preconceptions, listen more, slow down. At various times and with various performers, the "dialogue," if you can call it that, is more coherent than at others, a fact for which you, the audience member, may be in part responsible in this performance.
It's an intimate experience and one I won't spoil by divulging too many details. As a summary during your Holy Bone experience you'll be processed at Area 51, drink a liquid of unknown origins with a candlelit wiseman who hears voices, wander through a labyrinth, listen to worms, have your "bones" read, and your picture taken at some point in the evening (and that's not even the half of it). As intended, there's always a bit of uncertainty involved; is that guy reading a book part of the performance or just a guy reading a book? Am I heading towards the next Holy Bone location or am I accidentally wandering into someone's private home?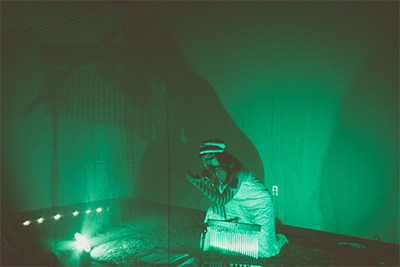 Throughout most of the performance you'll probably forget you're attending a performance at all: Holy Bone has much more in common with the interdisciplinary nature of performance art than theater: various rooms filled with video works feel more like a gallery than a performance space, and the streets upon which it seems you spend the most of your time, are just streets.
Riccio calls the experience a walking meditation and in a way, it is. You do feel while you're in the performance, on the journey, whatever you feel like calling it, just as Riccio desires: somewhere apart from reality, somewhere between "the real and performed, time and timelessness." Of course it will also occasionally feel more akin to a therapy session: if you don't like being asked difficult questions and being forced to answer, this may not be the performance for you.
As far as a semi-coherent dramatization of the ideas and philosophies that motivate Riccio, Holy Bone succeeds where earlier shows such as KaRaoKe MoTeL or DP92 fell a bit short; the experience is indeed metaphysical, and it encourages a re-alignment of your expectations when interacting with others and the world around you. It doesn't quite reach the level of religious experience that it is going for (DWZ shows seem to be characterized by an ambition that is never quite matched in execution), but the intention is clearer here than in, I think, any previous DWZ show.
If you know what you're getting into, if you could possibly be prepared for such, I can't help feeling Holy Bone really could be a transformative spiritual experience. But, as with most art, it's a safe bet most of the audience will not be so prepared and will thus find the experience more titillating than moving. Perhaps with fewer movements, performers capable of following through with their initial line of questioning, or just fewer stops on the journey, Holy Bone could have been the DWZ show which succeeded in truly marrying spirituality and performance for a western audience, an unenviable task. As it is, with each successive DWZ show, it does seem as though Riccio is getting that much closer to doing so.
—JENNIFER SMART