IMAGE ABOVE: Artists of Houston Ballet in Paquita. Photo by Amitava Sarkar.
---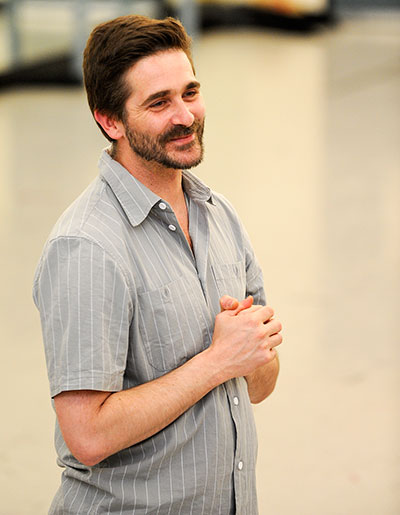 When a ballet company is run by a leading dancemaker, which is the case in Houston with Stanton Welch, audiences share that choreographer with the world. Welch, now in his eleventh season with Houston Ballet, has been enormously prolific at home and elsewhere, bolstering the reputation of the company and ballet in Texas. It's a win win situation for the organization and the artist at the helm.
Houston fans were enthralled by Welch's new version of Paquita, which premiered at the 2013 Jubilee of Dance in December. The ballet about a Spanish gypsy who saves the life of a French officer named Lucien shows no signs of going away. In fact, it's more popular than ever, and under Welch's swift hand Paquita received a refreshing update. Although the ballet premiered at the Paris Opera in 1846, it's primarily the Third Act of Marius Petipa's 1847 version for the Imperial Ballet of St. Petersburg that audiences know and cherish. In 1881, Petipa added the Grand pas classique and the Mazurka des enfants (Children's mazurka) for the last act. His revised version remained in the repertoire of the Mariinsky Theatre until 1926.
Because Paquita is so technically demanding, it's an ideal way for Welch to show off the depth of talent evident across the ranks at Houston Ballet. Welch had many solid reasons to bring it back into the repertoire. "It was strange that it wasn't in the current repertoire because these variations are famous; dancers do them all the time in school and in competitions," says Welch. "The company should have a chance to dance them as well. Paquita tests and pushes the dancers, plus, the ballet's Spanish flavor is so much fun."
There was one big problem with the ballet in that there wasn't enough for the men to do. To address that issue, Welch added a lively men's section, something he did successfully in Swan Lake. In today's ballet world, everyone needs to dance. Welch's stamp to this iconic ballet also includes expanding the pas de trois to include more dancers.
Welch's work has staying power as his choreography graces many a company's repertoire. In any given season, you can be sure that a ballet dancer somewhere is figuring out an intricate Welch step. When Welch premiered his spectacular version of La Bayadere in 2010, he had no idea that the ballet would have such legs.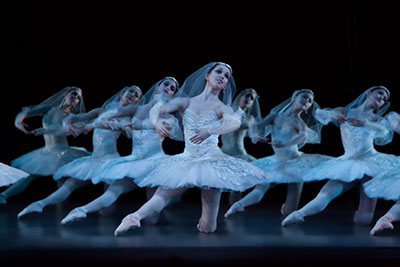 When he set La Bayadere on the Joffrey Ballet in 2013, it turned out to be one of their most popular ballets of the season. The Australian Ballet performed Welch's La Bayadere in Melbourne August 28 – September 6, and will dance it again in Sydney November 6 -22.  "It's always nice to get back to my family, and we have so much history with the company," says Welch. The choreographer  relished the chance to share this achievement with his parents and brother.
Welch sees the ballet's popularity related to the shift in ballet audiences. He streamlined the story, and gave it a much more modern tempo. There's no waiting around for things to happen, the story moves swiftly, geared for today's attention spans. "This is a ballet for the Facebook generation," he says. "The pace is very fast."
Houston Ballet tours Welch's La Bayadere to Canada in 2015, with performances in Calgary April 30 – May 2 and Edmonton May 8 – 9.
It's not just Welch's ballets that have been on the move. His Sons de L'âme (Sounds of the Soul), premiered to standing ovations at the historic Théâtre des Champs-Élysées in Paris, France in October 2013. Sons de L'âme, a collaboration with the world renown pianist Lang Lang, proved another milestone for the choreographer and the company. Welch created an elegant suite of dances with Lang Lang sharing the stage with the dancers. "Because he's such a flamboyant performer, I took a simple, more paired down approach, which created a wonderful balance," Welch explains. "He's such a rock star, and has tremendous respect for our art form. He truly appreciated our highly musical dancers."
Luckily, for those of us who did not make it to Paris, the performance was filmed for European television.  The film will be screened as part of Houston Cinema Arts Festival in November at Miller Outdoor Theatre on Sunday, November 16 at 6:30 pm. The film captures the potent chemistry between the performers. "From the moment they took the stage, the dancers and Lang Lang never took their eyes off each other," recalls Welch.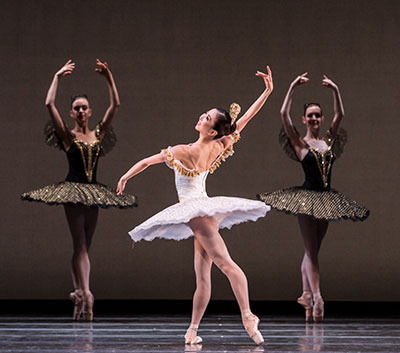 Welch's next Texas-sized project is a new version of Romeo and Juliet, February 27 – March 7, 2015, his contribution to the Bard's 450 birthday season celebration. This new production is made possible through the generosity of longtime Houston Ballet supporters Ted and Melza Barr.
Although this is Welch's first work based on a Shakespeare text, Romeo and Juliet has been brewing in his choreographic imagination for decades now.  As a child, he witnessed his mother, Marilyn Jones, performing the role of Juliet in John Cranko's staging of the work with The Australian Ballet. His generation of dancers grew up watching Kenneth MacMillan's version with Alessandra Ferri as Juliet.
To prepare for the challenge, Welch took his usual scholarly approach, immersing himself in several source documents, including an in depth re-reading of Shakespeare's text. He watched the recent 2013 film with Hailee Steinfeld and Douglas Booth, and the iconic 1969 Franco Zeffirelli film, which he claims was "very influential."
To get the most authentic look for the ballet, Welch coaxed the famous Italian designer Roberta Guidi di Bagno out of retirement. "She's like the Sophia Loren of the ballet world," quips Welch. "When she agreed to do it, I couldn't have been happier."
Welch, as always, will add his distinct flavor to the classic tale, drawing out aspects of the story that have been under represented in the ballet, such as the roles of Mercutio and Tybalt, and revealing a more complex family dynamic. Similar to his other full lengths, the drama will be entirely in motion. "The character parts are all dancing roles," he says.
Audiences will be in for a Romeo and Juliet that is both authentic to Shakespeare's intention and bold in its approach to the world's greatest love story. Welch adds, "I'm freshly inspired, it's simply a great puzzle to bring words to ballet."
—NANCY WOZNY
Reprinted from Playbill.