IMAGES: John Bock, Dead + Juicy (still), 2017. HD video. Commissioned by The Contemporary Austin for the exhibition John Bock: Dead and Juicy, 2017. Artwork © John Bock. Courtesy the artist; Anton Kern Gallery, New York; and Regen Projects, Los Angeles. Photograph by David Schultz.
---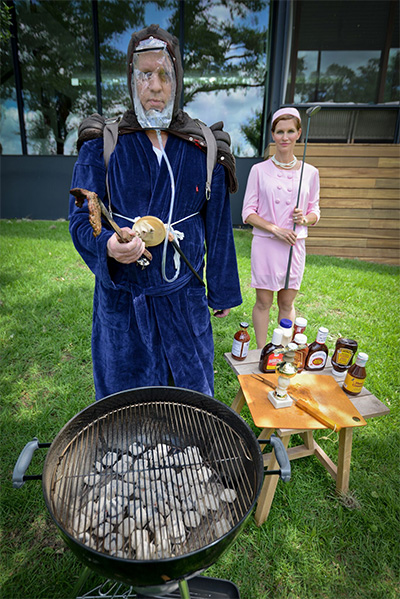 "Keep Austin weird," the bumper-sticker admonition goes, but German filmmaker John Bock—the latest of many European artists to take a cinematic crack at Texas, has envisioned a weirder Austin in Dead + Juicy, an exhibition combining an "uncanny musical" with an installation of transformed versions of the film's props and sets. Devon Britt-Darby discussed Bock's work with Heather Pesanti, senior curator at The Contemporary Austin, where the show is on view from Sept. 23 through Jan. 14.
This exhibition will be a lot of viewers' first exposure to John Bock. What got you interested in his work?
I've known John and his work for more than a decade, and I think he's fantastic—very unique. I curated him in a performance when I was at the Albright-Knox Art Gallery in Buffalo and have been following his work ever since.
He would do these things he called "lectures," which were not like lectures you and I would be accustomed to. They would be in different costumes and makeup and talking in nonsensical ways, because he basically makes up his own language of words and images, and this is something that has been consistent over time. A lot of times when you see his work it seems so chaotic and all over the place, but it's almost constructed as well.
When you say the language has been consistent over time, does that mean that one could eventually pick it up as one "acquires" a language?
Yeah—for example, when we the film with him over the course of a week, my staff afterward would jokingly talk in John Bock language. It's hybrid words and the way that he combines things into these really crazy contraptions and uses everyday materials and liquids and fluids. Over time it looks very much like him and takes on his own language. If you think of an author who creates their own world, he's kind of doing that as an artist—like a holistic world that has its own language and has its own imagery and has its own types of objects and things like that.
Over time he stopped performing himself. He still does occasionally, but that is less and less what he does and he's much more the creative director and less the person out in front of the audience or the camera. Now his exhibitions consist primarily of films that he makes and then what he calls the "sum mutation," which is an installation made of props and elements from the film that are kind of transformed into different versions of themselves. Whichever one you go into first, you're not going to realize they're totally connected until you walk into the other one.
So it's like seeing the material culture from some strange world and then realizing, "A-ha, this is that world."
Yes! I love that. Exactly.
There's a long line of European filmmakers and artists who are fascinated by Texas. Is there a special version of Texas in John Bock's world?
Oh my gosh, yeah. I have never before made a film from scratch with an artist—I mean produced it from A to Z—not that I personally did all of that, but this museum organized everything for him and basically produced the film with a local film company named Revelator Productions. They're awesome.
It's all filmed in Austin, and he was fascinated by Texas. When I invited him to come do a show two years ago, he immediately wanted to do it, because there's a real European romanticism about the West. And it was very funny when he came to Austin having never been to Texas and he was like, "This is not what I thought Texas was going to look like."
He was thinking of Marfa.
Yeah, from the movies, like John Wayne and Giant and whatever. But Austin really grew on him. He came twice and I took him to so many places. Eventually we settled on Crestview Barber Shop and C-Boy's Heart & Soul, an awesome music venue, one of our board members' houses, a small apartment on the eastside, and the swamp at Laguna Gloria.
So visitors will recognize some locations, but how about what's happening in them?
I wrote that it's "a Dada-esque musical murder mystery set amidst the backdrop of the Texas landscape." It's got a little spooky thriller; it's got a little horror; there's some gross stuff and some beautiful things in there; there are some really kitschy parts to it. There's a beautiful, moody, sexy scene at C-Boy's. He riffs on some classic Americana, like Who's Afraid of Virginia Woolf?—he reenacts a scene from that—and the bartender, who has this deep, deep baritone voice, sings Lee Marvin's "Wandering Star." It's a little bit classic Western, a little dark comedy, a little musical murder mystery.
If Austin wasn't what Bock was expecting initially, what was he saying when it was time to go?
He loved it. We could barely get him to leave!
—DEVON BRITT-DARBY