If conversation can truly rise to an art form, Rice University's Moody Center for the Arts has proven a most creative ground for such an idea-exchanging medium. At once a teaching, collaborating, exhibition and performance venue, the Moody Center has become the multidisciplinary place for art to spark ideas, dialogue and sometimes even innovations beyond the art world.

Throughout its first five years, the Moody has offered diverse programming, a constant mixture of renowned and up-and coming artists, thematic exhibitions and solo shows, always keeping true to their mission to foster dialogue between academic disciplines—and acting as a kind of art hub connecting Rice to Houston and the world.
I recently sat down with Moody executive director Alison Weaver for her perspective on Moody's past and future. Weaver says for this special year, they'll keep that explorational formula, with two thematic group exhibitions, Soundwaves: Experimental Strategies in Art + Music (Jan. 27 – May 14, 2022) and Urban Impressions: Experiencing the Global Contemporary Metropolis (Sept. 16-Dec. 16) bookending one artist spotlight show featuring the Texas-born, New York-based artist Baseera Khan (June 3-August 27).The Moody's fifth also corresponds with the tenth anniversary of one of Rice and Houston's most beloved piece of public art, the James Turrell Twilight Epiphany Skyspace.
As Soundwaves curator, Weaver was inspired by the Skyspace's connection to Rice's Shepherd School of Music and its power to inspire artists of other media."One of the ideas of this fifth anniversary is that we like to be a hinge between the campus and community, serving both of those audiences, explains Weaver. "We're starting with the Skyspace on campus for the Soundwaves exhibition. Then, we're starting with Houston [for Urban Impressions] and thinking about how global artists have responded to the urban environment."

­­­
"What's unique about Rice's Skyspace is that it's been a generative site. It is of course an amazing work of public art, but it has also inspired artists and musicians for 10 years to do a wide range of other things. It's that generative spirit that we want to elevate and celebrate with
Soundwaves
."
Though she greatly admires exhibitions of sound art, Weaver makes it clear that Soundwaves will not be such a show, as the majority of the artwork will be silent. Instead, the exhibition highlights artists who use sound as a generative and inspirational source for their visual artwork.
"What we're really interested in is how these things are not separate for this group of artists," says Weaver.
Several of the artists will present entirely new and site-specific pieces for the exhibition while other artists have selected previous creations. Weaver chose artists Nevin Aladağ, Nick Cave, Raven Chacon, Charles Gaines, Jennie C. Jones, Idris Khan, Christine Sun Kim, Sarah Morris, and Trevor Paglan—artists who "meaningfully engaged with sound and the visual." She then had conversations with them about the work they wanted to include.
Such is the case of Anri Sala's 2017 installation The Last Resort. Snare drums, each containing an embedded speaker, will be hung from the gallery ceiling and will play a modified concerto by Mozart. Houstonians might be familiar with Sala for his immersive film and sound installation Time No Longer, which was on view at the Buffalo Bayou Cistern in 2021.
Commenting on her choice of Sala, she noted, "I think one of the values the Moody can provide as a cultural institution is bringing in new voices but also amplifying voices for the community to get to know an artist's practice."
That amplification will also occur with new work from Jorinde Voigt, who created a large-scale wall drawing for the Menil Drawing Institute in 2019. Along with this sampling of national and international artists, Houstonians are getting to know, Soundwaves will also feature new work from hometown artists Jason Moran and Jamal Cyrus.
The summer brings Baseera Khan's solo show featuring new commissioned work as well as existing sculpture, photography, collage, installation, and performance pieces. Weaver describes Khan's work as exploring concepts of identity, culture, and migration. Evoking traditions from the east and global south, the artwork also relates to Khan's experiences growing up in Texas.
In the fall, the Moody scans Houston's skyline and beyond for Urban Impressions, another thematic group show featuring works from Rana Begum, Tiffany Chung, Julie Mehretu, Sohei Nishino, Robin Rhode, and Liu Wei. Weaver says they began with the inspiration of Houston as "this incredible experimental city with its diversity, and its lack of zoning, sprawl and its driving culture," and then sought international artists who offer their own vision of what makes a Metropolis.
Reflecting Houston's sprawling nature, the show will expand across the campus with site-specific installations and performances.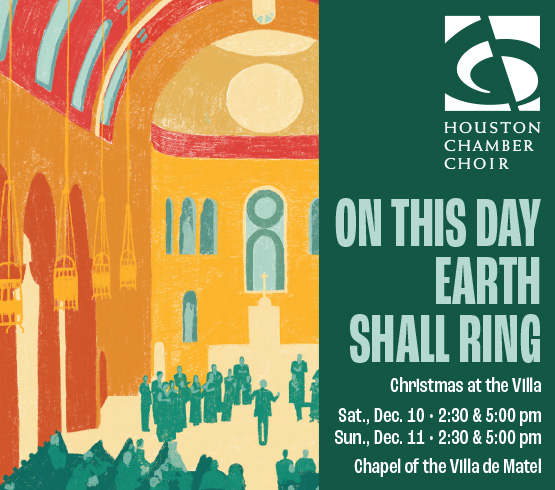 The performing arts remains an intrinsic part of the Moody's mission and this anniversary year will bring performances into the galleries, in conjunction with the exhibitions and as singular works in the Lois Chiles Studio Theater, including a chamber opera about the life of Hilma af Klint by composer Daniel Zlatkin and the world premiere immersive dance
Bonnie and Clyde
from Annie Arnoult's Open Dance Project. This will be Moody's fourth presentation of ODP's work. Weaver has stated before that as part of a research university, they're "drawn to artists who have research based in their practice," and Arnoult's own practice certainly fits that criteria.
For the Skyspace's own anniversary, the Moody has commissioned two new works by women, a musical composition by electroacoustic composer Elainie Lillios and a dance performance from choreographer Karole Armitage. Weaver looked for artists who will treat the Skyspace as more than a set for their own work.
"One of the goals in commissioning work in the Skypace is not to have the artwork be a venue. It's a living, breathing work of art. So, in order to intervene in it, we need a partner who understands it and works with it in a way that amplifies both the original work of art and their own work," says Weaver, noting that Armitage has a history of successful collaborations with visual artists and artworks.

Looking back at these five years, Weaver speaks of the Moody Center's ability to foster extraordinary conversations. From exhibitions focused on climate change that brought humor to the issues, to an American Democracy exhibition that included talks on politics and mental health, to bringing artists, scientists and scholars for open dialog that later changed teaching and learning practices, the Moody Center for the Arts has become an institution that nudges individuals beyond their own field of knowledge and comfort zones into new places of insight. Weaver says we should get ready to cross even more boundaries.
"At the five-year mark, we're interested in underscoring what we hope is our contribution to our citywide discourse around the arts through this unique lens of interdisciplinary dialogue."
—TARRA GAINES