Ars Lyrica Artistic Director Matthew Dirst, harpsichord; Ars Lyrica Houston Ensemble, UH Moores School Concert Chorale performing as part of Ars Lyrica's Long Live the Queen concert on April 7, 2018 at Hobby Center.
Photos by Pin Lim.
---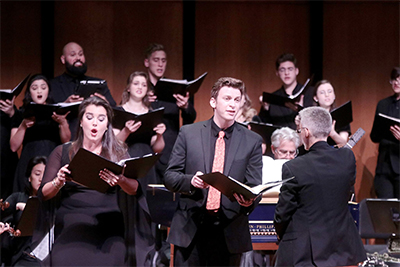 Matthew Dirst, artistic director of Ars Lyrica Houston, has an unerring ability to put together programs that are musically rich and varied, framed in fascinating historical context, and vividly brought to life by the finest guest soloists and musicians. Continuing this season's celebration of women in Long Live the Queen, Saturday's April 7 concert at Zilkha Hall contained all those elements that made for a superlative evening.
Handel's exuberant Ode for the Birthday of Queen Anne (1713), written as both a celebration of the British monarch's birthday and a political work marking the end of the long War of Spanish Succession, contrasted well with Bach's mournful Trauerode, written for the funeral of Christiane Eberhardine, the beloved Queen of Poland and Electress of Saxony.
These two extraordinary works, both comparative rarities on concert programs, were preceded by a delightful Telemann concerto, featuring an unusual pair of solo instruments in the recorder and viola da gamba. Kathryn Montoya's exquisitely articulated performance on the recorder was a wonderful match for the magnetic expressiveness of Mary Springfels' playing on the viola da gamba. Montoya's effortless tone projected beautifully amidst the ensemble, and Springfels' freely shaped passagework gave the music a buoyant vitality.
Dirst assembled a stellar cast of soloists for the two major choral works—countertenors Ryland Angel and Aryeh Nussbaum Cohen, soprano Dominique McCormick, baritone Mark Diamond, and tenor Tony Boutté. The University of Houston Concert Chorale, under the direction of Betsy Cook Weber, provided the chorus.
In his remarks to the audience, Dirst described the opening of Handel's Ode, the alto solo "Eternal Source of Light Divine," as a "musical sunrise." Angel brought out all the ethereal beauty of this sublime solo with his expressive, deeply felt delivery, every lovingly shaped phrase echoed by Nathaniel Mayfield's sensitive, silver-toned playing on the natural trumpet. What follows are solos and duets sung by two countertenors, soprano, and baritone in a wide variety of musical styles, unified by a recurring refrain intoned by the chorus.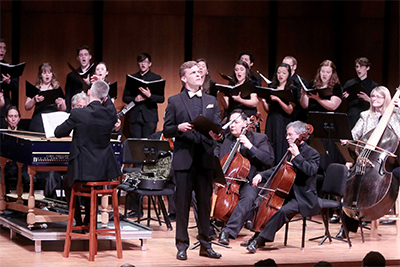 McCormick's soprano voice soared with ease, captivating the audience with her natural sense of flow. She and countertenor Aryeh Nussbaum Cohen delivered a duet of exceptional beauty. Their well-matched voices enfolded the audience in warm radiance, and their expressively conceived phrases swelled with pathos. Diamond's resonant baritone was defined by clear diction and energetic articulation. Angel had some trouble with control on the long melisma passages, but that hardly marred his musically satisfying performance. The chorus, though only given the refrain, conveyed the resounding exuberance of the work.
The beauty and solemnity of Bach's Trauerode reflects the occasion for which the piece was composed. The death of Christiane Eberhardine was deeply mourned in strongly Lutheran Saxony. She was widely revered for her refusal to renounce the faith despite her husband's conversion of convenience to Catholicism in order to secure the Polish Crown. A special memorial was planned in Leipzig with Bach's setting of rationalist poet Johann Christoph Gottsched's libretto as a centerpiece of the service. Bach himself conducted from the harpsichord. The instrumentation is uniquely lush, with two violas da gamba, lute, two oboes, and two transverse flutes, in addition to the usual complement of strings, continuo instruments, chorus, and soloists.
Conducting the full chorus and instrumental ensemble from the harpsichord, Dirst set a moderately brisk pace in the opening movement that reflected the solemn majesty of the occasion without any trace of heaviness. The chorus sang with clarity and pathos while the music moved forward with supple fluidity. McCormick's regal carriage in the soprano recitative and solo lent physical presence to her rounded, full-bodied tone and direct, natural expression. Bright, crystalline winds and light pizzicato strings brought to life the tolling bells in the text as Cohen's gorgeous voice rose brightly above in long arched lines. Nuanced coloring and a sense of freedom in phrasing added to Cohen's artistry in the alto aria, his voice enveloped by the warm accompaniment provided by Mary Springfels and Barrett Sills on the violas da gamba.
The fugal chorus with full instrumental ensemble revealed some of the wonderful harmonic complexities present throughout the piece, leading into part two of the Ode in which death is conquered and the joy of eternity is exalted. Tenor Tony Boutté sang with a sweet, intimate tone, but did not have enough body in his voice to project above the full orchestra. This was especially apparent when followed by Diamond's powerful, vibrant baritone. The colors produced by Diamond were incredibly vivid and expressive.
Throughout the evening, Dirst adroitly led a seamless, well-conceived program that showcased a strong cast of singers, a nimble orchestra, and a skilled chorus. Another regally inspired evening awaits the audience at Ars Lyrica's season finale—A Day with Marie Antoinette (May 19 at Zilkha Hall).
—SHERRY CHENG