Daniel Koren performs as part of Lott Entertainment Presents Joe's Pub Series on Feb. 18-20 at the MATCH.
Photo courtesy of the artist.
---
Watching Silvia Milo perform The Other Mozart, I couldn't help at marveling at the perfect scale of her work: a one-woman play about Mozart's unheralded sister, with fabulous music, costume and lighting. The show was portable, tour-able, and fit snugly in Matchbox 3, when Lott Entertainment Presents brought Milo in this past January.
Somehow my appreciation for the piece deepened from just how doable it was. Most of the Lott's Joe's Pub Series at the MATCH  is composed of solo artists, and they couldn't be more different. The series launched with Bridget Everett's bawdy cabaret act and concludes with songstress Bridget Barkan's April 7 show.
For Allison Lott and Kathryn Lott (no relation), small scale works fit best into their presenting mission, which they define as "filling the void." "We are  trying to create that intimate Joe's Pub feel," says Kathryn. "There's a danger  and vulnerability to these artists. The audience and the artists can connect on a deeper level." Allison adds, "And, there are the financials."
Up next for Lott Entertainment Presents is Emmy-nominated Israeli comedian/composer Daniel Koren, The Most Important Thing, Feb. 18-20, and a perfect example of what's possible with only one person on stage. He's a youtube celebrity, whose work is quirky and strange and funny and unlike anything else that you have ever seen. He even has a digital version of himself. "Daniel has found a way to compose everything: the music, his comic timing, his video projected alter egos, even the slightest movement of his hands," explains Kathryn. "There's not room for another soul on stage, Daniel is 15 artists in one."
The ambitious duo does plan to bring in large-scale work eventually, and they are ending their fabulous first season with the Rude Mechs in The Method Gun, May 26-28, which is a full on big show in every way.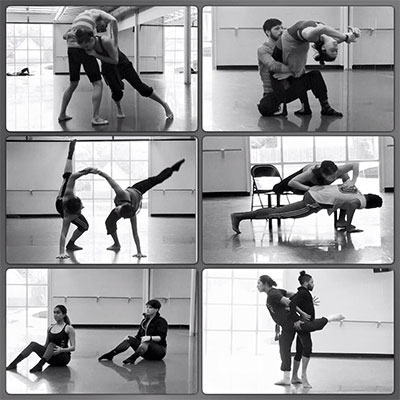 Further up north, David Denson is doing something similar, with his savvy Off Broadway on Flora Series at AT&T Performing Arts Center.  He's programming solo acts and chamber works, with an occasional blockbuster like last season's Stop Hitting Yourself by Rude Mechs. Up next is Eric Bogosian in Bitter Honey the Best of 100 (Monologues), Feb. 11-13 at the Wyly Theatre. "It's just him in a black leather jacket on a bare stage," says Denson. Later in the season, on April 7-9, Ghost Quartet takes the stage, which Denson claims was one of his top five theater experiences in his life.
Known for their big group pieces, METdance scales down for Celebrating 20!Duo, featuring work by Alvin Ailey American Dance Theater artistic director Robert Battle, along with premieres by Terrill Mitchell, Houston Ballet's Oliver Halkowich and Dallas-based Dark Circles Contemporary Dance artistic director Joshua Peugh, on Feb. 12-14 at Studio 101, Spring Street Studios. "I wanted to create a performance where the audience can be close to the dancers in a intimate setting," says METdance artistic director Marlana Walsh Doyle. "I also wanted to challenge the dancers to work in duets with each other rather than in an ensemble as we usually do in a repertoire company."
I felt a similar feeling of satisfaction watching a workshop showing of HGOco's newest chamber opera, The Root of the Wind is Water, which premieres on May 13 in Houston and May 15 in Galveston, with a early pop up at the Contemporary Art Museum Houston on Feb. 13. I've been a huge fan of these mostly one-hour chamber operas coming out of Houston Grand Opera's HGOco shop. When Root of the Wind director Matthew Ozawa claimed, "This is not a movie, don't expect rain and wind machines on stage," I wanted to scream, "Yes." I've sat through enough expensive weather on stage to know that I'd rather have the theatrics scaled back and the artistry scaled up.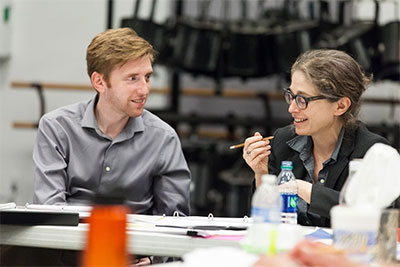 In March, I am looking forward to Alley Theatre's Elizabeth Bunch dazzling me in Grounded, George Brant's one-woman show about a pregnant ace F-16 fighter pilot who has been reassigned to flying a remote-controlled drone from an Air Force trailer. There's such an element of virtuosity in a one- person show that also appeals to me.
Ten Tiny Dances, the big hit of CounterCurrent 2015, proves my point exactly. The restrictions of dancing on a  4′ x 4′ platform for five minutes or less yielded some terrific dances last season, so much so, that Ten Tiny is the opening event for CounterCurrent's 2016  on April 12 at the MATCH. Presented in partnership with DiverseWorks, Ten Tiny Dances has thickened the plot this season by adding a video element.
Sometimes, the scale is in the planning. Two of Houston's most accomplished contemporary dancers, Laura Gutierrez and Courtney D. Jones (both named as Dance Magazine "25 to Watch"), put together a fabulous show called Unrefined at SUGA Gallery in 10 days or so. Low stress, high impact, strong dancing and clever choreography made for one memorable event.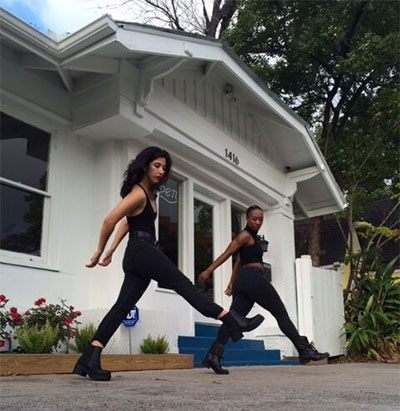 We still need spectacle, but we can't have excess in these lean times. When Houston Ballet's Stanton Welch unveils his new Nutcracker, I know it will ooze eye candy and I'm totally behind it, but it's been a 29-year wait for a new production.
There's something about do-ablity that is making me a more eager watcher these days. Perhaps I suffer from a mild case of sustainability syndrome. Maybe it's my Buffalo upbringing or being raised by depression era parents that puts me in the "doing more with less" mood.
I think back about last winter's epic drive to Dallas to see Mike Daisey in the middle of an ice storm for his Off Broadway on Flora show, and I don't regret a second of sliding down I-75 to see this great teller of tales. One big guy, a gigantic wood table, a bottle of water, a couple of killer good stories, and it's just amazing what can happen on a stage.
—NANCY WOZNY