Luke Savisky's Ht/X  as part of CounterCurrent 2015.
Photo by dabfoto creative courtesy of University of Houston Cynthia Woods Mitchell Center for the Arts.
---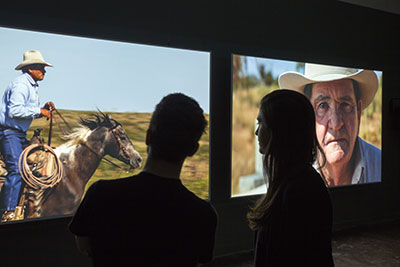 We throw the word "place" around a lot in the arts, probably too much. I know that I'm as guilty as anyone. I get it; we are deeply connected to where we live. I am from a very place-y place, Buffalo, NY, and live in an even more place-y place, Texas. There is no shortage of character in either of these locations, and I wear both of these identities as badges of honor.
When I transitioned from A + C Houston to A + C Texas, I needed to buff up my Lone Star cred. I created a list of books, movies, outings and such to help me in this quest. I made it as far as reading Philipp Meyer's The Son, an epic historical novel about Texas' brutal history. Meyer's searing prose stopped me in my tracks, and all my plans of re-watching George Stevens' Giant, Wim Wenders' Paris, Texas and other gems went by the wayside.
Just as I was revisiting my list, along comes Sound Speed Marker,Teresa Hubbard and Alexander Birchler's trilogy of video installations addressing themes of location in Texas, showing at Blaffer Art Museum May 28 – Sept. 5. The trilogy, Grand Paris Texas (2009), Movie Mountain (Méliès) (2011) and Giant (2014), address the erosion of location though the lens of film, communicating so much about how Texas absorbs its myths.
Hubbard / Birchler capture that baffled audience at the Grand Theater for a showing of Paris, Texas, revealinghow a film can implicate, complicate and distort a place. In watching Movie Mountain (Méliès), I wondered about a time when no one connected to the Gaston Méliès film will be alive. The story will further fragment, not unlike the skeletal ruins of the Benedict family's mansion, Reata, which appear isolated against the barren West Texas Landscape in Hubbard / Birchler's Giant.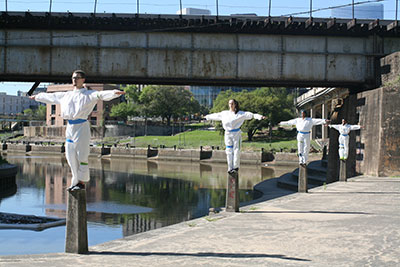 Suddenly, I feel surrounded by enough Texcentrity to keep suitably steeped in Lone Star lore. In Houston, it's Karen Stokes who comes to mind as an artist tightly tied to Texas. I named Stokes a choreographer of "place" over a decade ago when she created Hometown, her choral/kinetic poem to the Bayou City. Now heading up Karen Stokes Dance, she's exploring the ground truth with Backstage at Allen's Landing, nine art and performance installations that reflect on the landscape, history, architecture, and habitat of a historic Houston site named for Houston founders Augustus Chapman Allen and John Kirby Allen. "I saw the White Oak side of Allen's Landing as an amazing and little-known area," says Stokes. "The convergence of bridges, transit, buildings, water, history, and the evidence of humanity in all its glory and obscurity spoke deeply to me." On June 5, she's back in site-specific mode with Drench, a Discovery Green commission for the park's popular Gateway Fountain. She is not only the choreographer of Houston but on Houston.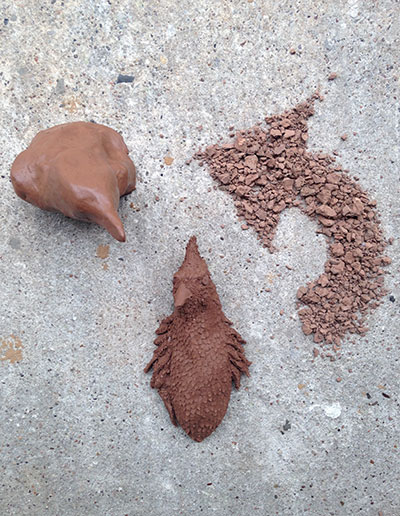 Stokes isn't the only artist to take full advantage of Allen's Landing's dramatic vistas. In April, as part of the University of Houston Cynthia Woods Mitchell Center of the Arts' CounterCurrent festival, Luke Savisky created Ht/X, a live video spectacle on the underside of downtown Houston's Allen's Landing Bridge. Nearly 1,000 people showed up to see this local landmark transformed. That was some serious placemaking folks.
Heath Brodie's recent body of work, recently on view as part of WET: Fresh Fictions at Williams Tower Gallery, is crafted from, well, Texas. Whether birds made from Brazos clay, or a map of Texas made from Pecan ink, Brodie literally sources the ground beneath his feet. Brodie took his practice one step further by creating site-specific sculptures at Blackwood Land Institute for a special event presented by Nicole Longnecker Gallery and Blackwood.
Austin hit the ground too, going hyperlocal during the last Fusebox Festival with some 1,000 people participating in the thinkEAST Living Charrette, which generated feedback and ideas from neighbors, artists, and community members. As part of thinkEAST, Austin dancemaker Allison Orr, of Forklift Danceworks, had a great idea for connecting to the east side of Austin.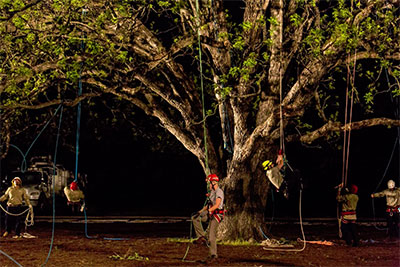 Orr has created many works that tell the stories of Austin's residents, but this one involved a tree. Orr got an email from the director of Urban Forestry that read, "Are you interested in trees?" The answer was an enthusiastic "yes." The Trees of Govalle centers on one majestic pecan tree, the arborists who care for the trees, and the complicated history of the neighborhood that served as home to immigrant Swedes in the1850s, then to Hispanic families. Now, it's one of the most rapidly gentrifying areas in the country. Trees of Govalle is the first in a series of works by Orr telling the stories of Austin's parks and the people they serve. "Although my baseball piece, Playball, was also about place, Trees of Govalle was my first piece that was about the location and connected to the history of that place," says Orr. "It was also the first time that I worked with a living organism like a tree."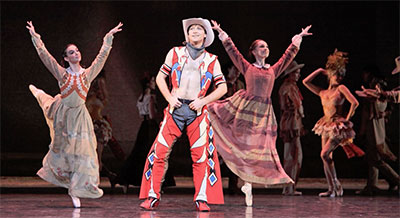 I've learned a lot about Texas from its artists, whether they are natives or not. I still find myself thinking about Stanton Welch's Tales of Texas, a work commissioned in 2000 before he was named Houston Ballet's artistic director. Welch may hark from Australia, but his vision captured that rogue element of Texas that we know and love. Welch's vivid "Pecos Bill," the conclusion of Tales of Texas, serves as a great reminder that we are a land that holds tight to its myths, a wide open canvas for exploration, interpretation and poetic re-imaginings.
—NANCY WOZNY