On August 3, 2019, El Paso entered the national zeitgeist when an active shooter killed 22 people at a Walmart. The shooter's goal: to kill as many people of Mexican descent as possible. The event was the deadliest mass shooting in the United States in 2019 and made El Paso the latest ground zero in the debate over gun legislation in the country. Now, perhaps more than ever, the community needs Latinx theater not only to provide opportunities for the Latinx community to see themselves on stage but also to use theater as a tool to educate non-Latinx audiences about communities outside of their own.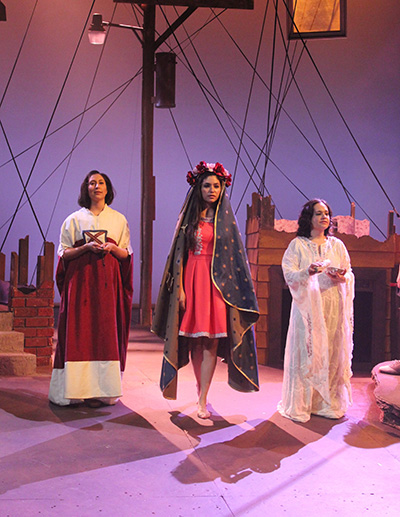 The El Paso-Juárez-Las Cruces metropolitan region is home to over 2.7 million people, constituting one of the largest bilingual and binational areas in the world. As the center of this region, El Paso is positioned to be a center of Latinx theatermaking—yet this has not always been the case. Latinx stories and voices are seldom seen on El Paso stages. Given the dearth of professional theater being made in the area, the Theater and Dance Department at the University of Texas at El Paso is uniquely situated to address this lack of representation. Building off of its previous success in producing Latinx plays with a predominantly Latinx student population, UTEP will double down on this commitment by featuring a 2019-2020 season entirely comprised of Latinx works.
UTEP is at the forefront of providing high-quality theater to the community. "We do our very best to provide as much outreach as possible because we do realize that we are one of the few entities in town with the resources to do so," says Adriana Dominguez, Assistant Professor and Director of the BA/BFA Theatre Programs and Audience Development. "We are making an increased effort, especially this season, to let people know that work about the Latinx community is just as valuable."
In addition to the metro area being predominantly Latinx, UTEP's student body is more than 80% Latinx. For Dominguez, representing this community is fundamental to the work. "It's unbelievably important that we get to see our stories on stage. It can be transformative," notes Dominguez, adding, "When I got to college I was in Real Women Have Curves. It changed my life."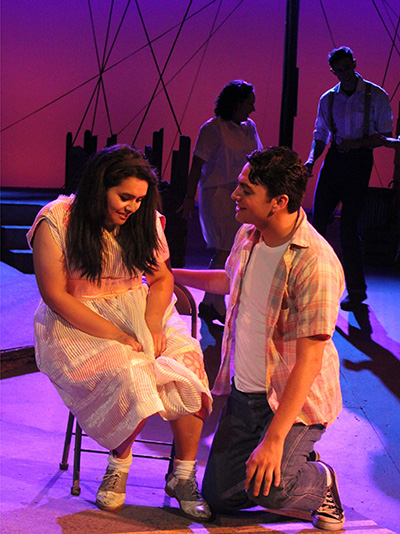 In addition to festivals, workshops with visiting artists, and numerous dance events, UTEP's theater season features a mixture of classic and new works. The first full production is Real Women Have Curves by Josefina López. Running October 10-20, the production brings López's classic play about a group of undocumented Latinas working in a sewing factory to El Paso, joining productions across the state at Dallas Theatre Center, Teatro Vivo, and San Antonio Public Theater over the last year.
The season continues with guest artist Jesus Valles' solo show (UN)DOCUMENTS on October 25. (UN)DOCUMENTS is particularly timely for El Paso audiences as the play focuses on Valles' own experiences with citizenship in the Juarez/El Paso metro area. The fall season ends with A Christmas Carol, en la Frontera from December 5-19.
The spring semester begins with Monsters We Create, a piece of devised theater that Juárez/El Paso playwright Georgina Escobar— and UTEP alum—will create with students as the department's artist-in-residence. The students will create new borderland myths and monsters, paralleling topics such as depression, abuse, anxiety in addition to border patrol and ICE. Monsters We Create runs February 12-16, 2020.
For Adriana Dominguez, having Escobar in residence is a highlight of the season. "Because she has such a wide range of professional experience, our students are going to get an example of someone who can do the work," notes Dominguez. "Georgina will provide a lot of inspiration for our students."
Rounding out the season is a production of Karen Zacarías's Into the Beautiful North, an adaptation of Luis Alberto Urrea's novel. Running April 24-May 3, 2020, the production is a collaboration with the National Endowment for the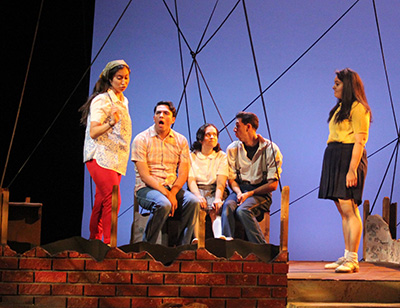 Arts-sponsored Big Read El Paso. Into the Beautiful North will serve as the basis of readings, discussions, and performances around the city. As always, the department is looking to fill a void in El Paso arts programming and provide crucial opportunities for the community to engage with Latinx theater. Zacarías's play tells the story of a young woman who crosses the United States-Mexico border to assemble her own version of "The Magnificent Seven" after banditos try to take over her small town in rural Mexico. The play sheds light on how one girl experiences internal divisions created by man-made borders.
According to Georgina Escobar, Latinx theater as a field is "about deep research, investigation, active inquiry, and a tireless devotion to the discovery and implementation of new, timely narratives." With its 2019-2020 theater season,, UTEP is doing just that, providing a vital source of representation and community building on its stages.
—TREVOR BOFFONE