Betelhem Makonnen
untitled (our misunderstanding of time, of ourselves)
2020
Detail, Rocks, watches, simulacrum grass
Image courtesy of the artist.
---
Time is of the essence for Betelhem Makonnen.
A rainy January morning finds her busy in her studio at work on Rock Standard Time (RST), her upcoming solo exhibition at Big Medium. Makonnen is the 2019 recipient of the Tito's Prize, a $15,000 award funded by Tito's Handmade Vodka, the Austin liquor company. In addition to the unrestricted cash gift given to a visual artist, the Tito's Prize, started in 2017, includes a solo exhibition at Big Medium.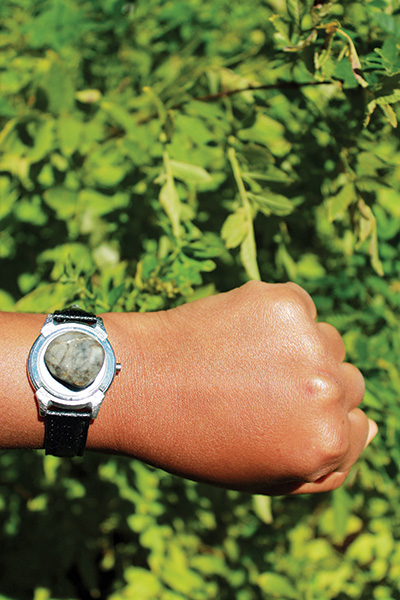 When we meet it is just six weeks out from the exhibition's opening. Makonnen's studio is within the Canopy arts complex and literally just a few doors down the hall from the Big Medium gallery. Taped to her studio wall is a schematic drawing of the gallery showing the latest iteration of where her art works might go.
Rock Standard Time will include video works and several sculptural installations incorporating, among other materials, rocks, stones, sand, pieces of synthetic grass rug, used watches, and a computer keyboard. There are also photo-based works printed on vinyl, varying images of rocks and hands, portraits of agency and time.
If Makonnen's artwork is typically referred to as multi-media, in essence she works with one medium: time.
"My practice is obsessed with capital 'H' history," Makonnen tells me. "We insist on the linearity of history. We insist on a separateness of past, present and future. But that leads to a constant misperception of history."
Makonnen, 47, emigrated from Ethiopia when she was 10. Ethiopia has no European colonial history, and with its own Orthodox Church independent of the Roman Catholic church, also has its own calendar. Unlike the Gregorian calendar used today by most countries, the Ethiopian calendar has a thirteenth month. It is seven to eight years behind the Gregorian calendar.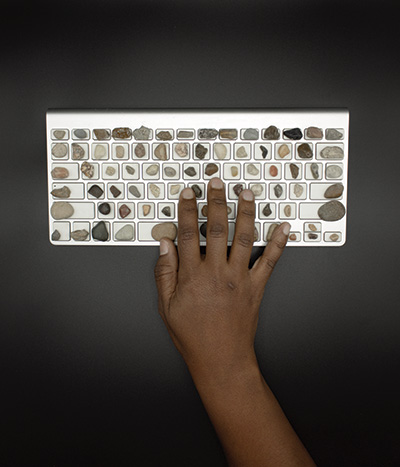 "Who I am is so much in connection with [a sense of time] that's alien to the rest of the world," Makonnen says. "Time is always in translation for me. And mine is the diasporic, immigrant consciousness where you're aware of different times and different histories."
History is not just something in our past, she says, but something very much in our present. "I think of the present as being conjugated in the sense that all the tenses—past, present, future—are collapsed together and exist simultaneously. 'Rock Standard Time' is the time zone where history has all the tenses collapsed together."
At the end of last summer, Makonnen and her family took a road trip to the Grand Canyon. She had just received her MFA after three years in the Art Institute of Chicago's low residency program. If the program allowed her to juggle family life in Austin with independent study and summers in Chicago, it was nevertheless three years that required extraordinary personal focus.
On top of graduate school and family, the last few years have seen Makonnen join the curatorial team at Fusebox Festival. And in 2019, she had two significant exhibitions. At Austin's George Washington Carver Museum there was the ambitious and critically successful "Constant Escape" with Adrian Aguilera and Tammie Rubin, with whom Makonnen forms the collective, Black Mountain Project. And at Women & Their Work—again exhibiting in collaboration—Makonnen showed work that specifically addressed her diasporic and immigrant experience blending it with similar work by Stephanie Concepcion Ramirez.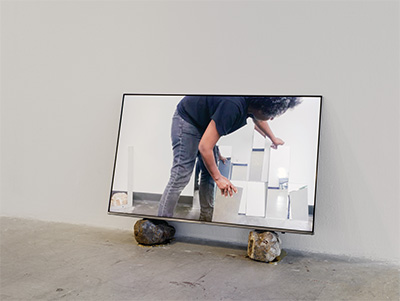 At the Grand Canyon, Makonnen and her family chose a rim-view campsite to catch the sunrise. She needed, she said, an intense reconnection with geological time as a reset of sorts.
"The past three years, they're not even a blip of a blip in terms of geological time," Makonnen says. "Even the Anthropocene age is ultimately not an age but just a brief comment."
Indeed the speed of our digital age disorients. "We're exiled from time, rather than being in it and of it," says Makonnen. "We're continually chasing after time when we need to learn to be still with it."
A tabletop sculpture, "untitled (our misunderstanding of time, of ourselves)," features wrist-watches strapped around rocks, the rocks in a small pile atop a patch of artificial grass. Each watch ticks away set to its own time. And yet, what else in the age of smartphones seems more technologically passé and useless than a sad little wrist-watch.
A rock perhaps?
"You can't put modern time on a rock," Makonnen tells me. "Rocks are already time. Buckets of sand are buckets of thousands of years. I pick up time—rocks—when I'm out walking. I buy used time—watches—in bulk online."
To understand time we need to slow down, realize its passing, relish it.
Makonnen shows me a clip of a high definition video that will be in "Rock Standard Time," a serene meditative loop of sunlight through trees and Makonnen's hands gently picking up rocks and thoughtfully turning them over in an unhurried manner.
"Our now is all times, it's all now," she tells me. "Time is on our side."
—JEANNE CLAIRE VAN RYZIN