Libbie Masterson, Spectrum, 2018, 5 x 8 ft.
Image courtesy the artist.
---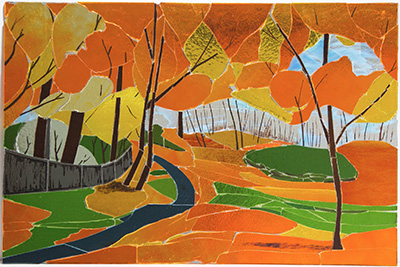 Entering Libbie Masterson's studio is like a breath of fresh air. A small outbuilding is tucked away in a lush courtyard garden in Montrose, windows overlooking the urban greenery. Fitting for an artist who is fascinated by landscape.
In Masterson's studio are examples of her earlier works, including large photographs of the Arctic mounted in lightboxes. Masterson is an avid traveller; a panorama of Antarctica IS (ICE) was exhibited at the Contemporary Art Museum in 2008. Also on view: Two white flowers sculpted in soft fabric, which Masterson plans to use for a jewelry display, reminiscent of her Illuminated Waterlillies in Hermann Park in 2013, as well as colorful landscape paintings and landscapes in glass.
She is busy preparing for her upcoming show at the Jung Center, an ambitious installation titled Spectrum, which will take up an entire room, on view April 3-28. It will consist of seven upright panels with abstract glass compositions, each in a different color of the spectrum. A musical composition by Masterson will accompany each panel.
"This is not a new idea," she says. "Color and sound have corresponding wavelengths. For example, the color red fits with the musical key of G." The colors of the panels in Spectrum derive from a series of seven landscapes on glass that were shown at Catherine Couturier gallery in 2016. The landscapes are a travel journal of different places in Europe, Texas, and Santa Fe, New Mexico. From there, it wasn't a large leap to start making work that is entirely abstract. "I was coming at these landscapes with a feel of abstraction," Masterson explains. "Painting is all about balance and movement of the eyes. This brought me to the idea of a color key. Like music, colors have a tune, a harmony. So that became the structure of the work."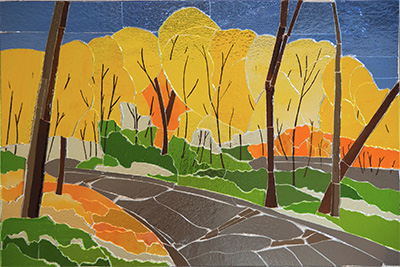 Masterson has always been interested in glass. She trained in glassblowing ("tough and very athletic") and since high school has been helping in her mother's glass jewelry design business ("the day job"). But she wanted to do other things with glass, seeing it as the medium of light. Commissioned to make a permanent installation at Hobby Airport, Masterson was initially asked to make one of her lightbox landscapes. Once she inspected the space, she found that light was already coming from large windows on the opposite wall, and decided to use that natural light by incorporating glass and mirrors. Her 7 x 36 ft. glass mosaic Ethereal Sky was installed in 2015.
Masterson treasures the idea of arriving at new paths through chance. "You have to have a little time where you allow yourself not to know," she tells me. "That's when those accidents happen that teach you new things." In another of those "accidents," she was working with her mother on an art installation at the non-denominational Chapel of Amazing Place, a support and education facility for people with memory loss. Struggling to make traditional glass work, she was introduced to epoxy glass which is much stronger and more malleable. She started using it in her other artworks, too. "Using epoxy glass gave me more freedom with the composition of the work. You can really paint with the glass."
Within the constraints of the Jung Center's space, Masterson decided to use standing mirrors as panels for her glass mosaics. The mirror functions as an enhancement of the color, as well as a sculptural element. "It will be something you can walk up to and have a relationship with. You add a little bit of your own mystery," she says.
Glass, color, reflection, light: These are all fascinating materials in their own right. However, not lacking ambition, Masterson sought to add a musical component. She has had a long courtship with music, going often to the Houston Symphony with her mother. In a nice turn of fate, her video piece City Scenes was recently used as a backdrop for a concert by that same orchestra, and Masterson has made photographic panels as stage sets for opera and ballet. But her connection to music is much more profound. "Music is really influential to me. When people ask who are your greatest influences, mine are always composers…Philip Glass, Brahms, Rachmaninov. I learned a lot of drawing from Brahms. [I learned that] the lines in a drawing are not just contours; it is about thickness, strength, all of the nature of that line. I got that from music. You are thinking about each note and all the harmonies it contains."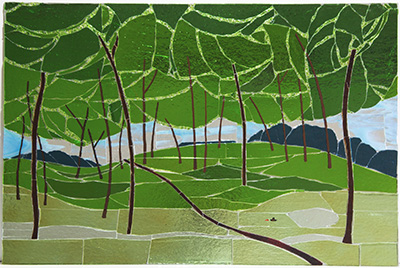 This is the first time Masterson composed music herself, and in typical fashion, she tackled the project with determination and enrolled in a class at Rice University in musical composition, taught by Charles Halka. "I wanted to do something with color and music. Each color has a feel to it. I was coming at it abstractly, not like I had some tune in my head. That's when I realized that in music you have a tune, and then you have the harmony, and the harmony can be its own composition. It's very subtle. Each color has its own mood. The indigo is E-flat, which is a moody scale. The green is chipper. Red was the hardest; it is very temperamental."
We come to the end of the visit, and my head is spinning. Masterson has so many interests, media, and disciplines, and hearing her talk about her art so eloquently and passionately is inspiring. How does she organize her practice? She thinks for a moment. "I like the idea of a Japanese teahouse: you slide the door and there is the next compartment." She is already opening the next compartment, as we speak. "I would really like Spectrum to become a theatrical piece. I envisage an opera. Something that's big."
—SABINE CASPERIE