IMAGE ABOVE: Carolee Schneemann, Flange 6rpm (2011-2012)
Foundry poured aluminum structures, motors 6rpm each unit, DVD projections floor to ceiling of foundry firing
Photo by Susan Alzner, PPOW Gallery 2013
---
Aurora Picture Show Honors Carolee Schneemann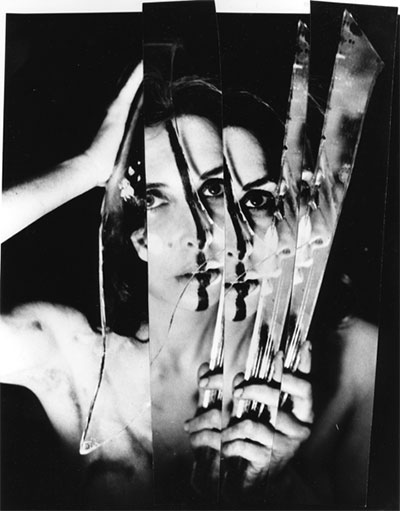 Carolee Schneemann, a groundbreaking artist who never considered herself to be shocking, has spent the last 50 years creating some of the most provocative work in the history of video art, confronting audiences and challenging their expectations by using her (often naked) body and the camera in erotic performances involving raw meat, her pet cat, lovers and friends, props, ropes, paint, film and, unabashedly, sex.
This month, she is being honored at the Aurora Picture Show Award and Gala, an evening focused on honoring an artist who has exhibited extraordinary originality in the field of moving image art. Now in its 13th year, the Aurora Picture Show Award and Gala is an overall celebration for the artist and attendees, with ticket sales helping to support the next season of Aurora's screening events and education programs. Artists previously recognized include Miranda July, Doug Aiken, and Joan Jonas.
Schneemann began as a painter who used her knowledge—and criticism—of art history to pave the way for video artists, especially feminists, in terms of creating experimental art that directly addresses (and involves) the body, sexuality, and gender. Meat Joy (1964) and Interior Scroll (1975), two of her most powerful and controversial works, are examples of her performances aimed at liberating artistic creativity and sexual expression. Only since the 1990s have critics and viewers alike begun to credit Schneemann for her pivotal role in experimental film and gender issues.
As a precursor to the October 23 award dinner, and as a historical overview of the artist, Aurora presents Fierce Films on Oct. 16, a selection of Schneemann's short films selected by film aficionados Mary Magsamen, Michael Sicinski, Marian Luntz, and yours truly. Focusing on Schneemann's "physical and painterly approach to filmmaking as well as her feline affection," the showcase includes Carl Ruggles Christmas Breakfast (1963), Fuses (1964-66), Mystery of the Pussies (1998-2010), and more. Selected works will also be screened during the gala.
On the occasion of the award, I had the opportunity not only to view many of Scneemann's videos, but to ask her a few questions as well.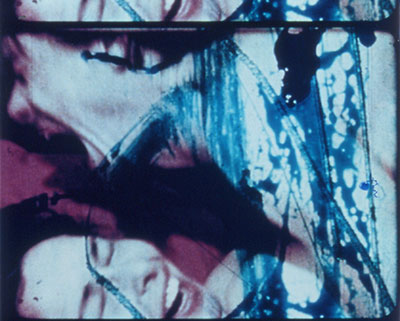 A+C: Like many other people of my generation, I first learned about your work in one of my early video art classes in college. Interior Scroll, Meat Joy, and Up To and Including Her Limits were like nothing I had seen before. Earlier this year, you revisited your 1966 performance Water Light / Water Needle at Hales Gallery in London. What was it like you for to re-visit and perform an early work?
Carolee Schneemann: While initiating my early work, I could never anticipate its potential reception, nor could I imagine a historic context that would be sustained. In principle, there are early performance works, both group and solo, that cannot be replicated; the motive, cultural surround, political dynamic, the resistance to the potentiality of work by women having authority… all these issues have shifted radically. Without the resistance, the marginalization, I enter a completely altered aesthetic field.
Stuart Morrison, curator at the Hales Gallery, proposed a solo exhibit focused on Water Light / Water Needle (1966).This was a very coherent and vibrant presentation. The central focal space presented the dual video projection of the outdoor performance—in the water, in the trees—using my authentic edit. The side walls of the gallery had elegant, enlarged still images from the indoor performance at St. Mark's Church (New York City). Along the rear gallery wall we mounted a sequence of the original preparatory drawings.
This presentation was a pleasure because the configuration was fresh, unique, and very clear.
A+C: How do you see video and moving image art impacting and influencing depictions of the female body today? Are women still feeling the need to identify themselves in opposition to a male counterpart? I'm thinking specifically about comments you have made referring to the mechanical nature of Pop Art and Minimalism, and am wondering about the power that video offers you that painting alone does not.
CS: Activist women artists will always need to create imagery in opposition to male traditions, which are so pervasive. If my early body-work was in counter-distinction to the mechanistic depiction of the female body in pop art and minimalism, the contrast now may have to address the commodification of sexuality, the trivialization of gender conflicts, as well as the deep psychosexual resistances within the dominant male culture… resistances to depictions of lived, actual female sexuality, resistances to the deeply embedded imbalances of cultural history. But within a relatively brief cultural frame, feminist analysis has shifted.
A+C: What role(s) do you see art playing in the feminist and transgender movements/conversations of today?
CS: Artists active in repositioning feminist and transgender experience open another threshold of aesthetic and social concern.
A+C: Talk to me about dance and movement in your work. Are they two different things?
CS: All my work is based on momentum. The kinetic installations from the 1960s as well as my childhood drawings all depict the body or objects in motion.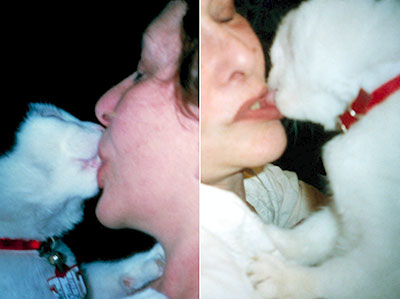 A+C: You have stated that you were a landscape painter. Did or does nature influence your interest in sexuality?
CS: When I was a kid and people asked me my religion, I always said, "Pantheist." I have no idea where I found that word, but I know I felt it had an animal in it and maybe a connection to paint… "Paint-theist." It would be many years before I grasped the complexity of art history and its rigorous proposals. As a landscape painter I was enveloped in a perceptual field and its constant alteration by wind, rain, sunlight, shadows… and so I learned that there would always be an aspect of "interference" in my intentions, and that this was part of a perceptual momentum that I would be engaged with.
A+C: It seems that you have never slowed down in terms of art making. What are you currently working on?
CS: Currently I am developing new kinetic sculptures based on recent installations. One of these, Precarious, isa multi-channel video sequence projected through a mirrored motion system. The imagery is focused on dancing in captivity: prisoners, a bird, a bear in chains, and myself. Flange 6rpm consists of foundry-poured aluminum sculptures which are motorized at 6rpm, animating each unit. DVD projections of the foundry firing envelop the surrounding walls, floor to ceiling.
—NANCY ZASTUDIL