Heloise Gold and Steve Parker performing Pauline Oliveros's Red Sliders (2015), Blanton Museum of Art. Sept. 13, 2015.
Photo by Gabriel Perez.
---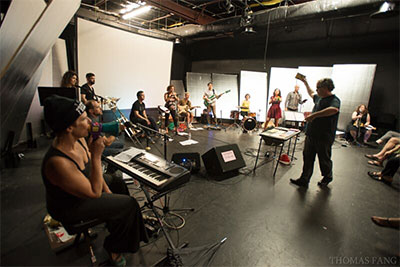 This year I unintentionally celebrated National Bird Day (Jan. 5) at an avant-garde jazz show. The newly-established Austin Cultural Exchange, together with local record label Astral Spirits and Brooklyn-based journal Sound American, presented Nate Wooley (Brooklyn) on trumpet and Ken Vandermark (Chicago) on clarinet and saxophone—in solo and duo sets that destroy common notions of what these instruments can do or the fullness of sound one or two horns can create. The event happened at The Museum of Human Achievement, a favorite venue for adventurous music and art in Austin. It was a cold night, and the 7,500 square-foot warehouse space is unheated; the musicians warmed their instruments over a space heater, and the audience of about forty clutched BYOB'd beers in gloved hands. Somewhere in the rafters, (apparently large) birds were becoming agitated: loud squawks and vigorous flapping intervened in the performance, and playing-it-cool, but still, what-the-hell-is-that glances circled the audience.
Wooley acknowledged the serendipity of it all, the birds and Bird Day, when introducing his composition "I Prefer the Company of Birds." The audience laughed. But as trumpet and clarinet filled the space and mingled with acousmatic birdcalls, musical and animal sounds informed and transformed one another, as if through call and response. To me this captures something of what experimental music is about. If in another context the birds would have caused a mere disturbance, here they became an integral component of the listening experience. Whether composed or fully improvised, experimental music tends to maintain open, dynamic relationships with the space and context of performance, and unanticipated effects of those relationships can deepen one's appreciation for sound.
The practice is as open as the term is vague. So-called experimental music encompasses a variety of approaches, and may graze from genres including ambient, classical, dance, drone, folk, free improvisation, jazz, metal, noise, punk, rock, etc. What it comes down to is not a definable aesthetic, but instead a community of musicians, and music enthusiasts, interested in expanding the possibilities of medium and genre through sound explorations and, sometimes inter-disciplinary, collaborations. No survey of activity can nail it down, and the actual wealth and diversity of music in Austin compounds the challenge. In what follows I offer a mere sampling of some ongoing events and organizations to look out for.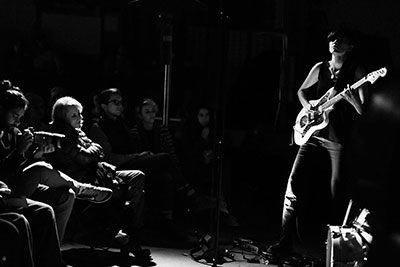 NO IDEA FESTIVAL
Percussionist Chris Cogburn founded the No Idea Festival in 2003 to foster connections among improvisational musicians in Austin and Houston (especially those in Houston affiliated with the organization Nameless Sound). The festival now encompasses an international network of improvisers, dancers, filmmakers, and writers, with special emphasis on cultivating a bi-national relationship with Mexico City. Last year No Idea launched a filmmaking project, which continues this year alongside a new artists book initiative featuring interviews and visual art from No Idea participants. As always, the festival encourages deep listening and the abandonment of expectations through curated first-time collaborations, existing collaborations, and solo performances by innovative improvisational musicians. The 14th-annual No Idea Festival will take place Feb. 16–19 at The Museum of Human Achievement and Blanton Museum of Art.
SOUNDSPACE
SoundSpace at the Blanton Museum of Art features several simultaneous performances distributed throughout the museum's galleries, with each piece performed twice at precise times to achieve a delicate, controlled chaos. The series is among the Blanton's most successful programs, attracting upwards of 900 visitors to the museum on selected Sundays, and it provides one of the broadest audiences for experimental music in Austin. Series curator Steve Parker conceptualizes each installment around a theme. Past programs have included tributes to composers John Cage and Pauline Oliveros, "Music and Dance," a collaboration with choreographer Michelle Thompson, and "Music of the 1990s," presented in tandem with the exhibition Come as You Are (2016). "Earthworks," the next program on Feb. 19, will explore climate change and the environment, including  the use of natural instruments, field recordings, plant amplifications, and processed bat sounds.
CHURCH OF THE FRIENDLY GHOST
Church of the Friendly Ghost's original home was a small church in east Austin, hence the adorable name. But even without the church, the name fits: COTFG is a volunteer-run, community-driven organization with diverse programming that reflects its collective ethos. COTFG has presented over one thousand performances, workshops, screenings, and other events, since it was established in 2003, and truly deserves credit for cultivating a local community for experimental sound and art. The robust annual presentation season includes a four-day summer festival, New Media Art and Sound Summit (NMASS), featuring sound art, music, film, and installations by local and international artists. COTFG's core members are George Pasterk, Henna Chou, Melissa Seely, and Laura Brackney.
ME MER MO MONDAY
Melissa Seely organizes Me Mer Mo Monday, a weekly series for experimental music of all kinds at The Volstead Lounge on East Sixth Street. Established in 2016, the series fast became a staple feature of the Austin scene, filling an obvious demand for performance opportunities and socializing among a community of the like-minded—happy hour vibes don't hurt either. The series programming is inclusive and wide-ranging, modeled on DIY house shows where nearly anything goes. In addition to performances, Me Mer Mo features D.J.s between sets, artists' visual projections, and a monthly "local merch market," where Austin synth builders and record labels showcase goods.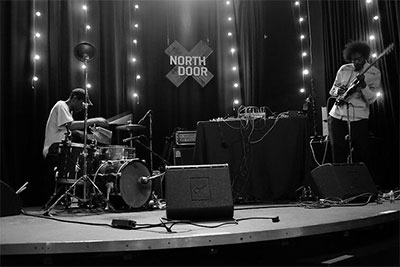 ANTUMBRAE INTERMEDIA EVENTS + INSTALLATIONS
Founded in 2014, Antumbrae Intermedia Events + Installations presents leading sound and intermedia artists—including, to date, Phill Niblock, Lawrence English, John Duncan, and Ken Jacobs—as well as prominent local electronic and electro-acoustic musicians. Curator Tara Bhattacharya Reed (herself an excellent electronic musician) believes sound artists should obtain greater recognition, and Antumbrae also encompasses a project-oriented immersive sound gallery at First Street Studio in East Austin. Coming up this spring, Antumbrae will partner with Austin-based literary journal Fields Magazine to present Berlin-based American composer and visual artist Arnold Dreyblatt.
AND MORE
There is so much more. Austin's scene is vibrant and always expanding, so without pretense to being comprehensive, here are a few other prominent organizations to know about. Epistrophy Arts has a long-standing history of bringing world-class experimental jazz and other adventurous music to Austin. Sonic Transmissions, a three-day multi-genre festival, exposes audiences to a wide range of improvisational music from around the world. Austin New Music Co-op promotes new music and supports local composers and performers. Austin Noise releases an annual tape compilation, featuring local noise and experimental projects, and also organizes many events, including 911 Noise Fest and Austin Noise Drone-A-Thon. Phonography Austin offers monthly meet-ups for anyone interested in exploring acoustic ecology and field recording. And Austin boasts many local tape and record labels including: Astral Spirits, Elevator Bath, Holodeck, Obsolete Future, Super Secret, Self Sabotage, and Somatic.
—ROBIN K. WILLIAMS