Students learn to express themselves creatively and sharpen their theater skills at ZACH camps and classes.
Photo by AxelB Photography.
---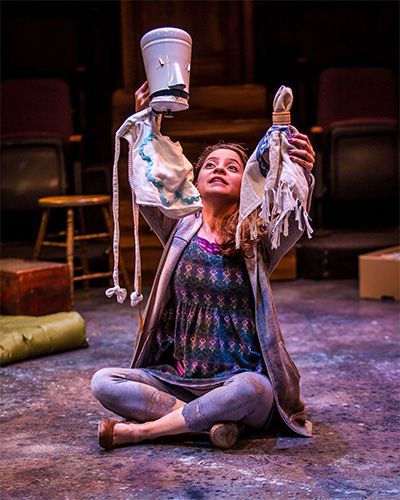 Lee Nguyen from the City of Austin gave the latest work at ZACH Theatre a thumbs-up review. But it wasn't exactly for the company's latest drama, comedy or musical.  As the city's assistant coordinator for the Americans with Disabilities Act (ADA), Nguyen was praising ZACH for no fewer than 1,777 "accommodations requests" completed so far in 2016, a 200 percent increase over a year earlier. In addition, therefore, to making theater magic for audiences that its local, regional and even national reputation in based upon, ZACH is working hard to expand that definition of "audiences" to cover disabilities, languages and other challenges that theater people hardly recognized a mere generation ago. The result is a building that not only houses the diversity of contemporary theatrical styles, themes and messages but the diversity of Austin itself.
"We would like to thank ZACH Theatre for continuing to think about people with disabilities in its shows, programs and services," Nguyen wrote. "The office continues to see ZACH as an innovator for arts access and hopes smaller arts organizations that use the ZACH space can benefit from ZACH's example. We applaud ZACH for taking the lead as being the most accessible large scale performing arts venue in town."
The theater complex has attacked the issue of audience accessibility in a number of ways, all at the same time. Like several other visionary companies in Texas, ZACH continues to pursue an enhancement of its bilingual offerings, thus recognizing the long and essential relationship of the state to its Hispanic population. These shows are being chosen and presented in cooperation with Austin's Mexican American Cultural Center, the idea being to offer live theater in a venue already familiar to bilingual and Spanish-speaking audiences. All the same, other efforts are intended to pinpoint groups who might be left out of the traditional theater mix. In some ways, while no single initiative has never been tried anywhere before, these efforts are the most fascinating.
They include performances interpreted in sign language for deaf or hard-of-hearing patrons and also "sensory friendly" shows for people whose autism or other conditions make them sensitive to loud and abrupt noises. Rather than doing shows exclusively for autistic groups or simply ignoring them, the goal is for families to enjoy performances together. This, the company believes, will allow parents and siblings to enjoy engaging theater side-by-side and talk about what they've seen later, becoming a desirable "normalizing experience."
Still other efforts attack one of art's most universal challenges these days—the resistance of audiences to drive to a central "downtown" location to enjoy theater. Opera companies, ballet troupes and symphony orchestras have in recent years taken the lead on this issue, carving off smaller ensembles that travel to perform in suburban schools, churches and other workable venues.
Almost humorously, the need to do something like this in Austin is based not only on the distance from Sixth Street to various suburbs, but also on the singular curse of Austin traffic. Austin North is the next setting for classes in theater arts aimed at making young people better performers—and more enthusiastic future audience members.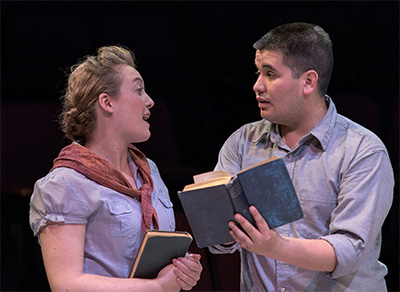 "One thing we've been hearing more and more is that traffic is a real problem for families," says Rachel Applegate, ZACH's chief marketing and community engagement officer. "This prevents many students from engaging in the educational programs they love—they simply can't get across town at that hour of the day. We want to be as convenient as possible for all who want to share in the joy of learning. No child should have to miss out on vital art education because of something like traffic. That shouldn't be a barrier."
For many watching ZACH's subtle transformation over the past year, the improvements seem the near-perfect mingling of self-service and community service. Obviously, like every theater, the Zach is looking for two things: audiences for its programming and funding, whether public or private, for its ongoing survival and growth. It's a safe bet that accessibility initiatives of this type, along with the attention they attract, create a benefit in both of those crucial areas.
Additionally, though, there is a basic altruism at their heart. With society's increasing awareness and recognition of disabilities—spotlighted dramatically by the ADA when it became law in 1990—all enterprises are facing the real need to not only comply in some legalistic way but to do what they can to help. To Applegate and her peers at ZACH, people with various difficulties attending and appreciating the performance aren't merely potential ticket buyers; they are people first.
"ZACH is known for breaking the fourth wall during our productions," she says. "Actors enter and exit through the house, really. Sometimes those artistic choices limit us in how and where we can place a sign interpreter, an open caption monitor, or a guide for our sensory friendly warnings. But we are a creative bunch. Sometimes that challenge sparks new ideas and allows us to see better options for providing these services.
"We at ZACH believe the arts should be accessible to all—a meeting tent for all people to share ideas and experiences. And while we're still working to be fully accessible to everyone's unique needs, we invite anyone to experience how theater can transform, entertain, enlighten and engage. Why limit the who when it comes to great art?"
—JOHN DeMERS