Jennifer Ling Datchuk, Short Hair Don't Care (red), 2016, porcelain, blue and white pattern transfer from Jingdezhen, China, photograph, Asian human hair wig, 31 x 23 x 7 inches.
---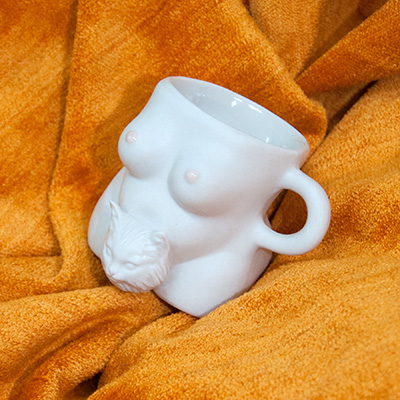 Eyebrow-plucking as critique of conventional gender roles; wigs that mimic authenticity but question identity; porcelain mugs in service of social awareness: These are just a few of the recent artworks by Jennifer Ling Datchuk that provoke important, if not awkward, conversations.
Datchuk, who currently lives in San Antonio, is "half-white, half-Chinese." She is trained in ceramics (she has an MFA in Artisanry from the University of Massachusetts Dartmouth and a BFA in Crafts from Kent State University), but her artworks often employ a mix of materials and performance. "I am always bouncing back and forth between the materials of porcelain, hair, and skin to talk about conflict within identify, race, and gender," she says. Her bodies of work, as well as the bodies involved in her work, primarily address the histories of conflict she has inherited.
Her childhood memories include her father teaching her the game of "he loves me, he loves me not," recited while picking the petals from a flower one by one. As an adult, she recognized how this bonding moment was predicated on assumptions about gender roles and the "fated" outcome of placing her then-undefined hopes and dreams on an unknown man. Today, she filters these experiences through her artwork, and has a special way of making what has been accepted as conventional or traditional truly uncomfortable. For example, in her 2014 video titled Pluck, she sits in front of a makeup mirror, audibly repeating the "he loves me, he loves me not" verses as she plucks out all of her eyebrows.
As with the child's game itself, she couldn't be sure exactly sure how the video would turn out until she plucked the last eyebrow hair. She fully embraced the fact that she would literally wear the results and effects of the performance. Never the type of artist who sticks with one-liners, Datchuk's video also referenced the growing trend among Asian women, including those in her family, of having their eyebrows tattooed onto their faces. She recalls seeing some of the boutique advertisements, with the various styles named according to the shape of the eyebrow arch, many after Disney princesses.
It's not just eyebrows that play in a role in Datchuk's work. It's human hair in general, inseparable from the idea and fact of hair as an extension, an outgrowth, of a person. A few years ago she met a hair dealer in China and soon became more fascinated with the human hair trade. She learned that Asian hair is the most desirable for the wig industry because it is the strongest; it can be bleached, dyed, and styled to match any ethnicity or "type." In her series Natural Hair Don't Lie and Short Hair Don't Care, she draws attention to the fact that she "owns the hair" but the not the hairstyle.
In response to the Presidency of Donald Trump, whose brightly colored hair garners attention of its own, Datchuk created Porcelain Power Factory, a four-year-long project which she describes as "a body of feminist, functional works motivated by Trump's body-shaming and braggings of sexual assault." Money from sales is donated to Planned Parenthood.
In her works, she often pairs hair with porcelain, a material that allows her to explore complex ideas and associations of whiteness. The movement of those ideas throughout Eastern and Western cultures seemed to inspire performative aspects to her work, as well. "So much of my work comes from my personal history and narrative," says Datchuk. "I don't know how to make work about things I don't know or haven't lived." In one performance piece that commented on function, pattern, and identity, she had a hair stylist transform her hair into a blue and white bowl, of sorts—applying white-blonde bleach overlaid with a dyed blue pattern of traditional Chinese symbols, in a bowl cut.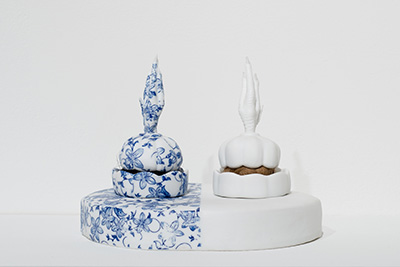 The blue and white patterned porcelain provides endless inspiration for Datuchuk. Recently she was awarded a residency through the Blue Star Contemporary Berlin Residency Program in partnership with the Künstlerhaus Bethanien. This summer, she is in residence at the European Ceramic Work Center, Oisterwijk, Netherlands, where she is "turning herself into a broken white and blue pot" by scanning parts of her body and 3-D printing broken shards of blue and white pottery, in order to honor the broken parts of women's bodies and honoring their stories. Exactly how all of this comes together under Datchuk's artistic license won't be revealed until her solo show, Oct. 26-Dec. 10, with Blue Star Contemporary's partnership with Trinity University's Department of Art and Art History.
—NANCY ZASTUDIL