Chun Wai Chan as Siegfried and Yuriko Kajiya as Odile, in the Houston Ballet production of Stanton Welch's Swan Lake, June 23-July at Jones Hall.
Photo by Tim Rummelhoff.
---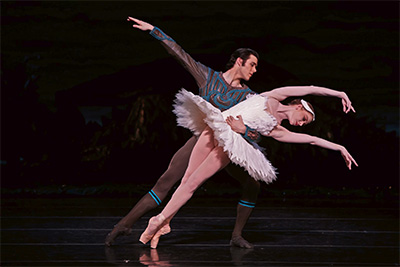 June is a busy month for Houston Ballet with Play taking over George R. Brown's General Assembly Hall June 8-10 for an in -the-round performance.   The season ends with Swan Lake, June 23-July 1 at Jones Hall. This cherished ballet about the supernatural world of maidens transformed into swans is a mainstay of most large companies.  Stanton Welch was only three years into his tenure as Houston Ballet's artistic director when he mounted his first Swan Lake in 2006. It had been some 39 years since the company had a new Swan. (Ben Stevenson had created two productions: one in 1977 and a new version in 1984.)
Welch already had two full length ballets under his choreographic belt before coming here: His whimsical Cinderella and gorgeous Madame Butterfly were created for the Australian Ballet while he was still dancing. Houston needed a fresh Swan and Welch was the man to do it.
Although dance companies often share other productions, this generosity doesn't extend to Swan Lake. A company's Swan Lake is like its signature—they need their own. Welch considered Swan Lake the "Everest of ballet, a career benchmark and a challenge for choreographers…Every company needs their own Swan," Welch told me back in 2006. And he was right; on opening night, Mayor Bill White welcomed Houston's new production of Swan Lake as a ballet that belonged to the city.
Welch's Swan was an instant hit. He tweaked the story to give it more emotional heft, also giving it a more contemporary pace. Houston Ballet Ballet Master and Odette veteran Barbara Bears explains, "Stanton has the audience see Odette as a maiden, which adds a great deal more depth to the role. Siegfried falls in love with Odette as a maiden only to discover she is also a swan. It makes Odette and Siegfried's story that much more tragic."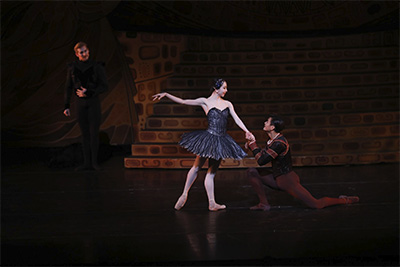 The production features New Zealand designer Kristian Fredrikson's scenery and costumes inspired by pre-Raphaelite painter John William Waterhouse's painting, The Lady of Shalott. Fredrikson, who had designed many Swan Lakes over his stellar career, passed away in 2005 before the ballet premiered. Houston Ballet's production would be his last Swan.
Making his role debut as Prince Siegfried was a 19-year old soloist, Connor Walsh, who partnered Bears. "Barbara was without a doubt one of our most experienced and thoughtful artists," recalls Walsh, who was promoted to principal the next year. He has danced Siegfried several times now. "I'd like to think that every year I become a stronger partner," he says. "The more I revisit ballets the more I am able to anticipate my partners' needs and not just react. I'm at a place in my career where I am less interested in replicating the dancers of previous generations and more interested in discovering how I can insert myself into this work. I want to find my own voice."
Bears retired in 2009 and joined the artistic staff as a Ballet Master in 2016. She first danced the role of Odette in 1991 with Li Cunxin. "I was a young member of the corps at the time, so I was thankful to be dancing with a seasoned principal," says Bears. "When I danced Stanton's new production with Connor he was a young member of the company and now I was the seasoned principal."
Although principal Yuriko Kajiya had danced the Swan Lake pas de deux before, the company's performance on tour in Minneapolis was the first time that she danced the entire ballet. Kajiya finds the challenge in the fact that she dances three roles: Maiden, Odette and Odile. "It's really very difficult," she says. "It's always hard to carry the emotional arc from beginning to end, but it's also so rewarding. Stanton's Swan is such a spectacular ballet."
The company's newest principal, Chun Wai Chan, is growing into the prince role. "There's always room for improvement in dancing and partnering, but acting is definitely the hardest part for me," says Chan. "I have researched and studied several versions of Siegfried, and the real challenge is being able to tell his story well while not sacrificing my own style."
As for bringing Welch's Swan back right now, there is a multitude of sound reasons. "When I watch the ballet now I see how much the company has grown since 2006," says Welch. "I can see the wealth and depth of our talent."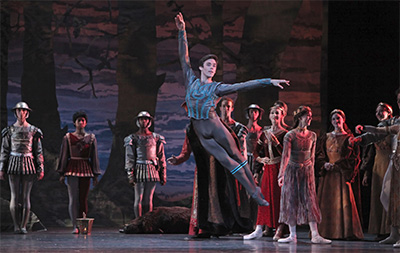 Only nine dancers remain in the company from the premiere in 2006. Keeping a ballet alive through performance is key for the health of any ballet. Walsh explains, "The transmission of information from coach to dancer is something that is uniquely beautiful about ballet. I've had the pleasure of working with some top coaches and I look forward to the day it is my responsibility to pass on what I've learned to a younger generation."
Welch is excited to have his new crop have a good run with his ballet. "You will see Swan Lake at Miller next season so it will be around for a while," adds Welch. He finds that as the years go by, the coaching process becomes more streamlined, especially when it comes to the acting and pantomime sections. "We know what works now and we get better at the speed and accuracy of coaching the ballet. We can really fine-tune all the things around the steps."
Bears finds the coaching process incredibly inspiring. "As a dancer you will never stop working on Swan Lake," she says. "It's a beast, technically and artistically. I am excited to see our new Odettes grow. The Odette you dance at 22 is not the Odette you will dance when you are 35. Even though I am no longer dancing, I am still discovering new things. The steps are the same, but each swan is unique in her own way. That's the beauty of seeing different casts, no two are alike." Welch agrees, "They are all very individual and they adapt the ballet to make the best fit."
There's much to be excited about with this production with visiting artists Frances Chung from San Francisco Ballet and Victoria Jaiani from The Joffrey Ballet. And finally, what better way to conclude a trying and triumphant post-Harvey season than a classic ballet about love, the supernatural and transformation.
—NANCY WOZNY