Enjoy our semi-annual Texas performance gab session, where we discuss all that we saw, what we missed and what we loved!
Nancy Wozny:  You saw most everything. I did not. Tell all.
Tarra Gaines:  Not quite everything. Because of some family medical emergencies, I actually missed several shows this year. The personal might not be political as much as critical in my case because this winter/spring I found myself embracing dark and complex humor in theater. Catastrophic Theatre's production of Robert O'Hara's Bootycandy was one of my faves, an excellent mix of subversive comedy plus meta commentary on writers mining their own lives for their art. Catastrophic's spring season feels uncommonly comic. Even the seemingly shadowy, collaborative, devised work Toast had me laughing with the goofy, WTF-ness of it all. In other spaces, Quack at the Alley, Hunchback of Seville from Mildred's Umbrella and The Secretary at Main Street gave me quite a few laughs in the face of the complexities and absurdness of life.
I'm also thanking Dionysus, Apollo and all the other theater gods for Theatre Under the Stars' Mamma Mia! and Broadway at the Hobby Center bringing in The Play That Goes Wrong. I definitely needed those.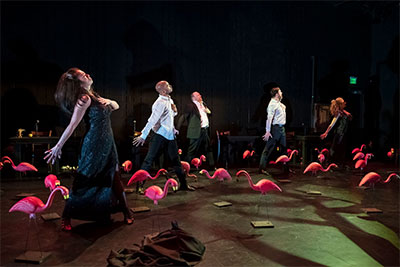 NW: Yes. Catastrophic's Toast got me through the season, and those vintage Robbins numbers from Jerome Robbins' Broadway at TUTS.  We definitely had to divide and conquer this year. I went to Fusebox and you went to Dallas. What stood out on the Dallas scene?
TG: I caught a whirlwind of performance art in Dallas and in one weekend saw the harrowing, fairytale-like Lela & Co from Second Thought Theatre. I also got a behind the scenes look into the new Garrett Smith dance that Bruce Wood Dance will premiere in June.
NW: Just so you know, I wrote the very first story on that young lad in the Houston Chronicle. Smith has gone on to great success as a dancer and choreographer. Nice to see him back in Dallas. He has also set work on Texas Ballet Theater and last year had work on the Dance Salad bill. It's great to see him doing work for Bruce Wood Dance! What else?
TG: The show that blew me away was Dallas Theatre Center's production of Sarah DeLappe's The Wolves. I understand now why The Wolves made the New York Times list of the best 25 plays since Angels in America.
NW: If I had known that Molly Searcy was in Wolves I would have been right next to you on that fancy bus to Dallas. I've been watching her since she was in high school. Let's hope she stays in Texas. (Molly, if you are listening, let an old drama mama know what you are up to!). OK, carry on with your Wolves rant.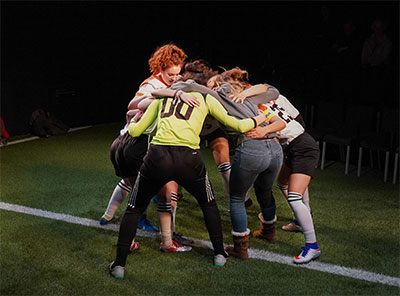 TG: Performed in DTC's smaller Wyly Theatre under Wendy Dann's direction, the production put the audience right on the sidelines as we eavesdropped on the pre-game warmup chatter of a teen girl soccer team, the Wolves. In less than two hours, we go through a season with the team, getting glimpses into their lives, but never their complete stories. DeLappe, Dann and the all-female cast portray the flawed young women with a loving respect that I don't think I've ever seen in any other stage or screen story about a band of girls.
Strangely, I spent time on the ride home from Dallas thinking about what I've read about wild wolf packs and how that old notion of dominating alphas and strict hierarchical structures is probably wrong. Packs, whether canis lupus or female adolescent homo sapiens, are much more complex and perhaps magnificent than popular (mis)conceptions would allow.
NW: That I missed a chance to talk about wild wolf packs with you is crushing.
TG: Ahh-wooooooo! I am jealous that you caught the Rude Mech's latest creation at Fusebox, Not Every Mountain. Was it worth the trip for Nancy to go to the Austin mountain?
NW: Hell, yes! I'm still thinking about Not Every Mountain. What I love about Rude Mechs is that I never know where they are placing a theatrical experience. They always seem to sneak sideways into a subject or an idea—always fresh and unexpected. The brilliance of Mountain was in Thomas Graves set. So you were hanging out with wolves, I was watching a mountain range forming. It was deeply poetic, largely because of Kirk Lynn's script and Peter Stopschinski's score. The performers were excellent too.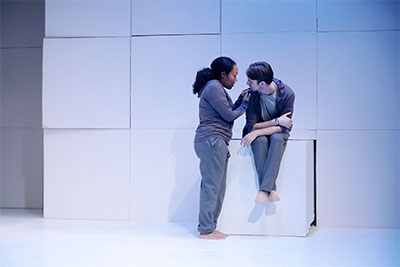 But what got me on the road to Fusebox was Michelle Ellsworth's The Rehearsal Artist and her new workest work, the Post Verbal Social Network. I had written an essay about her in Contact Quarterly while she was working on both of these pieces and it was like coming full circle to see them. Like the Rude Mechs, Ellsworth's imagination knows no borders. Her relentless investment in the creative process makes my head hurt. I have been watching her work since she first came to DiverseWorks in the 90s. She is one of the most brilliant artists working today. You would have loved it. It's curious that both Mountain and The Rehearsal Artist involved breathtaking engineering that happens in front of an audience. She is a marvel and I hope to see her back in Houston. (Anyone out there listening?)
SHIFTS IN HOUSTON
NW: We have had an influx of newcomers, which is always a good thing; even when they don't last, they shake up the status quo. I've enjoyed watching the still relatively new Houston Arts Alliance CEO John Abodeely join the fold. He's responded to the community, creating some new granting opportunities, and doing a great job with helping with disaster readiness. Jessica Green, the new artistic director at Houston Cinema Arts Festival, is out and about learning the Houston ropes. And the new-ish TUTS chief Dan Knechtges has brought the organization back into relevancy. Meg Booth at Society for the Performing Arts is a game changing shift, and then there's Rob Melrose, who has actually been seen leaving the building. All huge. I wonder if they get together and talk about acclimating to Houston's oddball culture?
TG: I've seen several of these new Houstonians at various performance art events around town not directly related to their own companies and organizations. Dan Knechtges especially seems to relish being in the audience in other theaters. I greatly appreciate when new blood brings in new ideas but also commits to exploring and getting to know Houston's established arts communities.
NW: In Houston, we have to talk about loss. Seemed to be a theme. The dance community watched as METdance lost its Midtown hub, which was huge. So much loss in theater too. How do you see the shift of smaller theaters impacting the scene?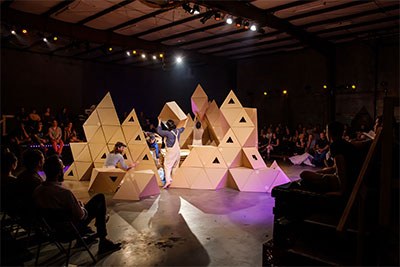 TG: Houston lost two theatre spaces at the end of 2018, Obsidian in the Heights and the Chelsea Market space in the Museum District, but that loss seems to be rippling beyond impacting just Classical Theatre and Obsidian. The last I heard from Tom Snell, Obsidian's founder and artistic director, they were still planning on making a move to the MATCH, but they haven't announced any productions yet. Snell told me there have been additional scheduling complications.
Classical took a trip outside the 610 Loop and set their excellent production of The Fair Maid of the West in the black box space at Queensbury Theatre. Director Philip Lehl turned the English Renaissance play into the ultimate playtime (with Barbies and GI Joes taking on some of the roles) for both the actors and audience. I had hoped that Classical's audience was willing to make the trip with them, but with Johnston's announcement that they'll need to postpone their last production of the season Peer Gynt, I'm worried.
NW: Classical will announce its new location and season soon. Sit tight. I really miss the theater across the street. It was a two minute walk from my apartment. To have such fine theater so close seemed a huge perk to live in my building.
TG: In brighter news, Mildred's Umbrella, which was also using the Chelsea Market space, got a helping (stage) hand from the Alley Theatre and temporary landed in the Neuhaus space for their fab Hunchback of Seville production. When I checked in with Mildred's AD, Jennifer Decker, she revealed for their annual Museum of Dysfunction short play production they'll temporarily go back to Studio 101. Then, she's set on partnering with others for reading play fests, for example Israeli Women Playwrights in collaboration with the Israeli Consulate and Asian women playwrights in collaboration with the Asia Society Texas Center.
NW: OK, I thought only I knew about the Asian Women playwriting event coming up at Asia Society and was finally going to tell you something you did not know!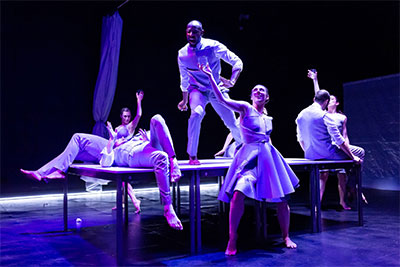 The event is called "A theatrical celebration of Asian and Asian American women's voices," with three staged readings of Houston premiere plays by Asian and Asian American women playwrights. It's presented in partnership with Mildred's Umbrella, Shunya Theatre and Asia Society Texas Center and takes place on May 15-16, 2020. Look at me with all this fresh info for a change! As far as the future of Mildred's I don't know of another artistic director that has had to manage change more than Jennifer Decker. She is unstoppable.
Back to loss, our least favorite subject. You forgot the sudden shuttering of Horse Head Theatre. How could you?
TG: Horse Head is a real loss, but I remain optimistic that we will get great theater in the wilds of Houston again, like The Whale, Church and We're Gonna Die, as it seems many of the artists who worked with the company are still around. Only artistic director Jacey Little moved on to a new adventure, but she was such a powerful force driving the company.
I have informally talked with a few artistic directors of small theaters recently who might experiment with using nontraditional spaces for stages as Horse Head did so masterfully. Courtney Lomelo, one of the founding members of Gravity Players, told me recently that they're looking into alternative spaces for their next show, but she wasn't ready to reveal what that show will be. Over the last year, David Rainey's Landing Theatre has also found great critical success doing a series of micro-plays written by local playwrights that they've performed in local houses. Landing's devotion to playwrights and cultivating new writing talent has remained impressive.
I also have my eye on the new Houston Equity Festival, as some of our local hotshot actors take the producing reins and mount their own shows. With an actor "presenting" each of the five plays, this looks like an intriguing model for actors to produce a favorite play outside of an established company, without having to create an new theater company from scratch. The Festival just began with Lucy Prebble's The Effect presented by Main Street regular Dain Geist; it will wrap up in September with Every Brilliant Thing by Duncan Macmillan with Jonny Donahoe, presented by Shannon Emerick. If the powerful performances I witnessed in The Effect are an indication of this Festival's potential, I'm hoping they might make it into a yearly event.
NW: And let's not forget that mega complex Stages Repertory Theatre will open in 2020. Three theaters! The Wonderettes could run for eternity.
TG: Yes, I keep imagining Stages artistic director Kenn McLaughlin going for an intimate Kennedy Center vibe with The Gordy. Hasn't Shear Madness run on a small stage at the Kennedy since the Kennedy administration? (Just kidding, it's likely been there since Eisenhower.)
Director Mitchell Greco be airing Honky Tonk Laundry in their Warehouse Stage, the space they'll likely leave for shows with longer runs. Their season announcement only gave a month-long Laundry run, but I think they're just being a little coy and cautious. Stages' seasons tends to have the most eclectic mix of popular shows, musicals and edgy contemporary dramas and comedies than any other theater in Houston. The Gordy will probably deepen their commitment to offer shows for every theatrical taste in Houston.
DANCE OUTINGS
NW: You got out to see some dance this season! Let's get to Open Dance Project's Panopticon. ODP Artistic Director Annie Arnoult gets something right about immersivity that I have not seen in Texas theater.
TG: I don't think I've ever fallen back to my literature background to view and appreciate a dance performance as much as I did with Panopticon, an immersive science fiction dance project.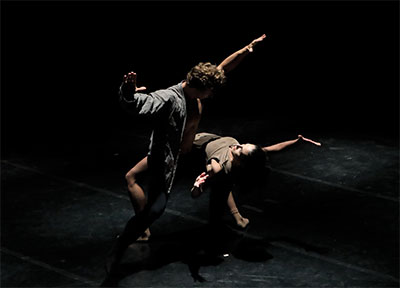 NW: I only wish I had you as my personal dramaturg during the show.
TG: When it began in an Orwellian 1984 setting, I thought I knew where it was going, but then came allusions to Paradise Lost and the Judeo-Christian Biblical creation story.
NW: Well good thing we will get that exact setting when Rob Melrose directs Orwell's 1984, at the Alley, March 6-29! Sorry to interrupt. You were saying….
TG: I found much to explore during the performance and then for days afterwards in my head. The message that love and life require periods of pain to be real is an ancient one, but I thought Panopticon brought new nuance to it.
One touch I loved was that Arnoult never actually danced in the performance, but kept appearing on screen watching over dancers and audience alike. I'm still debating whether that makes the choreographer Big Brother or God in the show. Maybe both?
NW: Oh, that Annie! She was present for sure. I think in another life she could have run a post-futuristic circus. No matter what she is up to she aims to put the audience in the center of it. I enjoy her pre-show talk where she tells the audience that if a dancer is moving at a high speed in their direction they should get out of the way. Audiences are so programmed. They really need to be told this.
That said, in Panopticon I spent quite a bit of time getting out of the way of oncoming dancers. In a way it kept me in a high state of alert, which I think is an excellent way to see a dance, and especially this dance. The fierce level of performance in a room full of folks is always an astonishing thing to witness. As far as an immersive experience, this one was off the charts in the dancing category. When are we ever this close to this level of kinetic energy?
So great to see you at Dance Salad, a terrific lineup. What were your favorites?
TG: I haven't had a chance to see Dance Salad the last few years, so this was a treat. 2019 seemed to showcase some great comic moments, especially the Royal Danish Ballet's Carmen, Semperoper Ballet's Cow film and the less gender roles-bending as gender-wobbling Strokes Through the Tail from Donion Dance Collective. I have to admit I'm an admirer of the bare chest, tulle skirt ensemble for men's dance fashion.
Has there been so much humor in previous years?
NW: Oh, yes! Nancy Henderek, Dance Salad's founder and Artistic Director, has a terrific nose for funny dance. If only you had seen Christian Spuck's hilarious Grand Pas de Deux, where the ballerina carries around a red pocketbook. There's also a cow on stage donning a tutu. It's a theme: cows and ballet. I loved Alexander Ekman's Cow as well. Strange, witty and excellent cow-ish moves. You might have seen Houston Ballet perform Ekman's super funny Cacti.
I found something interesting in every piece this Salad season, yet I would say that Kristian Lever's Unravel took the "best of the fest" for me. The two dancers from the Royal Danish Ballet, Stephanie Chen Gundorph and Tobias Praetorius, navigated that slippery slope between freedom and form so well. Simply gorgeous!
There was also something empowering in watching the amazon women in Susanna Leinonen Company in Shame/less (curated for DSF) based on Nasty. Seeing the star power of Maria Kochetkova and Ashley Boulder was also a huge highlight.
NEXT UP
NW: Let's get to what's ahead of us. For me the big thing is the Kyle Abraham commission at Society for the Performing Arts. METdance performs one of his works and it's excellent, but this will be a world premiere. There's also lots to love on TITAS Presents new season in that there are many troupes new to all of us.
TG: Looking ahead to theater and the summer and fall seasons, I find myself gravitating towards the new and new versions of the old. I'm curious to see if female director Julie Kramer and choreographer Jessica Hartman bring a new perspective to the onstage director/dancer dynamic in TUTS's first production of their 51st season, A Chorus Line.
NW: Dan Knechtges is going into year three with a strong season. As for A Chorus Line, Michael Bennett is from Buffalo! Need I say more?
I can't wait to see Spring Awakening with choreography by METdance's Marlana Doyle. That's huge. I once saw bows that she choreographed and told her she needed to be choreographing the part before the bows. She has done more work since then, and it's very promising. It's great to see Knechtges continuing his commitment to Texas artists.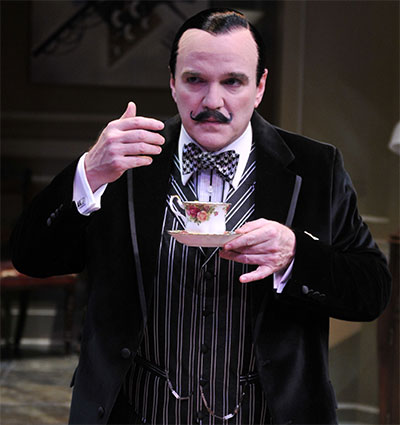 TG: Meanwhile the Alley's new artistic director has picked the Summer Chills offering Murder on the Orient Express to make his Houston directorial debut. Can Melrose bring a fresh, snow-bound vision to the one Christie mystery that everyone already knows everybody did it?
NW: First of all, I do not know who did it!
TG: You don't know who did it? Well, spoiler alert, Nancy: Rosebud is a sled and only Horatio and that princely Fortinbras dude make it out of the Danish massacre alive. They then go on to found the This Is Too Long Theater Company in honor of dead Polonius. That last sentence might be a spoiler for my own quill penned sequel.
Sorry, please continue.
NW: (I know about Rosebud!) Second, do we have to put the new guy under so much pressure, dear Tarra? It's summer. It's Agatha Christie. Someone has to die to give us a cool place to hang out. Let's evaluate Melose by more than his directing debut.
TG: Of course, I'm also looking forward to a bunch of new to Houston shows including Vietgone at the Alley in October. And as one of Houston's biggest Tom Stoppard fans, of course, I'm awaiting Main Street's regional premiere of The Hard Problem, his dive into neurology and the question of consciousness, examined through the messy interplay of human relationships.
NW: I knew you were gonna go nuts on the Stoppard. And Main Street Theater does Stoppard so well. We bonded over their production of Stoppard's Arcadia.
What else?
TG: After another one of my favorite productions of the new year, the Catastrophic/Austin's Hyde Park/University of Houston partnership to bring Will Eno's Wakey, Wakey, I'm definitely looking forward to a mini-Will fest in Houston as Catastrophic Theatre produces Tragedy, a Tragedy in September and then in the beginning of 2020, 4th Wall keeps up with Eno's The Realistic Joneses in January 2020.
NW: Every city needs a Will-fest. Wakey Wakey's quiet energy has stayed with me for sure. To have Catastrophic and 4th Wall taking us down the Eno road again does seem like a bounty of wonder. I am thrilled to see another Kate Hamill/Jane Austen adaptation when Sense and Sensibility comes around to the Alley in July 2020. And Hamill's adaptation of  Little Women at Dallas Theater Center. I still think of Justin Doran as Darcy doing the twist at the end of the 4th Wall Theatre production of Hamill's Pride and Prejudice. Pure fun. We need more of that!
TG: I also hear the road a calling for a trip to Austin in June as Zach Theatre presents a world premiere Terrence McNally work, Immortal Longings about Sergei Diaghilev's and his Ballet Russes.
NW: That does have my name on it doesn't it? I can share everything I know about Ballet Russe, all 10 iterations on the way there. Bring snacks!