Holocaust museums aren't just about the Nazis' slaughter of 6 million Jews. How could they be?
Right here in the United States, the resurgence of anti-Semitism, hate crimes and assaults on human rights show that the Holocaust Museum Houston has more work to do than ever, CEO Kelly J. Zúñiga says. As Houston's museum and its equivalent in Dallas move into much-expanded homes, they now can take visitors on journeys that go far beyond the Nazis' bloodshed.
Dallas' museum signals its broader mission by crafting not only a more expansive building, which welcomes its first visitors Sept. 18, but a more expansive name: Dallas Holocaust and Human Rights Museum. It, and the greatly enlarged Houston museum, opened in June: both begin with the Nazi assault on Jews, gypsies and others, then examine other genocides around the world. Both museums also pay tribute to people who have risked their lives to help others. The Dallas museum calls them upstander, a breed apart from mere bystanders.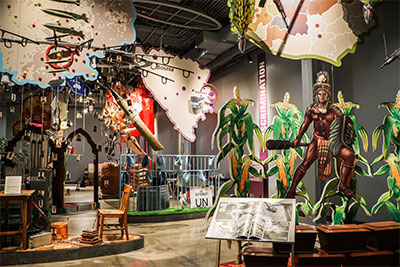 "The history of the Holocaust is so important and so relevant. But it happened 75 years ago in a distant land," says Mary Pat Higgins, the Dallas museum's president and CEO. "We want our visitors to understand why it's relevant to our lives in the United States and here in north Texas. The common denominator is what happens when prejudice goes unchecked, and what happens when upstanders … fight for the basic human rights of everyone."
Dallas' museum said goodbye to rented quarters with 6,000 sq. ft. of space to move into its own home nearly 10 times the size. The main exhibition level will devote a wing to each of three human-rights sagas: the Nazi Holocaust; other genocides around the world; and the United States' collisions between land-of-the-free ideals and reality.
In the Holocaust galleries, artifacts from the time will help drive home the saga's terrors and heroics. Dallas' was the first Holocaust museum in the United States to acquire a World War II-era railcar like those that carried Jews to concentration camps, and now–unlike in the museum's previous quarters–visitors will get a hint of the prisoners' experience by walking through the car to enter the gallery devoted to the camps.
From a Dallas-area Holocaust survivor comes the single piece of clothing he managed to keep with him as the Nazis hustled him from one camp to the next: "It's just a small leather belt," Higgins says. "But it was his security blanket." A Nazi flag bears the signatures of the U.S. soldiers who liberated one of the camps. Putting their names on it, Higgins says, was their way of declaring that its power was gone.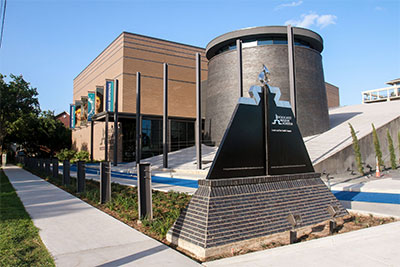 Storytelling and technology will meet in "Dimensions in Testimony." In a theater seating about 50, Holocaust survivors conjured up via hologram will sit before visitors and respond to their questions. The encounter is the brainchild of the Los Angeles-based USC Shoah Foundation, which enlisted 18 survivors–including Dallas' Max Glauben–to sit before banks of video cameras for hours, answering scores of questions about their lives and experiences.
"People want to know, 'Do you still believe in God?' 'Do you have hatred in your heart?' Higgins says. "At some point in the near future, we won't have any survivors. We will have lost them.  This will allow visitors for generations to come … to interact with them."
The museum's human-rights wing will pick up after World War II, describing the victorious Allies' Nuremberg trials of powerful Nazis and the creation of the Universal Declaration of Human Rights, which helped crystallize the idea that everyone deserves dignity, freedom and safety. Looking at human rights from the other direction, "The Ten Stages of Genocide" will reveal how prejudice metastasizes into murder. Through graphic novels and art installations, visitors will see how actual genocides across the world have unfolded, step by step.
The U.S. wing will contrast the country's original ideals of freedom with their tortuous path toward realization. Interactive kiosks will chronicle how 12 groups–such as African-Americans, Native Americans, LGBTQ people and the disabled–have struggled for their rights. One gallery will take visitors back to a Dallas milestone in the rights saga: the 1964 demonstrations outside the Piccadilly Cafeteria after it turned away an African-American man, Clarence Broadnax.
"You'll have a chance to sit down in a cafeteria booth and listen to the testimonies of Clarence Broadnax, who led the protest, and of Texas civil-rights leaders and American civil-rights leaders," Higgins says. Beyond the quasi-cafeteria's windows, "there are still images of the actual Piccadilly Cafeteria protest. It looks like it's happening right outside."
While Dallas' museum needed an entirely new location and building, Holocaust Museum Houston has stayed put. But the expansion has transformed it. Now, the Holocaust galleries contain two commanding artifacts that used to sit outdoors: a World War II-era railcar and a Danish fishing boat like those that once ferried Jewish refugees to safety.
As in Dallas, visitors now pass through the railcar into the gallery that evokes the concentration camps. Some artifacts there are smaller but equally poignant, such as the identification patch that Houston survivor Lena Hassid wore on her uniform at Auschwitz. It bears her prisoner number: 40643.
The Holocaust galleries used to be shut off from the outdoors, but spacious windows at their taller end now admit light. Fittingly, it falls directly onto an area that salutes people who stuck their necks out to help others–from a woman who parachuted into Hungary to aid the resistance to diplomats who, defying orders, issued visas that allowed thousands of Jews to flee to faraway lands.
In an alcove, a miniature version of the USC Shoah Foundation's "Dimensions in Testimony"–here using high-definition video rather than a hologram–enables Houston survivor William "Bill" Morgan to tell about his experiences, including his time in the Stanislawow ghetto in present-day Ukraine. Video monitors in other spots offer the stories of other survivors, such as Hungarian-born Albert Marks. After U.S. soldiers liberated his camp, Marks recalls, it was seized by "beautiful chaos."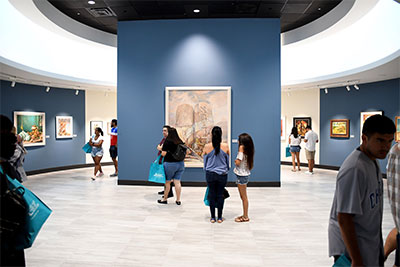 The original northern half of the museum, which held a single floor of offices and classrooms, has been razed, and a three-story structure now adds further galleries and a 200-seat theater. The theater allows the museum to host film showings and other events–such as concerts Sept. 21-22 by the Houston Chamber Choir, which will perform a cantata based on Anne Frank's diary.
"And Still I Write: Young Diarists in War and Genocide," housed in one of the new galleries, spotlights Frank and other young people swept up in human catastrophes right up to the present day. They come to life not only in their writings–and paintings, in a few cases–but through photos and capsule biographies that flesh out their stories.
A 1943 journal entry by Stanley Hayami, a California teenager ordered into a Wyoming internment camp during the federal roundup of Japanese-Americans after Pearl Harbor, looks back on his first year in the camp. "I remember the barbed wire, the armed guards, the dust, the visitors, the food, the long lines, the typhoid shots," Hayami writes.
"But I will also remember all the friends I made here, the tough school I went to and I feel no bitterness to the gov't about the evacuation–though I still feel that it wasn't right." The epilogue to Hayami's diary: He joined the U.S. Army and died in battle in Northern Italy, aged 19, trying to save a fellow soldier.
Another gallery displays more than 40 paintings by Samuel Bak, who displayed his first artworks in the Vilna ghetto when he was a boy. After surviving the Holocaust, thanks in part to a nun who hid him and his mother in a convent, Bak eventually settled in Massachusetts.
His works, spanning seven decades, range from the abstract to the surreal and enigmatic. In Under the Trees, leafy trees severed from their roots float above a rocky landscape that suggests a cemetery.
"My paintings are not meant to be deciphered–this means this, and that means that," Bak said during a June visit to the gallery. "They are meant mainly to provoke thought in people–especially young people, because they are much more open to thinking freely."
The most prominent new gallery, opening directly off the lobby, spotlights human rights, their violators and their champions around the world. Visitors can look back to Cambodian killing fields of the 1970s and to the Armenian genocide of a century ago, when the erstwhile Ottoman Empire killed 1.5 million people. In the latter display, a long-ago comment from an unlikely source illustrates the museum's mission.
"Who, after all, speaks today of the annihilation of the Armenians?" asked Adolf Hitler in 1939. He evidently thought the world's silence about mass murder gave him cover to pursue his own campaign of killing. Thanks to Holocaust museums, the xenophobes of today and tomorrow won't have that excuse.
-STEVEN BROWN