Kathy Dunn Hamrick begins with a really clean slate. When she and her eponymous dance company go into the studio to start creating a new work, the musical score doesn't yet exist. The jumping-off point may simply be one or two nuggets of ideas that don't even involve specific movements.
"For me to more forward artistically, and to challenge my dancers so they feel they're moving forward, we need to…play and experiment and try things," she says. That takes time. To create Be Still, My Heart, the hourlong work that premieres in Austin's Long Center for the Performing Arts on Dec. 6, Hamrick and her eight-member Kathy Dunn Hamrick Dance Company started to work in late August.
"We spent maybe two weeks doing just improvisations," Hamrick says. "That's how I start every work. 'What's going to happen? Let's see what happens.'"
Hamrick knew she wanted Be Still, My Heart to evoke "a variety of feelings–happiness, sweetness, tension, all those different things we can feel with the heart." And two theatrical devices floated around in her mind.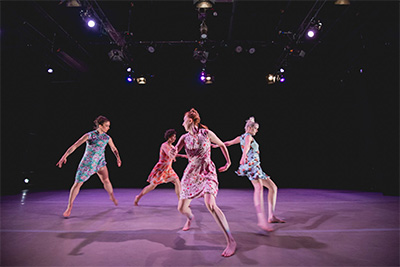 Since her work involves "micro movements and hidden movements," Hamrick wanted to guide viewers' eyes to them using lights in the dancers' hands. Also, as an old-movie buff, she saw possibilities in a moment from Alfred Hitchcock's thriller Rear Window: a sequence in which the frightened protagonist, played by James Stewart, whispers into the telephone.
Hamrick wove both motifs into her new work. She found miniature LED lights her dancers could hold. And she told the group to think of stories from their personal experiences–such as their first jobs or their favorite vacations. They'll murmur about those to one another as Be Still, My Heart unfolds.
"They're actually telling stories onstage at different times," Hamrick says. "Even though I can't hear the whole story, I might hear the word 'Chicago' or something like that. … There are other times they're saying lines from movies. It's not crucial that you hear every single word they're saying. What's crucial is that you know that they're whispering to each other."
Hamrick occasionally swapped ideas with composer Drew Silverman, who worked separately on his score–likely to include strings, sound effects and an old torch song. Meanwhile, her choreography took shape with no accompaniment at all.
"I work in silence," Hamrick says. "It's totally about the movement. For me to be able to work without music is extremely freeing. It's also a little scary. What I've found is, if your dancers are dancing to music, they tend to become less in tune to the dancers around them. (Without music,) we're looking at each other to know when to go. We're listening to each other to know when to go. We're constantly watching everything that's going on. The dancers have this level of engagement that's different from eight people dancing to (a musical score's) time."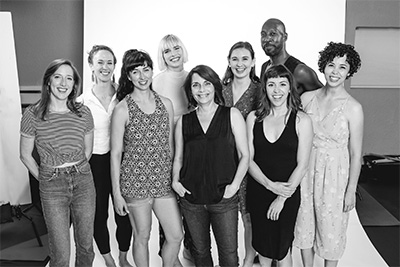 Hamrick's goal: She, Silverman and lighting designer Stephen Pruitt will combine all the ingredients in the last week or two before Be Still, My Heart premieres. "We're all racing toward this one point," she says, "but we don't know quite what's going to happen. … We might still be tweaking up to the last minute."
Hamrick's desire to spend so much time molding her choreography led her to found her company in 1999. Ad hoc groups, she recalls, didn't suit her.
"I needed to work with a group of people who were committed to the process and willing to grown along with me," she says.
"I have to be able to go in and try new things, and know that I'm not going to be judged," she says, stopping to laugh. She thinks back to a rehearsal for Be Still, My Heart. "I said, 'I just have this idea, can we try it?' We spent about 2½ hours trying to figure this thing out, then just decided not to use it. … My mistakes are on full display. It's not like I'm at home working on a piece of art or composing music. They go with me on this. I'm extremely fortunate to have dancers who are willing to commit so much time to this."
Hamrick and her dancers work together about 10 months a year. They'll start a fresh creative process in the spring, when they begin crafting the season's second full-length work, Everything! Everything! Everything! But first comes the company's other annual project: the Austin Dance Festival. Running April 5-7, it will spotlight about 20 professional companies from across the United States, plus about 15 youth ensembles and a batch of works on film. Hamrick and her screening panel started looking at submissions in early November.
"I like to have two or three sets of eyes on every dance, so that we don't miss anything," Hamrick says. "Because we all have our personal biases." The festival, she adds, is "a way of…giving back. It's a way for other dance companies to perform for new audiences, to show their work in a new context. And it just keeps all this alive."
—STEVEN BROWN