Extremely Shorts Film Festival, 2017.
Courtesy Aurora Picture Show.
---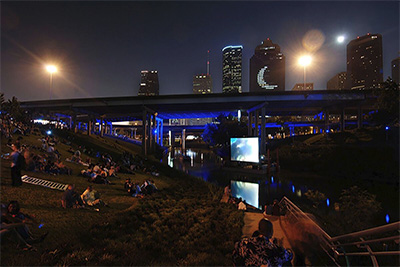 "Here, hold my beer. Let's try this." Typically this phrase precedes a stunt, mishap, or otherwise social-media-meme-worthy epic fail. But in the picture perfect world of Aurora Picture Show, it translates into community support, successful collaboration, and artistic experimentation. And, yes, beer sponsorships.
Aurora's Communications and Development Associate and longtime collaborator Peter Lucas used this phrase when we chatted about the beloved organization's 20 year anniversary, for which they are throwing a party on June 7 (tickets are required and available on their website).
Once identified as the oldest microcinema in the Southwest, founded by then-MFAH Core Fellow Andrea Grover and situated in a church-turned-screening venue on Aurora Street in Houston's Heights neighborhood, Aurora Picture Show has since grown into a full-fledged media arts center.
The story goes that Grover and her family lived "behind the screen," meaning literally on the other side of the projection wall, in the residential quarters of the former church, from 1998 until 2007 when she retired her home as a screening space and shifted from director to founder. Today Aurora Picture Show is located on Bartlett street, complete with offices, screening space, video library, and focused programming tracts like Live Cinema, New Media, Historical Works, Juried Competitions/Festivals and more.
"We present so many different kinds of programs at Aurora!" says Mary Magsamen, the cinema's curator. "We still have our founding annual program, Extremely Shorts Film Festival, which features films under three minutes long and is always popular. We continue to collaborate with a lot of Houston organizations which expands our outreach and strengthens the Houston arts community. We also have a vibrant education program that [Media Arts Education Manager] Camilo Gonzalez has managed for 10 years; he works in schools and hospitals and we have six weeks of summer camps."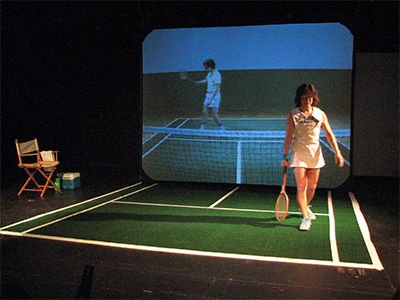 In terms of microcinemas, Aurora has distinguished itself as a home for cutting edge moving image art which often doesn't quite fit general expectations. If you've experienced some of Aurora's events—the Floating Cinema on Buffalo Bayou in 2006, Tara Mateik's Putting The Balls Away, a 2008 tennis reenactment-performance of Billie Jean King & Bobby Riggs's "Battle of the Sexes," or the recently commissioned Political Gestures, a multi-channel video installation by Nick Vaughan and Jake Margolin featuring "overtly political drag performances"—you know that Aurora screenings are not just memorable but not-to-be-missed. If you haven't, what are waiting for?
Whether historic, documentary, narrative or experimental, a live performance or installation, events at and with Aurora are not often repeated, meaning these unique experiences are ephemeral. "By definition it is undefinable," says Lucas.
What makes Aurora special is the intersection of creative opportunity, rather than a singular vision. "We have been commissioning artists to create new works for years and we typically have at least two commissioned projects every year. This process allows artists to experiment and have some freedom with our space to do something new with little restrictions. We also try to balance the more experimental works with more accessible works," says Magsamen.
One of those accessible programs is BYOB (Bring Your Own Beamer), which they have presented annually for the past five years. "This is an open showcase where all you have to do is sign up and bring your video, film, slides—anything really—and then we project everything all around the outside of the Menil Collection," she says. "People hang out and watch and see stuff they would have never seen otherwise. It is a lot of fun."
And since 2001, the Aurora Award has annually honored pioneers in the field of film, video, or new media, for example Tony Oursler, Laurie Anderson, Carolee Schneemann and most recently the legendary film and video artist Barbara Hammer, to name a few. Aurora also collaborates with DiverseWorks and Project Row Houses on The Idea Fund to give grants to Houston area artists. "Aurora does a great job of fostering community and raising awareness of the arts in Houston," says Magsamen.
Magsamen's role as both an artist and curator gives her a special perspective. "I have learned to trust artists and the artistic process—I like giving artists a lot of freedom and present work they are passionate about," she says. "I am currently working on programming for next year that is focused on female artists and feminism. Thanks to the Warhol Foundation and my Curatorial Fellowship, I have been able to research how women use personal experiences where they were vulnerable to generate creativity and make work in response to those experiences. I am selecting work that is historical, contemporary and also hybrid experimental projects."
Magsamen's research hints at one of the ways in which Aurora has been able to grow into an established arts organization while staying responsive and relevant. Executive director Sarah Stauder explains, "Our staff has a unique, flexible schedule that allows for each individual to have time for personal growth whether it be through their own artistic practice or other work in the field. These experiences inform our work. We also intentionally leave room in our year-round schedule for opportunities that may come up on short notice. As a result, we are able to react quickly and present artistic programs or engage in educational partnerships that are relevant to the moment."
The 20th anniversary party takes place close to the same date of the first screening back in 1998. Grover and husband Carlos Lama (known, in part, as resident D.J. and Halloween costume maestro) will be in attendance. The party will feature multiple projections of past events and video footage, highlighting and honoring contributors and supporters of Aurora, making for another unforgettable Aurora experience.
Fast-forwarding into Aurora's future, many of us moving-image-art-lovers see the organization securing a worldwide reputation as the center for media arts presentation and education. "Aurora exists in that gray area between the visual and media arts," says Stauder. "As a result, we have become recognized in Houston, in Texas, and across the country as a 'space' where artists feel comfortable trying something new and potentially taking their practice in a new direction. We have had filmmakers attempt their first installation in our space and visual artists who, under our guidance, create and present their first videos works. Locally, we are part of an amazing ecosystem of small and mid-sized arts organizations that work collaboratively to enhance the lives of our community. This is not something that is common in other major cities in this country."
So what will Aurora do with and for artists and audiences in the next 20 years? It all remains to be seen.
—NANCY ZASTUDIL