Laura Gutierrez in Laura Elena Gutierrez (1987); 64 x 61 1/2 in.  created and performed and in conjunction with Líneas de la Mano  at Sicardi Gallery.
Photo by Lynn Lane.
---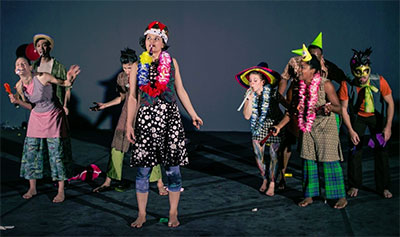 Watching Jane Weiner's i scream at The Contemporary Arts Museum Houston, I was stuck by one thing: it looked more vibrant than it did the previous day in a traditional theater. Perhaps it had to do with the fact that a video of Jérôme Bel's Veronique Doisneau occupied that very space before as part of the performance-centered exhibit, Double Life, and a fantastic live performance of Bel's Cédric Andrieux had blessed the space a month earlier. Or more likely, since Weiner had already created site-specific work at the CAMH, she was at home with its sweeping dimensions, and knew exactly how to best fill it with her particular brand of whimsical dance-theater.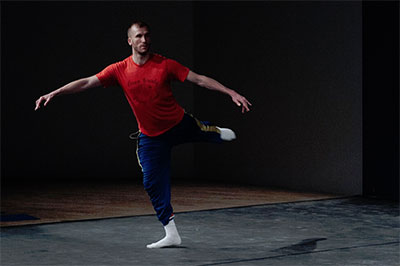 Dance is more often situating itself within a visual arts setting. It's nothing new; just look at the concentration on performance at the new Whitney. Dance is finding an audience among visual artists, who are completely comfortable with abstraction and don't need to annoy choreographers with the dreaded, "What was that about? question. Let's consider some of the dance action happening inside museums and galleries in Texas.
Nobody in Houston thinks twice about seeing dance or music at the CAMH. Director Bill Arning and his curatorial team have positioned themselves as performance-friendly folks with regular events throughout the season. Double Life curator Dean Daderko completely gets it. "Dance is a vital art form, and it's right that museums recognize it. Efforts to integrate dance into non-theatrical spaces can be complicated by technical requirements," says Daderko. "Installing sprung floors or theatrical lighting, or considering viewer accommodation, may be unfamiliar, but they're surmountable. Though I've been integrating live performance into my exhibitions for over a decade, my recent exhibition, Double Life, explored possibilities for performance without live bodies." Weiner's snappy performance makes complete sense when I think about the months of watching Bel's work on a giant screen. I had been conditioned to watch bodies.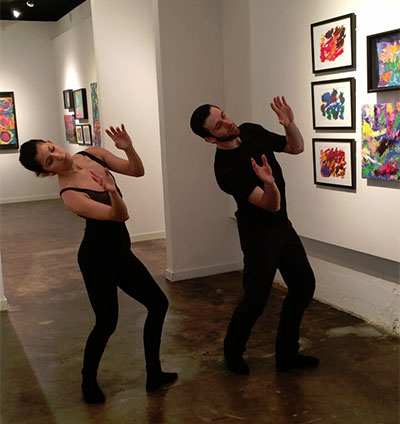 Certainly the University of Houston's Blaffer Museum of Art's recent embrace of dance with Urban Songlines, masterminded by Leslie Scates with UH faculty Karen Stokes, Becky Valls and Teresa Chapman, deserves mention. I appreciate the energy the Blaffer is building with the brain trust at UH Dept. of Theatre and  Dance. Liz Lerman also prototyped her "Community Tea" as part of Systems of Sustainability, organized with the Cynthia Woods Mitchell Center for the Arts, right under the Blaffer's roof. Lerman will be in town this month to give a keynote at the Houston Arts Partners Conference to talk about just this kind of partnering and innovation.   Also on Sept. 3, dancers from the UH Dance Ensemble will perform part of Dana Kroos' Ideas Under Awnings in conjunction with the Blaffer exhibition Early Awnings: Henning Bohl with Sergei Tcherepnin.
When Laura Gutierrez, Houston's reigning diva of dance in galleries (named one of "25 to watch" by Dance Magazine in 2015), took her place among the works at Sicardi Gallery's recent exhibit, Líneas de la mano, she looked completely comfortable assuming the role of an art object. "Seeing Laura create new choreography in dialogue with the objects in the gallery was illuminating for me, both in terms of dance and in how I thought about the objects as instigators," explains Laura Wellen, director at Sicardi and the instigator of the project. "In the physicality of the choreography, I found a new way to understand objects that I had been thinking about historically, socially, as objects, and in text-driven ways."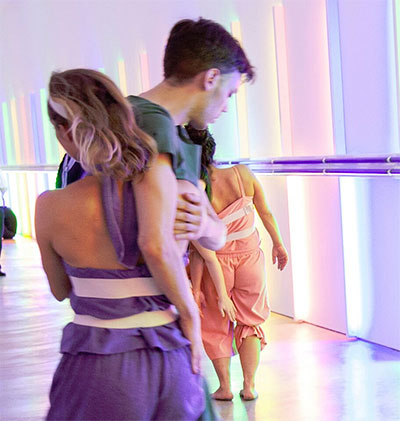 Gutierrez's earlier experiment at Nicole Longnecker Gallery utilized the architectural design of the space and the movement of a gallery full of roaming people. For Gutierrez, the proximity of the art, her body and the space made all the difference.
Houston choreographer Jhon Stronks could be the father of dance in galleries, he's been collaborating with visual artists for that long. Sue Schroeder, of CORE Performance Company, can boast about  18 years of creating work in conjunction with shows at The Museum of Fine Arts, Houston, as part of Artful Thursdays. Schroeder has her own methodology, which she outlined in a presentation, Navigating the Gallery: Dance Responding to Art, co-authored by Gayle Seymour.  "Rather than taking the approach of having the artwork inspire my dance making, I research and study the artists' intent while simultaneously integrating  numerous artistic mediums into my dance-making process, many of them inclusive of visual art elements – painting, drawing, journaling, pen & ink, sculpture. Because the entry point for most all of my work begins with improvisation, these alternate creative processes encourage the artist/mover to access unique and ultimately new movement, a new dance for a new concept rather than a reorganization of existing movement vocabulary."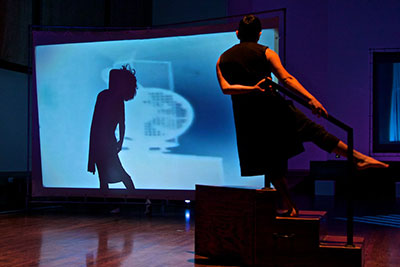 What dancer wouldn't want to occupy the stunning interiors of the Blanton Museum of Art in Austin, and many have, as part of SoundSpace, Steven Parker's music program, some utilizing the dramatic entrance, while others are tucked away in galleries, waiting to be discovered by a wandering audience. Michelle Thompson and Nick Kepley of Ballet Austin, Jennifer Sherburn, and Jason Phelps are some of the dance artists who have filled Blanton's dramatic spaces. The next event, on Sept 13, features dancer/choreographer Heloise Gold, who was just inducted into the Austin Artist Hall of Fame.
The McNay Art Museum and Amber Ortega-Perez of SpareWorks Dance have collaborated on numerous installations in conjunction with exhibits. It's this kind of in-depth relationship building that gets past dancers just showing up to "do something." For Ortega-Perez, McNay's impressive collection of dance literature opened the door. SpareWorks has been commissioned to create works around George Rickey Kinetic Sculpture: A Retrospective, Of Human Face and Form, and most recently, the Tobin Costume Collection show, The Artist Takes the Stage. "The McNay has always been very generous in allowing me to sound my own voice when composing a work, allowing me access to the exhibits, curators, lectures, library, and the grounds," says Ortega-Perez.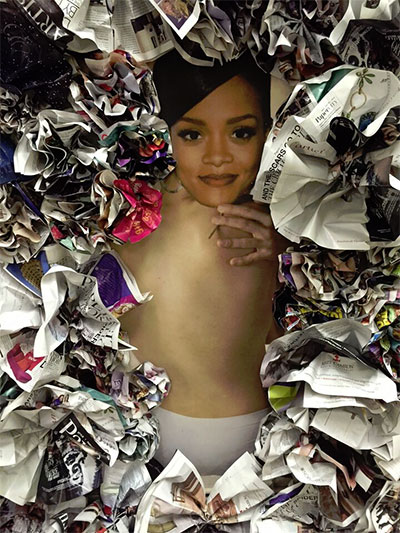 I have to hand it to The Modern Art Museum of Fort Worth for hosting Dance Unplugged, an annual Modern Dance Festival with Contemporary Dance/Fort Worth. The event features a wide spectrum of companies and artists, along with  Dance on Camera: Dance Shorts. Further east, the Dallas Museum of Art also has an impressive history of presenting dance in their late night series and other programs, including a commission from Jessica Lang.
Dallas choreographer Danielle Georgiou has been double-dipping since the get-go, performing in galleries and museums along with doing outstanding concert work. She was also included in the 2014 Texas Biennial, had a solo show at Women and Their Work, and her mixed media installation, Paper City, is part of the Biennial: 600 Sculpture exhibition at the Amarillo Museum of Art.
It's not a panacea; there are tradeoffs. Without theatrical lighting, the visual flair is often more in the relationship between body and the environment. Also, I can guarantee the floor will not be sprung. The business of tickets and performance fees can get tricky as gallerists not used to hosting time-based events. Dance artists also trade the more predicable captivity of a theater audience for a situation where viewers are free to roam, chat and leave mid-move. I wandered into Samara Gallery last summer to find the wonderful Daniel Adame in motion, and because I was on a tight time schedule, I needed to wander right out. But it didn't matter or phase Adame, who is also a performance artist and sculptor. Adame's performance was part of new program at Samara called Art in Motion.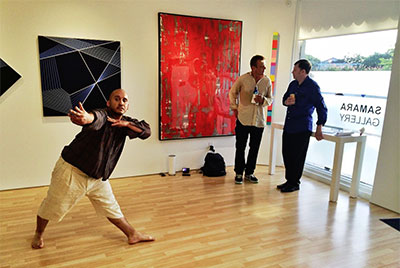 This Fall, Anya Tish Gallery gets in on the action, and Daniela Antelo will be performing during the opening of Katja Loher's exhibition, Where Does Time Begin? (Sept. 11-Oct. 10), which makes perfect sense as Loher regularly includes dancers and highly intricate choreography in her videos. Watch out Texas visual arts lovers, somewhere, right now, a dancer is invading and enlivening a house of art.
—NANCY WOZNY