Robert Indiana's American Dream
Robert Indiana's totemic sculptures and hard edge paintings filled with enigmatic numbers and text were lionized by New York art critics in the early 1960s, patient who listed him with Andy Warhol, Roy Lichtenstein, and James Rosenquist as one of young Turks taking on the rule of abstract expressionism. His acclaim rising with the rushing tide of Pop art, Indiana was asked to take a small, innocuous commission in 1965: a Christmas card for the Junior Council of the Museum of Modern Art.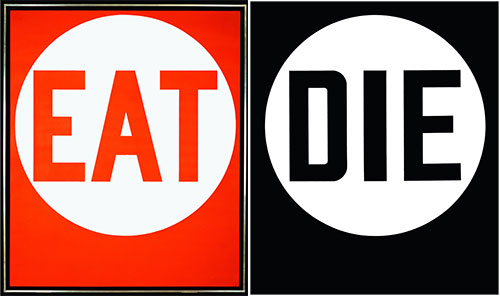 Indiana went on to make many versions of the iconic logo he came up with—LOVE spelled out in stacked letters with an off-kilter O—as paintings and sculpture, and his fame soared. Embraced as an emblem of the counter culture and the peace movement, unlicensed knock-offs of LOVE appeared worldwide on posters, t-shirts, and coffee cups. But popular approval can be a death sentence in the art world, which thrives on exclusivity. By the 1980s, the critics turned their backs on him, and the public began to think of Indiana as a relic of an embarrassingly optimistic era.
Organized by the Whitney Museum of American Art in New York, Robert Indiana: Beyond LOVE presents a reappraisal of Indiana's output, with over 100 paintings and sculptures from the 1950s into the 2000s. On display at the McNay Art Museum, which is one of the lending institutions, the retrospective—and its catalogue with essays by Barbara Haskell, Sasha Nicholas, and René Paul Barilleaux, the McNay's chief curator of post-1945 art—reveals Indiana, 85, as one of the 20th century's most complexly-American artists. (Unique to the McNay stop are two supplementary shows: The Mother of Us All, cut-paper scene and costume designs for a 1976 production of the  Gertrude Stein/Virgil Thomson opera about Susan B. Anthony; and Robert Indiana's Hartley Elegies, ten monumental screen prints printed in the early 1990s.)
Though much identified with Pop art, Indiana was an outlier to the movement. His hard-edge paintings of carefully constructed compositions in a high-key palette are often strong examples of Op art. Most striking, however, is his use of stenciled letters and numbers. Though text art has been much in favor in recent decades, a hallmark of artists such as Barbara Kruger, Glenn Ligon, and Christopher Wool, it was perceived as an impropriety—more design than fine art—when Indiana began to incorporate text in his pieces in 1961.
A master of signification, he placed himself in the lineage of American art by paying homage to favorite artists and writers, often in the same piece. In his painting, The Figure Five, 1963, three embedded numeral fives reference Charles Demuth's painting I Saw the Figure Five in Gold, which in turn recalls William Carlos Williams' poem, The Great Figure.
This is concrete poetry, and myth-making: The name by which the world would know him—Robert Indiana—is a nom de guerre that asserts his place in the bittersweet American Dream. Indiana's entire artistic oeuvre is autobiography, and he has spoken often of his life.
Born in New Castle, Ind. in 1928, his adoptive parents named him Robert Clark. The family lived a hardscrabble life, moving over 20 times in his first 17 years, as his mother worked in a series of roadside diners. Drifting from place to place, aware that he was adopted, Clark's childhood was filled with insecurity. Introduced to art and American literature by a grade-school teacher, he studied at the School of the Art Institute of Chicago on the G.I Bill after mustering out of the Army Air Corps.
Moving to New York in 1954, he found cheap rent in 1956 in Coenties Slip, a paved-over inlet on the East River in Lower Manhattan that had once docked cargo ships. Also living there were Ellsworth Kelly, James Rosenquist, among other artists and designers. Inspired by Kelly, Clark left his earlier figurative practice, and experimented with biomorphic hard-edge painting. Gingko, 1959, shows Clark's interest in symbolism, the doubled ginkgo leaf alluding to queer sexual coupling. Other symbols from that year introduce circles—a common symbol from his childhood in the Christian Science Church.
Short on money for materials, in 1960 Clark first experimented with assemblage, using found blocks of wood and bicycle wheels to make what he would call "herms," alluding to ancient Greek mile-markers adorned with a bust of the god Hermes, protector of travelers. The bicycle wheels attached refer to the god's winged feet. It was these sculptures which first received stenciled numbers and words that are emblematic of the varieties of social anxiety, such as "HUG," or "ERR," their compactness recalling the roadside signage that was the decor of his family's constant wandering.
Clark went on to use text in his paintings, too—a practice he has continued throughout his life. Discovering his style, Clark rechristened himself Robert Indiana. Though he now had a new identity—and hence a future—Indiana would spend his life continually inserting his past (and the country's) into the ongoing story.
Unlike other artists identified as Pop, Indiana eschews flat affect and easy irony. Though he is politically progressive—his 1965 series of four panels, The Confederacy, refers to sites of violence towards African Americans in Alabama, Mississippi, Florida, and Louisiana—he also references his mother's Christian Science practice, changing the slogan "God is love" to "LOVE IS GOD." And what could be more definitive than the pairing—each single word in its own panel—of the letters in the 1964 diptych Eat/Die?  The theme is revisited more cheerfully as an electric sign in Eat, 2007.
Rather than hiding in irony, Indiana points to the mixed results of striving. In Beware-Danger, American Dream #4, 1963, he arranges a trio of one-word slogans: "juke, eat, tilt," above the phrase "The American Dream."  Above all, Indiana is a consummate formalist. Text and background often receive equal weight, making figure and ground ambiguous, abstract.
In 1978, Indiana left New York, relocating to a fishing village on the island of Vinalhaven, Maine. It's been a long exile, but the work goes on.
—SCOTT ANDREWS
---
Robert Indiana: Beyond LOVE
McNay Art Museum
Through May 25