Linda Kay Leonard in Holland Taylor's Ann at Stage West through Nov. 4.
Photos by Buddy Myers.
---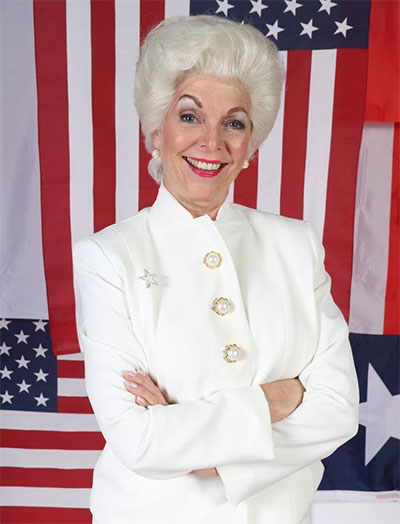 Dorothy Ann Willis Richards' had a personality about the size of the state she governed. Serving as Texas' leading Democrat from 1991-95, Richards' lasting legacy feels like a breath of fresh air on the hot and humid political landscape that now overwhelms the state. Her silver-tongued banter and political optimism made her a foot soldier for feminist and liberals nationwide.
Her spunk and style have been neatly captured in a new one-woman show written by Holland Taylor, most recently remembered for her Emmy-winning co-starring role on the television sitcom, Two and a Half Men. Taylor has also toured Ann across the country with her as star. Now, for the first time ever, she has allowed another actress to two-step into the spotlight.
Enter, stage right, Dallas actress Linda Kay Leonard, who makes her debut in Ann, now playing at Stage West in Fort Worth, through Nov. 6.
Leonard, eerily costumed to near striking-resemblance to the late governor, takes full advantage of the polished script with a passionate performance, mixing the one-liners with unexpected veracity. Leonard visited with Dallas theater writer Scot C Hart about the role.
What were your feelings about Ms. Richards before you took on this role?
I am not from Texas originally. I came to Fort Worth in 1993 after doing a five-year national tour of the musical CATS, so I didn't really follow her during her administration. But over the years, I have heard about what an amazing influence she was on the state, and also the national scene. Everyone I've spoken to about her had amazing things to say. Personally, I grew up in a Democratic household—my mother campaigned for John Kennedy—so my beliefs are very much in alignment with hers.
Why do you think people still resonate with her?
Her philosophy of always doing for others is a philosophy that we need more of in today's society. People miss her direct honesty. People believe that she truly had the welfare of the common good in mind while she was governor. Her wicked sense of humor also allowed people to laugh at themselves a bit to get through life.
The role has become a calling card for actress/writer Holland Taylor. How do you approach the work when in essence you are portraying two very distinctive women?
It has been an honor, and a challenge, to bring to life both the essence of Ann Richards and also the words of Holland Taylor. I have great respect for Holland Taylor as an actress, and the footage I was able to see of her performance was brilliant, so I have big shoes to fill. I can only bring my own authenticity to the role of Ann and with Holland's guidance and information that she shared with me. Of course, I hope I'm bring some added nuances to the role, too, in my own interpretation.
Is there any Ann Richards in Linda Leonard?
Oh, I believe so. I believe in fairness, and in helping others as much as I can on a daily basis. I believe that if we all work together and work towards a common good in society that we can make life better for other people. I do believe that our government is an important force in our lives and we have to pay attention to it and participate in it. Above all else, I think I love people like Ann did.
—SCOT C HART