Alex Kvares, 88 (detail), 2016. Graphite, marker, gel and aluminum tape on paper 11 ¾" X 9 ⅜".
---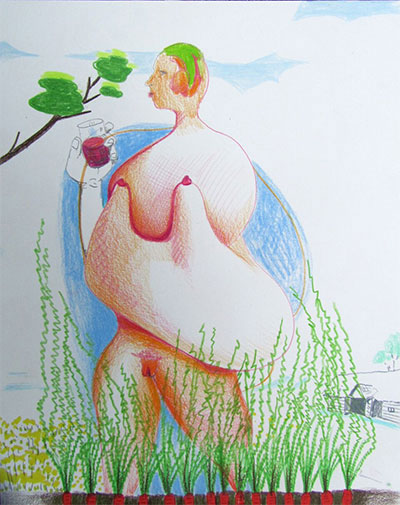 Houston Artist Makes Room for Art on Her Own Terms
For Sharon Engelstein, home is where the art is. Literally.
In 2011, Engelstein and her husband Aaron Parazette opened Front Gallery in the front room of their house in Houston's Montrose neighborhood. Since then, she has curated four to five exhibitions each year featuring work by a variety of artists to whom she is connected through personal and artistic admiration.
Because both exhibition and domestic space are housed under one roof, Engelstein has fewer financial pressures (market trends, art fairs, etc.) and scheduling headaches than a typical commercial gallerist. With gallery open hours limited but consistent, and her studio located in the back area of her house—complete with an art-making area for her daughter—Engelstein resides in a hub of self-directed creativity that generates support for a network of local and global artists.
In March Engelstein presented Sunglasses on a Skeleton, an exhibition of paintings by Brooklyn-based artist Alex Kvares—brightly colored, positively crowded, heavily patterned, genre-bending, narrative-generated paintings. Engelstein met Kvares in Atlanta years ago while visiting the city for her own exhibition. Through mutual friends and connections, she followed his work, ultimately including some of it in a resurrected version of her miniature studio-based gallery for the CAMH's exhibition No Zoning: Artists Engage Houston exhibition in 2009.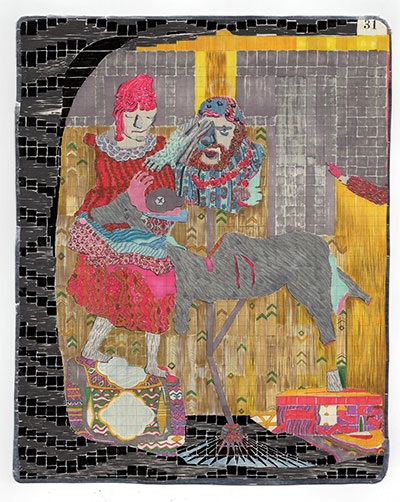 Through April 23, Front Gallery presents Mountain Man and Uncle Fritz, an exhibition of the collaborative work of revered and admired painters (and musicians and teachers) David Humphrey and Jennifer Coates. Engelstein met Humphrey in the 1990s when she was an artist-in-residence and he was a teacher-in-residence at the Vermont Studio Center. Similarly to Kvares, she began following his work and they stayed connected over the years. The show takes its title from the artists' now obsolete alias blogger names.
Front Gallery differentiates itself from other artist-run venues, primarily due to Engelstein's curatorial instincts. She says she has always had an interest in curating, something that is evident in her sharp eye for raw talent and provocative approaches. She, too, absolutely nails it in her own art practice.
Engelstein's studio is comprised of a large workshop that includes a kiln, large work table, stacks of materials, finished and partial ceramic and 3D-printed sculptures, drawings, maquettes, computer milled forms, shapes, and objects—some dressed in spray concrete, and some yet to be outfitted. For a curator and writer like me, it's a hotbed for asking questions and taking notes.
Unassuming yet confident, the Canada-born Engelstein has a layered and interesting history within the Texas art scene. For starters, she was a CORE Fellow and an Artpace artist-in-residence; she has a long history of exhibitions and public art projects, and has received esteemed awards from Cultural Arts Council of Houston, Louis Comfort Tiffany, and the National Endowment for the Arts. She is currently represented by Devin Borden Gallery in Houston, where she recently had an exhibition of drawings, and is newly represented by Wilding Cran Gallery in Los Angeles.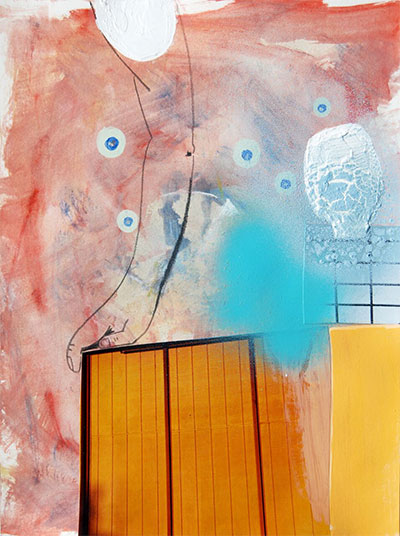 Houston art lovers and park visitors might be familiar with Engelstein's Hermann Park sculptural installation of Mamadillidiidae and DillidiidaeI, commissioned by the Hermann Park Conservancy. Engelstein explains that she designed this grouping of bright, colorful, bulbous, wandering, tumbling forms to be interactive—on any given day, children and other curious-minded folks can't help but touch, climb on, and even snuggle with the sculptures (think chubby, bright pink, upright glow worm-like creatures on a grassy knoll. Who doesn't want to nuzzle something like that?). The works are on view through April, 2017.
Most recently, she created a similar public art installation for the Seaholm District of Austin, an Art in Public Places initiative intended to complement the commercial and residential developments in the area. These new works, titled Crullers, are large sculptures with color and texture similar to that of cute, round, empathy-inducing animals such as elephants or hippos.
Through public art commissions, a long history of exhibitions for her gallery-suited artworks, and ongoing curatorial pursuits, Engelstein has more than made a name for herself in Texas. She has physically carved, molded, shaped, and identified places for herself, her art, and her contemporaries.
—NANCY ZASTUDIL