Connor Walsh and Karina Gonzalez in the Houston Ballet production of Stanton Welch's Romeo and Juliet. Photo by Amitava Sarkar.
---
Two New Ballets in Texas
Two classic love stories grace Texas stages this month with new productions by Artistic Director Stephen Mills of Ballet Austin and Artistic Director Stanton Welch of Houston Ballet. Though Ballet Austin's Belle Redux / A Tale of Beauty & The Beast, Feb. 13-15, and Houston Ballet's Romeo and Juliet, Feb. 26- March 8, instill common themes and a familiarity with American audiences, the two artistic directors have taken opposite approaches in developing the ballets from the respective source material.
While Mills' Belle Redux departs from a literal interpretation of the 1746 French fairytale Belle et la Bête, Welch's Romeo and Juliet is firmly rooted in the 1594 Shakespeare play. These differing interpretive choices ripple throughout the music, choreography, costumes and scenic design of the two ballets, reflecting a dichotomy of contemporary and traditional aesthetics between the works.
For Ballet Austin's production, the modern bent means a newly commissioned score by Graham Reynolds, in contrast to Houston Ballet's more traditional production, which uses the original 20th century Sergei Prokofiev score to which the balletwas first set. Ballet Austin's sets and costumes are "pared down," in Mills' words, and do not reflect any specific time period, whereas Houston Ballet's designs recall the height of the Italian Renaissance: "The silhouettes of the costumes are traditional, and the sets are very three-dimensional, more like an opera set or a play," explains Welch. The movement language is also a major contrast between the ballets, with Belle Redux incorporating a contemporary edge while Romeo and Juliet utilizes the classical ballet movement language.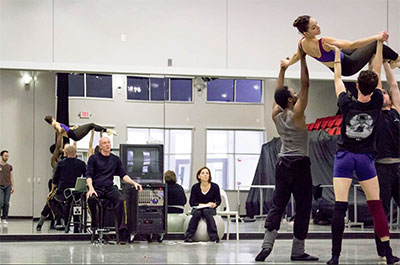 A metaphorical beast
The concept for Ballet Austin's Belle Redux came to Mills only after he began a conversation three years ago with 3M, a global technology company known for its innovative products and services that has offices in Austin. Mills said 3M gave him "the gift of time" in developing an idea for a world premiere ballet, which would explore the concept of innovation.
"3M is all about innovation. They are curious about the ways in which art and technology could co-exist. They were all about the creative process, which is not what I was expecting from scientists," says Mills.
Already familiar with the original fairytale, Mills became inspired by other versions: Jean Cocteau's 1946 film version, and Philip Glass' operatic score from nearly 50 years later. He decided he wanted Reynolds, who's worked on many film scores, to compose the music for Belle Redux. "He's making a completely new score that has a filmic quality," says Mills, adding, "It's a mysterious and magical score. I've asked him to think Hitchcock as he was writing it."
The scenic design features two sets of LED curtains lit up with film shot by Michael Raiford to tie in with the cinematic quality the music will lend the ballet. Encapsulating the stage will be three graffiti-stricken walls wide enough to allow the dancers to walk along the tops. The costuming adds another layer of contemporary flair, which Mills describes as having "an Alexander McQueen bent."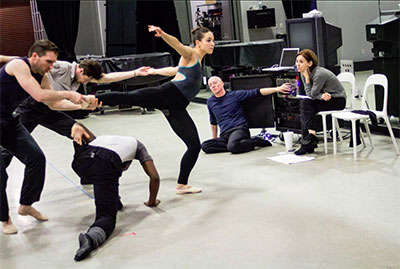 From the outset, Mills knew he wanted to approach the story of Beauty and the Beast from a metaphorical perspective. As such, there's no literal, shaggy-haired beast; rather, the Beast is a human being marked by an otherness that has made him a societal outcast, the circumstances of which are revealed in the prologue to the ballet. While the Beast may have difficulty fitting in, Mills says the character is, in many regards, not unlike Belle's character: "Even Belle has animalistic qualities. We all do. We are, when it comes down to it, all animals."
Once Mills had settled on the talefor the ballet, he took a hard look at the original fairytale's central themes to translate them to a modern production, pondering such questions as, "Who defines beauty? In a contemporary world, who is a beast? What causes someone to be marked that way? What causes someone to be labeled as 'other'?"
The creative process of Belle Redux "has been a lot of fun and complicated in many ways," says Mills. "We're not trying to tell a fairytale; we're not trying to tell a children's story; we're not trying to tell a Disney story. This is more an adult story. It doesn't mean children shouldn't come, it just means we're approaching it in a different way."
A classic love story
By contrast, Houston Ballet's new production of a ballet classic is focused on the historical roots of the western world's best-known love story. Artistic Director Welch's version is the first new Romeo and Juliet created for Houston Ballet in 28 years, the previous version having been choreographed by Ben Stevenson, former artistic director of the company.
"The production we had had started to look a little dated," says Welch, adding that in the past the company also didn't have the strength of men that it has now. With this new production, he's capitalizing on the sparkling technique and intense athleticism of Houston Ballet's men to develop creative partner work sections and intricate swordfight scenes.
"Romeo and Juliet is something I've really wanted to do for a while. I wanted to retell the story closer to the actual Shakespeare play, and it's a great ballet if people haven't seen ballet before because it's exciting, with the sword-fighting and the drama and the action."
In preparation, Welch immersed himself in the Bard's words, analyzing the importance of each scene of the original play. This translated to his approach to the movement for the ballet: "It's all acting based. It's like a play without words. The acting, first and foremost, drives the choreography."
Principal dancer Karina Gonzalez, one of three dancers cast in the role of Juliet, is ready for the role of a lifetime. "Juliet, for me, is one of the most enjoyable roles that I have done. This is a ballet where you are not worried about the steps, tricks or difficult technique," says Gonzalez. "It's all about living the story and telling this beautiful play with your dancing. I do enjoy story ballets because there is something really special about doing them. First you learn the story, developing your character for weeks, but at the end the most important part is telling the history with your movements."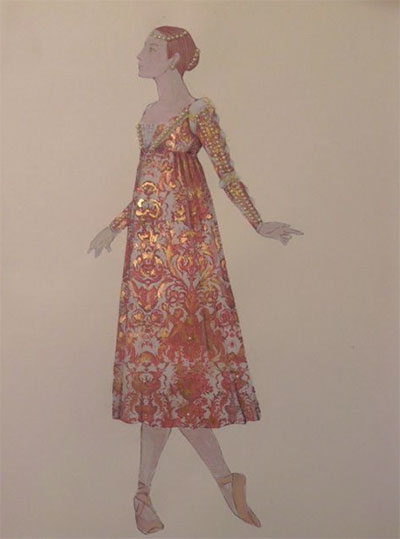 The elaborate sets and costumes, developed by Italian designer Roberta Guidi di Bagno, will help immerse audiences in Renaissance Verona, Italy. "She has a wonderful sense of taste and style and elegance," says Welch. She comes from an old Italian family, so it all made sense to me."
Connor Walsh, who plays Romeo to Gonzalez's Juliet, relishes the opportunity. "To be a part of a world premiere is always a special occasion, especially when it is a full-length story ballet. [Welch] and other members of the creative team are solely responsible for creating the skeleton of the work, but a big part of the job other than performing is to help with the flesh and blood that a story needs to live," said Walsh. "In these early stages, a dancer's personality and choices of physicality will determine how these characters form. As a choreographer is filling in the blanks, there are a lot of fun opportunities to improvise with our peers. The beauty of performing a role that was created on you is that you usually feel so comfortable in the movement because a choreographer builds it based on what looks good on you."
Walsh also pointed to Welch's strength at choreographing "impressive and meaningful" pas de deux, which bodes well for the ballet's famous Act I Balcony Scene between Romeo and Juliet.
Profound characters
Though Ballet Austin's Belle Redux / A Tale of Beauty and The Beast and Houston Ballet's Romeo and Juliet are two very different ballets from an aesthetic standpoint, each artistic director spoke to the hauntingly tragic qualities of the characters. Just as Belle Redux's societal-outcast Beast is shrouded in pain, so is Romeo and Juliet'sLady Capulet at the death of her daughter. Said Welch of Lady Capulet, "There's something about her reaction that's so deep and painful…it's like you've tapped into a profound soul."
And perhaps this is what draws audiences to these tales — the profundity of the characters. As dance fans know, story ballets contain their own magic.
—CLAIRE CHRISTINE SPERA