All Photos: Logan Sebastian Beck, A Description of the Sun, 2015. Photo courtesy the artist.
---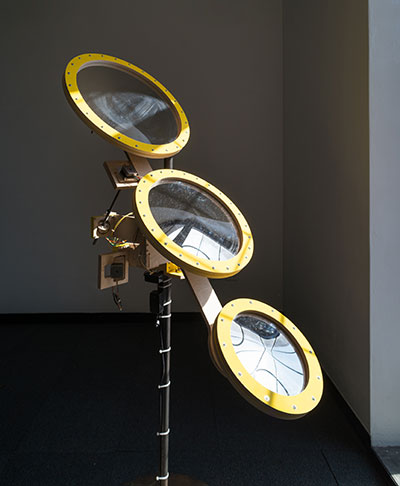 Logan Sebastian Beck welcomes me with open arms into his Rice Military studio in Houston one bright weekday morning in January. Beck has made good use of his studio's open warehouse setting and, on this particular morning, all the garage doors are flung open to let in some of Texas' serene winter weather.   Once we make our way into the heart of the studio, a medley of lumber, saws, designs, and illustrations decorate the space.  It seems like an unrestrained frenzy until Beck harkens my attention to his latest project, A Description of the Sun, showing through April 5th at Rice University's Emergency Room.   Amid the creative bedlam, a monolithic yellow and birch plywood sculpture with rotating mirrors stands out. He motions to the shining January sun and then back to the piece, grinning excitedly, "Today, I finally have the chance to test it out."
A Description of the Sun evolved from an interest in heliostats, a somewhat dated instrument used to track the sun in order to fix a mirror's reflection in a single spot, compensating for the sun's movement across the sky by rotating and tilting. Beck got the inspiration to explore heliostats through a photograph he took while traveling that depicted reflected light. Beck explains, "I liked the photograph [for what it was], but I kept thinking about those light artifacts—if I could come up with some way of making that happen in a controlled way, the possibilities would be boundless." Soon after, Beck began testing his own version of a heliostat with the goal of reconfiguring what visual images the device would produce. By bending the instrument's mirror components, Beck was able to project halos of light. However, the perfecting process was not without stumbles. Beck utilized an open source sun-tracking code from online forums and the overall mechanics took serious experimentation in order to properly align the mirrors' rotation patterns with the actual solar movement throughout the sky. When pressed to consider the intricacies behind his piece, Beck replied, "I feel the use of this technology is important simply because it acknowledges the level of technology we live with every single day. As much as I love painting, I can't help but think that the very act of painting is anachronistic and blind to the incredibly small and powerful computer lighting up in your pocket. While my piece isn't nearly as advanced, it does acknowledge the existence of this technology and the cultural and social situation it helped create."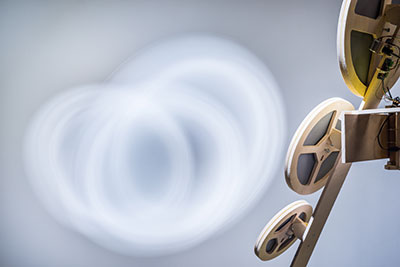 In its final state, the piece successfully marries historical nuance with a contemporary exposition by elevating the relationship between art and technology. Beck's work encourages audience participation while also looking to engage an online audience through the project's online videos and behind-the-scenes footage, available on the artist's website. It's a piece that doesn't shy away from being thought provoking, while maintaining its overall cool factor—and it's no surprise that Beck places priority on both.
Beck boasts a photography background in addition to being the principle creative director behind his furniture fabrication line hands & machine. He's an artist who knows the value of incorporating the creative into the commercial and maintaining popular attention and support. In fact, A Description of the Sun was funded by a Houston Arts Alliance grant. When considering how Houston—a city known for the same balancing act of culture versus profitability—impacts his work, Beck ventures, "Houston has given me opportunities I'm not sure I could have gotten in other cities. I'm able to make a living as a freelance photographer mainly documenting art for many of the galleries and museums while still having time to pursue making furniture and sculpture. There are many huge supporters of artists here and they've given me some amazing opportunities."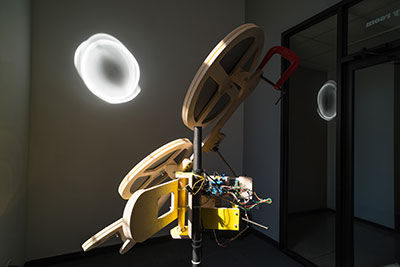 Given Beck's thoughtful creativity, there will be no shortage of opportunities to come. But for now, Beck plans to expand upon A Description of the Sun and try to create more intricate light projects, what the artist refers to as light "landscapes" or "maps." As Beck plunges forward with new artistic endeavors, we can only envision more work that proves itself as innovative and illuminating.