Trouble Puppet Theatre Company in Frankenstein.
Photo by Chris Owen.
---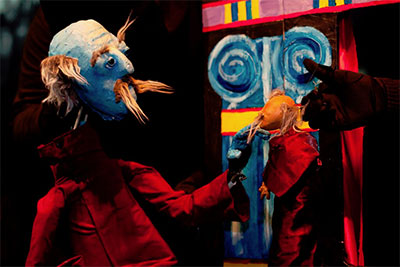 Creating strange beings and bringing them to life only to discover that not only will they not obey you, they seem determined to thwart you: That's how Trouble Puppet Theater Co. artistic director and self-proclaimed janitor Connor Hopkins describes the perils of his métier, which no doubt is viewed by the public either as a delightful reminder of childhood or as a throng of possessed entities that are on a mission to suck your soul into another dimension, never to be heard from again. The Austin-based company will present Frankenstein: The Trouble Puppet Show, through Oct. 29-Nov. 22 at the Salvage Vanguard Theater.
Trouble Puppet is one of four Texas troupes hand-making their own actors this fall. Houston's Bootown and Camella Clements, San Antonio's AtticRep are also presenting their own highly-idiosyncratic puppet shows.
Each has a very distinct style: In Trouble Puppet's edgy, steam-punk original adaptation of the popular monster tale, Victor Frankenstein conspires with his scientist wife to birth a hybrid life form that escapes a Romanian asylum en route to Paris in the middle of the Reign of Terror. Hopkins' creatures are crafted from everyday materials such as newspapers, cardboard, brown paper bags, burlap and papier-mâché, each raw element conveying an unmistakable mien that appends to the work's overall aesthetic thrust.
"There are practical things about working with puppets, like you can kill and dismember them for real," Hopkins quips. "But the dramatic advantages have more to do with the fact that a puppet is more genuine a character than a human actor. A puppet isn't pretending to be a different person. We see them as fragile things in the hands of unseen others. This creates a vulnerability that can really draw people in."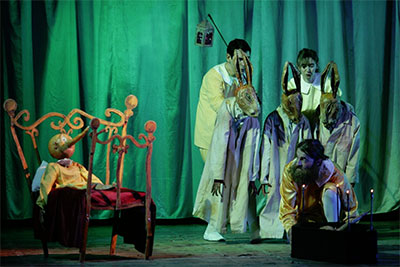 In San Antonio, AtticRep producing artistic director Roberto Prestigiacomo hopes to draw audiences through the more traditional side of the genre with the most famous marionette of all. Teatro del Drago's Pinocchio will be staged at the Tobin Center for the Performing Arts Nov. 11-22.
The presentation, which opens AtticRep's 10th anniversary season, continues a longstanding friendship between the local company and the Famiglia Monticelli, a notable troupe from Ravenna, Italy, that was established in 1820. Fifth generation brothers Mauro and Andrea Monticelli reimagine the novel-inspired character into a musical-cum-movement spectacle with one omission: Spoken dialogue.
"This musical version of Pinocchio, using a mix of puppets and actors is entertaining and reaches the family as a whole," Prestigiacomo explains. "This is a production that is not only for kids, but also for adults."
Houston-based puppet doyenne Camella Clements considers puppetry a loose and rogue medium, perhaps more suitable for a contemporary-minded theater-goer. In December, Clements will present the world premiere of Salubrious and Well-Watered, an original triptych that conceives Houston's muddy genesis from a real estate scandal. Fittingly, the show, which was workshopped at Big Star Bar, explores the city's penchant for ice and icehouses, alongside a survey of Magnolia City's native musical genres.
In the work, Camella tunes into Houston's struggles to define itself and to connect to its past. She sources her minion magic from found objects such as old soda bottles, rusty tools and animal bones—some of which she has harvested from the soil beneath her 100-year-old home that was destroyed during Hurricane Ike. The repurposed materials become a symbol of a forgotten history, her puppets reinterpreting them by incorporating handmade multidisciplinary shells with peculiar techie quirks.
"I am filling the flexible silicone molds I make with water (rather than casting in polyurethane) and freezing the molds with contact microphones suspended inside the molds so the puppet melts on stage," Clements describes. "The sound of the melting is amplified and folded into the live score."
As collaborators, Clements has chosen Jenny Campbell, a Houston-native, New York City-based puppeteer and teacher, and Kevin Taylor, a New York-native, Houston-based puppeteer and lighting guru who she characterizes as an art troublemaker.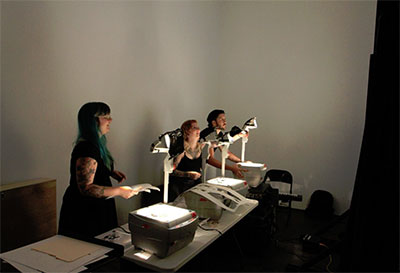 Puppetry mischief also abounds in Houston's BooTown. The renegade performing group, known for their popular monthly Grown Up Story Time and Neo Benshi gatherings, has been honing their shadow puppets chops for several years now. Today, the sophisticated productions have a cult following from adventurous and underground art consumers.
"Most people think puppets are interesting and will come to see a show just because it has puppets in it," Emily Hynds, co-artistic director, says. "The fact that Houston has such a strong visual arts community makes puppets even more popular. Because of their handcrafted nature, puppets bridge the gap between the performance and visual arts."
New BooTown denizen Jade Young will present My Funny Bunny in December.  The story follows the sinister adventures of a young gal as she searches for her older sister after the latter mysteriously vanishes at midnight. The spooky saga meanders in the crossroads of hilarity and horror, and is inspired by the silly symphonies of the 1930s and 1940s.
"The work explores shadow puppet's ability to scare the pants off people," Young posits. "I have always thought that the medium would be a perfect way to bring — or drag — the audience through a spooky narrative. I want to include the audience in the production somehow to show them that horror is fun."
—JOEL LUKS