IMAGE ABOVE: Installation view of two works by Catherine Lee—foreground: Yellow Ishii, 2010, wood, paint, wheels and hardware; background: Shadow Ishii, 2014, glazed raku ceramic, painted wood, screws, photo by and courtesy of the artist.
---
Myriad Influences Inform the Work of Catherine Lee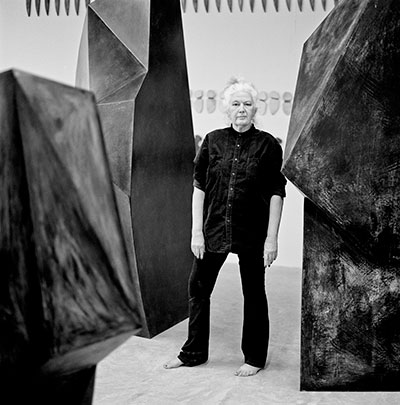 Catherine Lee, whose retrospective opens Sept. 4 at San Antonio's Blue Star Contemporary Art Museum, grew up in West Texas and says the large, open spaces of her childhood greatly influence her work. Practicing since the mid-1970s, Lee has a minimalist/post-minimalist focus, exploring a variety of processes and materials.  Rachel Adams recently visited Lee's spacious Wimberley studio to discuss her work. An edited version of their conversation follows.
A+C TX:  Can you talk about your upcoming project at Blue Star? What will fill the exhibition? Will there be both 2D and 3D works?
CATHERINE LEE:  Yes, there will be sculptures—both wall-works and freestanding 3D works—and paintings from different decades. And monotypes, which are really paintings on paper. And other materials too: copper and fiberglass, resin and glass, encaustics, raku ceramics, wooden works, aluminum, lead. The list is pretty varied. I'm in this world to experience as much of it as I can, to employ the power of all such materials, to let them speak. There's the fun of it, right there.
A+C TX:  As both a painter and a sculptor who creates indoor and outdoor works, what is your process like? Does it differ with the type of work you are making?
CL:  Well, oddly, the process feels exactly the same. But when you ask me that, then I must consider exactly, technically, what it is that I do, and only then do I realize that making a painting and making a bronze sculpture are really very different processes. Maybe it's more like the difference between playing the piano and playing a guitar, or running and swimming, or being asleep and being awake. The mechanisms would be very different if you described them literally, but the process, and the emotion, and the necessity, especially, remain the same throughout. It's still you, still being in the world. So the feeling, the sense of being, and especially the act of making—which is really just a primal human expression—remains constant.
I think it's that which carries the weight of the work forward, against all odds, and it's ultimately the intention of any artist to express who we are—now, today, this minute. It doesn't matter if you're thinking about that when you're working—and hopefully you're not—but it's there.
A+C TX:  In a previous interview, you mentioned that the landscape of your childhood influenced your thoughts and perspective on abstraction. However, I see a strong influence of architecture in your work. Is that something you think about or are there any architects that you are inspired by? 
CL:  Oh yes, lots of influences from lots of quarters. Architecturally, I'm drawn to Luis Barragan, Louis Kahn, Tadao Ando, and Renzo Piano, among many other modernists and post-modernists. More tellingly, though, I'm drawn to stone circles in the Orkney Islands and the Outer Hebrides, to the Moorish influence in Spain like the stunning Alhambra, to Mayan ruins like Palenque or Tulum or Sayil, to Canyon de Chelly, to Angkor Wat, to Notre Dame: To places where our human ancestors made their mark, left us a trace to follow, spoke to us through time with materials. That's far more interesting to me than architectural design, though, yes, that is definitely interesting, too.
But I'm also influenced by other artists in other fields, from literature—especially poetry—to cinema, to physics, though the math is beyond me these days. And music: I mean wow, music! There's so much that comes to bear on my thinking and thereby on my work—whether I want it or not, or whether I invite it in or don't. There it all is.
A+C TX:  Are the geometric forms in your work largely invented, or do you appropriate the shapes?
CL:  Nothing is figurative in my work. That's a given, so—largely invented, I guess. I'm far more interested in the potential of abstraction than in the mimetic nature of figuration. Not that I have anything against that! And I love many thousands of figurative works, but when it comes to what I do and how I think, I'm very much of this time: Abstract in my thinking, intuitive, crisscrossing between knowns, and trying to see what's possible. At all times, advances that have been made in the visual arts are pretty much in tandem with advances in knowledge in general. We can see that pretty clearly in the 20th century, right? What was happening in science and physics and what was happening in visual arts and music. Maybe it's harder to see now, in the 21st century, but it's still pretty obvious to those of us who are so engaged. I'm looking all the time at what I can learn from science and history and philosophy and the written word.
Artists are lenses. Not reflections and not shadows of other occurrences, but I think that we are a way to see through, more clearly, more piercingly, more painfully at times, but with more nuance and with more candor, and way more colors.
A+C TX:  Let's talk about your collaboration with Shay Ishii and the dance company. When and how did this arise? When you made the sculptures Ishii Yellow, Ishii Red and Ishii Three, how involved were the dancers from the beginning of fabrication?
CL:  Shay Ishii originally asked me to consider whether I had a sculpture that she and her company could perform with, but the only large-scale sculptures I had were heavy bronzes, which would have been very problematic to move into and out of theaters, so I said I'd make something for her instead.
Shay was excited about my idea that they'd move and that they could be snapped together to make one shape—or broken up to make several other configurations. She came to the studio from time to time during the making of them, and we worked together with the way the wheels behaved and what the clearance would have to be to protect the dancers' feet and how much drag they needed to be stable, etc., but she was fearless, really, and embraced them from the beginning. It was a wonderful collaboration, because we worked together on the premise, but she didn't tell me what they should look like and I didn't tell her how to dance with them, so it was a exciting and a learning exchange throughout.
The first performance of Topographies of Grace was at Ballet Austin in 2010 in and the second iteration was at Texas State University's Evans Auditorium in 2012. This year it will be presented in the big new Performing Arts Center in San Marcos on Sept. 12 and 13.
—RACHEL ADAMS
---
Catherine Lee: Emergence
Blue Star Contemporary Art Museum
Sept. 4-Nov. 9