Ate9 performs Mouth to Mouth  on Feb. 7 as part of ERJCC's Dance Month.
Photo by Danielle Picks.
---
Diavolo at SPA and TITAS
HOUSTON- The Los Angeles-based daredevils Diavolo perform their latest opus, Fluid Infinities, through Society for the Performing Arts on Jan. 9 and through TITAS on March 27-28. Expect daring moves on amazing structures. "The work always starts with the structure and then I collaborate with architects, sculptors and designers to build it," says artistic director Jacques Heim. "Then I tell my dancers, 'It's playtime. Go discover what the structure tells you, what kind of movement you can you perform on and around it.'"
IMAGE:  Diavolo performs Fluid Infinities through Society for the Performing Arts on Jan. 9, and through TITAS, and on March 27-28.

Photo by Alexander Slanger.
JCC's Dance Month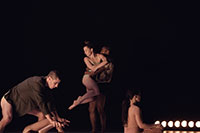 HOUSTON-The Evelyn Rubenstein Jewish Community Center's Dance Month, Jan. 14 – Feb. 8, celebrates hometown dance heroes with Four + Four Concert spread over two evenings, featuring eight dance companies who have performed on the Kaplan Stage in years past, and honors dance leaders Joan Karff and Shelly Power. NobleMotion, Revolve Dance, Urban Souls and Uptown Dance Company perform on Jan. 24, while Chapman Dance, HIStory, Houston Ballet II and METdance perform on Jan. 25. Tapping Away, Jan. 31, features Texas tap legend Acia Gray with Tapestry Dance Company and Pelayo Parlade Jazz Trio, along with local tappers. Dance Month also reaches beyond the Texas border with the Los Angeles-based Ate9 Dance Company, directed by former Batsheva member Danielle Agami, Feb. 7-8. "Danielle uses Gaga technique to bring out the individuality of the dancers," says Maxine Silberstein, JCC's dance director. "Her movement is edgy, and draws from all forms of movement."
IMAGE:  Ate9 in Mouth to Mouth.  Photo by Danielle Picks.
Ron Brown/Evidence at TITAS
DALLAS-Ron Brown is one of the most important choreographers working today, so when his company stops in Texas, pay attention. Dallas' TITAS presents Ron Brown/Evidence on Jan. 17 in Come Ye, set to songs by Nina Simone and Fela Anikulapo Kuti, and On Earth Together, set to music by Stevie Wonder. Knowing Brown's delicious hybrid vocabulary, his singular talent for probing the meaning of community and ritual, and the spectacular virtuosity of his dancers, it should be one fantastic evening of dance. TITAS executive director Charles Santos agrees: "Brown's kinesthetically irresistible, African-based style, combined with Wonder's infectious music, draws the audience into Evidence's passionate and powerful performances."
IMAGE:  TITAS presents Ron Brown/EVIDENCE on Jan. 17>.  Photo by Julieta Cervantes.
SOLA at Texas Woman's University
DENTON-Sola, an evening of solo dances choreographed for and by women, curated by University of South Florida assistant professor and former Austin artist Andee Scott, includes work by Amy Chavasse (MI), Tzveta Kassabova (VT), Pam Pietro (NY), Mary Williford-Shade (TX), and Bliss Kohlmyer and  Scott, Jan. 15 – 16 at Texas Woman's University. "This project is an opportunity to bring together high caliber professional artists to not only produce an evening of stunning dance, but also to create a new model for touring dance that creatively responds to current issues of funding scarcity within the arts," says Scott, a Texas pioneer in solo performing.
IMAGE:  Andee Scott performs as part of SOLA on Jan. 15 – 16, 2015, at Texas Woman's University. Photo by Dutch Rall.
Hubbard Street in Austin
AUSTIN-Texas native and Hubbard Street Dance Chicago artistic director Glen Edgerton may have left Texas early on in his career, but the company does seem to drop by when it can. Texas Performing Arts presents Hubbard Street on Jan. 29 for an all Jiří Kylián program, which should be exciting because Hubbard Street has Kylián in their DNA.
IMAGE:  Texas Performing Arts presents Hubbard Street Dance Chicago in Jirí Kylián's Petit Mort on Jan. 29, 2015. Photo by Todd Rosenberg.
Dark Circles Contemporary Dance
FORT WORTH-Joshua L. Peugh, founder and artistic director of Dark Circles Contemporary Dance, continues to make big waves in Dallas and elsewhere. His winter show, Jan. 29-31, promises a new commission by Ballet Austin New American Talent finalist James Gregg. Dark Circles also performs at Dancers Give Back Dallas in January, and at TCU's Aids Benefit Concert in February. Peugh's new work for the Los Angeles-based BodyTraffic premieres at the Joyce in New York City on Jan. 6. Closer to home, he will create a new work for his alma mater, Southern Methodist University, this Spring. "I encourage my dancers to trust understatement," says Peugh. "When work is more sensitive, the audience is more likely to insert themselves in the fantasies we're creating; they are more likely to get lost in the work."
IMAGE:  Dark Circles Contemporary Dance artistic director Joshua L. Peugh and Alex Karigan Farrior in Critics of the Morning Song, Jan. 29-31, 2015.  Photo by Stephanie Crousillat.
Jérôme Bel at the CAMH
HOUSTON-The CAMH presents Jérôme Bel's Cedric Andrieux (2009) on Jan. 30 & 31, as part of  the exhibit Double Life through March 13.In Bel's Cedric Andrieux, the longtime dancer with Merce Cunningham and Lyon Opera Ballet reveals the pain, beauty and heartbreak of a life on stage. The fact that his own body and life form the "object" of the work connects to the idea of duality. Bel's 2004 poignant portrait of the Paris Opera ballerina Veronique Doisneau will also be on view.
IMAGE:  Cedric Andrieux performs Jérôme Bel's Cedric Andrieux on Jan 30 and 31 at the CAMH as part of Double Life. Photo by Marco Caselli Nirmal.
Houston Ballet presents Alberta Ballet in Love Lies Bleeding
HOUSTON-It was only a matter of time before someone created an Elton John ballet, and now Alberta Ballet's production of Jean Grand-Maître's Love Lies Bleeding, comes to Houston on Jan. 30 & 31 thanks to Houston Ballet's Cullen Series. "Love Lies Bleeding is a work that's thrilling to watch, and it beautifully captures the magic of Sir Elton John's music," said Santon Welch in Houston Ballet News. Expect some flash, sequins and overall wildness, including a roller-skating Rocket Man. The performance is part of a unique exchange between Houston Ballet and Alberta Ballet. Houston Ballet heads to Alberta to perform Welch's La Bayadere on April 30-May 9.
IMAGE:  Artists of Alberta Ballet in Jean Grand-Maître's  Love Lies Bleeding.  Photo by  J.J. Thompson.
The Merry Widow  at Texas Ballet Theater
FORT WORTH- Champagne goes so nicely with ballet, which is exactly what you will find combined in the right proportions in Ronald Hynd's frothy ballet, The Merry Widow, Feb. 6-8 at Texas Ballet Theater. This charming confection has everything you need to chase the February blues away: love, money, fancy chandeliers and loads of the bubbly.
IMAGE:  Texas Ballet Theater principal Carolyn Judson in The Merry Widow, Feb. 6-8.  Photo by Steven Visneau. 
Romeo and Juliet

at Ballet San Antonio
SAN ANTONIO-Ballet San Antonio takes on Ben Stevenson's moving version of Romeo and Juliet,  Feb. 13 – 15 at Tobin Center for the Performing Arts, and just in time for Valentine's Day weekend. I have seen Stevenson's ballet many times, and love his sweeping pas de deux. It's great to see this upstart company take on big challenges.
IMAGE:   Ballet San Antonio dancers Sally Turkel and Yosvani Cortellan in Romeo and Juliet. Photo by Alexander Devora.
Belle Redux /A Tale of Beauty & The Beast

at Ballet Austin
AUSTIN- Ballet Austin presents Stephen Mills' Belle Redux / A Tale of Beauty & The Beast, Feb. 13-15, a 3M Innovation Commission with an original score by Austin legend Graham Reynolds. Inspired by the 1746 original fairy tale of Beauty and the Beast and Jean Cocteau's 1946 ground-breaking film, Belle Redux is bound to be an exciting re-imagining.
IMAGE:  Preliminary renderings for the set of Belle Redux / A Tale of Beauty and the Beast, designed by Michael Raiford.
Complexions Contemporary Ballet at SPA
HOUSTON-SPA presents Complexions Contemporary Ballet, directed by Dwight Rhoden and Desmond Richardson, on Feb. 20, with Innervisions, an upbeat, modern dance tribute to the music of Stevie Wonder. If you are new to contemporary dance, this may be just the ticket.
IMAGE:  SPA presents Complexions Dance Company on Feb. 20. Photo by Melissa Bartucci.
Houston Ballet's Romeo and Juliet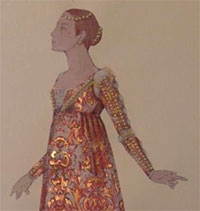 HOUSTON-I imagine Stanton Welch's new Romeo and Juliet has been brewing since the prolific choreographer first heard Prokofiev's delicious score. Houston Ballet reveals their first new production of Romeo and Juliet in 18 years on Feb. 26 – March 7, and it's bound to have all the characteristics of Welch's other story ballets, dancing roles for all the characters, serious action for the men, and a pace for today's ballet audiences. He has gone back to the text for guidance, so expect a more true to the Bard tale.
IMAGE:   Costume design and sketch by Roberta Guidi di Bagno for Juliet's ballgown for Houston Ballet's production of Stanton Welch's Romeo and Juliet, Feb. 26 – March 7.
— NANCY WOZNY