Gopal Divan in the 4th Wall Theatre production of Disgraced, Ayad Akhtar, directed by Kim Tobin-Lehl, through Sept. 30 at Studio 101 at Spring Street Studios.
Photos by Gabriella Nissen.
---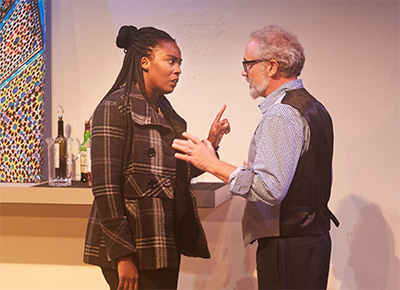 Great drama is seldom blatantly didactic, but on occasion theater does gift us with certain life-tips to aid us along our journey. Lessons like: wait a few minutes before offing yourself over the death of your star-cross lover, because he/she might not actually be dead, and pay attention to salesmen. But in the latter 20th and early 21st century, perhaps the greatest entertaining advice drama has delivered is this simple rule: married couples should never ever throw a dinner/cocktail party and invite just two people, who are also married.
First of all, a party consisting of only four people, each married to one of the other participants, is awkward at best, but more importantly, on a stage at least, it can only end with hair-pulling, divorce, unemployment, humiliation and possible assault charges.
Houston's 4th Wall Theatre–helmed by co-artistic directors Philip Lehl and Kim Tobin-Lehl–has become quite familiar with the hell is two married couples trapped in a room with alcohol play, having presented both God of Carnage and Who's Afraid of Virginia Woolf in the past five years. So before the duo demo that 4th wall with the announced closing of the company in December, it's fitting for their penultimate production that they once again prove their mastery of this fertile sub-genre with the sharp, taut production of Ayad Akhtar's Pulitzer Prize winning Disgraced (Sept. 7-30).
Akhtar mixes up the form somewhat, as Disgraced saves the dinner party of horror for the last third of the play, and certainly the faces of the diners become both a refreshingly diverse change and one of the main explorations of the drama.
We meet Amir (Gopal Divan) and his wife Emily (Christy Watkins), an affluent New York couple, months before their metaphorical and spiritual death-by-culinary-get-together. At first (perhaps deceptive) glance, we see a secure, loving relationship and professional successes, though they do have a fundamental disagreement about religion.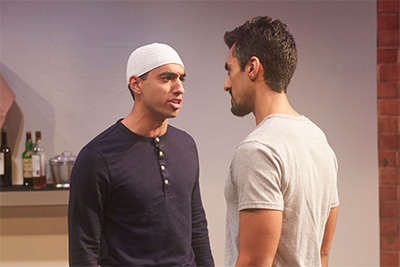 A mergers and acquisitions attorney, the U.S-born son of Pakistani immigrants, Amir rejected Islam years ago, and he seems to have found a kind of peace in atheism, or the at very least agnosticism. Meanwhile, Emily, a painter, has the fervor of the newly converted, though she proselytizes for an Islamic artistic aestheticism, not the daily tenets of the religion. We also meet Amir's nephew Abe (Ash Slaughter), who though young and making small steps on the way to radicalization, is wise enough to avoid the looming dinner party of doom.
Early in the play Abe and Emily attempt to persuade Amir to make a public statement of support for a prominent imam they believe unjustly accused of funneling money to Hamas. Emily convinces Amir. But this one act he commits for his wife's admiration and her vision of him as a champion for justice soon leads to the disintegration of the life and identity he has so carefully constructed.
All these politics-is-personal conflicts embedded in this marriage should be more than enough fodder for an 85 minutes play, but we haven't yet gotten to the second couple: Issac (Philip Lehl) and his wife Jory (Michelle Elaine). Issac is a museum curator interested in exhibiting Emily's art, thanks to her own talent, but also Amir's cordial relationship with Jory, a fellow associate at the law firm. Issac is Jewish, Jory African-American. Issac has the power to make Emily's career. Jory's law star is in ascendance, while Amir has become a crashing meteorite.
Let the dinner party begin.
Though I'm usually a disciple of the Polonius "This is too long" school of theater criticism, my one caveat about Disgraced lies with the density of questions posed and issues explored in such a short span of time. From immigration, assimilation, cultural appropriation, multi-ethnic marital relationships and the security state, there's almost too much for any one dinner conversation or play to contain. Issac and Jory even manage to give Mormonism and South Park a shout out.
Yet director Tobin-Lehl and the cast prevent the gravity of the story from collapsing into itself into a black hole of topical issues, misery and inertia. Tobin-Lehl manages to give each actor room to roam on the intimate stage and within their dichotomy-ridden characters, even as they sit at the table passing the fennel salad.
Watkins portrays Emily with a compassionate naiveté that makes her sometimes utter obliviousness to the emotional and professional havoc she's wreaking upon Amir almost forgivable. Likewise, the always excellent Lehl gives Issac an genuine enthusiasm for art and ideas that make his later passive-aggressive jibes at Amir a bit less slimy. Elaine plays Jory with such eloquent bite that when she finally arrives in the play, we wonder why she's even putting up with these people.
Though four characters contribute to the semi-final mayhem (an after-dinner epilogue closes the play), this is Amir's story and Divan imbues him with great humanity throughout the performance, from the beginning, as a man at home and mostly content with the identity he has created for himself, to those late play moments when, after the world begins to question and then destroy that identity, he admits in an alcohol fueled rage to deplorable feelings and commits one despicable act.
Disgraced will likely leave audiences shaken but with no real answers to the fraught situations and dilemmas the play's world, reflecting the real world, has created. But it does give us two last take home lessons: invite several single people to your next married people dinner party and see more theater is to be forewarned against your own dinner of doom.
—TARRA GAINES