Update: Houston Ballet's Forged in Houston has been postponed. Check with Houston Ballet for further updates.
(update posted 3/14/20)
---
In the midst of its celebratory 50th anniversary season comprised entirely of works created for the company by world-renowned choreographers, Houston Ballet presents Forged in Houston March 12-21.
Like each of the season's mixed-repertory programs, this triple bill features two works previously crafted on the company—Jorma Elo's ONE|end|ONE and Hush by Christopher Bruce—and one newly commissioned work. That new commission, Pretty Things, is not only forged on Houston Ballet dancers but forged by a choreographer made and shaped in the crucible of Houston Ballet: Trey McIntyre.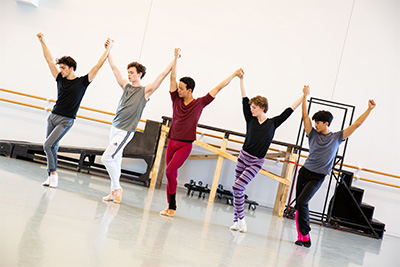 Beginning his choreographic life at Houston Ballet, McIntyre has now created more than 100 new works in his 27-year career as a freelance choreographer and founder of his own dance company, Trey McIntyre Project (TMP).
"I grew up here and it was such a formative experience for me," he recalls. A new arrival at Houston Ballet Academy in 1987, McIntyre's talent for dance-making was recognized when he was appointed in 1989 to choreographic apprentice, a role created especially for him.
By the time he was promoted as the company's first choreographic associate in 1995, McIntyre was already a choreographer on the rise, attracting the attention of prominent dance companies like New York City Ballet. Houston has continued to experience a selection of McIntyre's work over the years. However, The Shadow, his last major work for Houston Ballet, was created nearly 20 years ago.
Since then, much has changed. McIntyre returns as a well-established choreographer to a company that has continued to expand in scope, gaining considerable recognition on tour throughout the world and kicking off its shoes at home in a state-of-the-art Center for Dance with expansive studio and rehearsal space.
"I take it as a symbol of my own personal growth," he explains. "Coming back, feeling like an adult and experiencing this place from that perspective after so much time has passed has been really satisfying."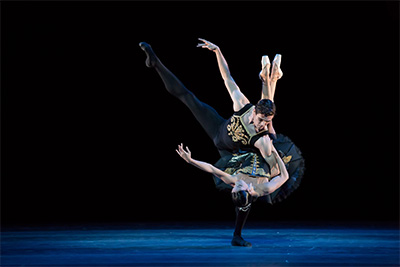 For almost a decade, McIntyre was entrenched in the all-consuming work of leading his Boise-based dance company before making the decision to shutter the performance group while still at a successful height in 2014. Disbanding his company to explore other interests in film-making and photography has meant the prolific choreographer has been stepping out a little more these last few years making a film, photography books, and new works for Queensland Ballet, The Washington Ballet, BalletX, San Francisco Ballet and Malpaso Dance Company, to name a few among many.
To Houston Ballet's repertoire, McIntyre adds Pretty Things, featuring an all-male cast of dancers. He describes the piece as operatic in scale with set design by Thomas Mika and featuring the music of the late David Bowie.
McIntyre explains that he made a choice to dive deeply into Bowie's musical work, for it is the performer's artistry and musical reinvention that most attracts McIntyre. Pretty Things, however, is far from a tribute piece.
"It was important for me to be the launch pad for the music but to not do a representation of Bowie," McIntyre explains. "Because he was so theatrical it would be quite easy to just riff off the themes that he introduced and I thought impersonation would be a disservice to this music."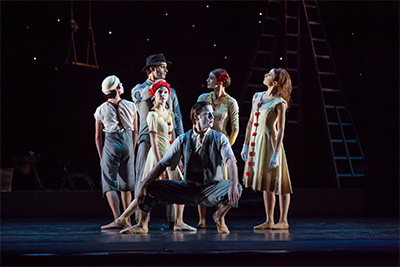 Instead, McIntyre is unapologetically and nonjudgmentally embracing and finding purpose in the grandness and inherent narcissism of performers who choose to live and even crave life in the public eye.
The themes of Pretty Things also in some ways relate to McIntyre's own development as an artist.
"Now it's not something that I ever question, but before, one of the major themes of my process was questioning whether or not I should be there in the first place," McIntyre reflects on his youthful battle with self-doubt.
Since he last worked with Houston Ballet, McIntyre has grown in confidence, which he describes as the personal belief that the decisions you are making are the right ones. He comes to this latest work with the self-assurance of a choreographer who not only leads the dancers before him with confidence, but one who has led an entire organization.
Pretty Things also finds the choreographer pushing and pulling from a base of classical vocabulary rather than doing a complete departure as he plays on the grandeur and cockiness of male classical variation.
"There's a lot of great detail and real bravura in the dancing," says McIntyre, who ultimately worked with all of Houston Ballet's male company members across casts for Pretty Things. He found them quite capable of digesting his ideas quickly and open-heartedly.
"It could be easy to be intimidated by a room of male dancers but they're nothing but open and supple and excited to be working." McIntyre documented his process on his new YouTube channel. 
The opportunities to display Houston Ballet's virtuosity and versatility don't end with Forged In Houston's world premiere.
Created for Houston Ballet by Finnish choreographer Jorma Elo in 2011 and set to Mozart's violin concerto, ONE/end/ONE features four couples dressed in classical tunics and tutus. The contrasting movement vocabulary, in all its spontaneous eccentricity and danced at an unrelenting pace, is a favorite of the dancers to perform.
Christopher Bruce is beloved for the body of work he brought to Houston Ballet's repertoire. Named resident and later associate choreographer during the company's coming-of-age under the direction of Ben Stevenson, the poignant and uplifting Hush is among his best works. Set to an album of the same name by Bobby McFerrin and Yo-Yo Ma, a new cast of six gets to explore moments both humorous and tender in this commedia dell'arte portrait of familial relationships.
—NICHELLE SUZANNE