Jasminne Mendez
Photo courtesy of the artist.
---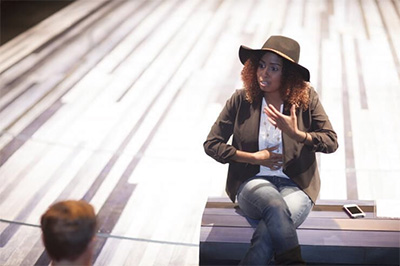 For Houston-based writer Jasminne Mendez, writing allows her to fight against the erasure of Afro-Latina/o identities and experiences.   As the child of immigrants from the Dominican Republic, Mendez troubles rigid notions of Latina/o identity while giving voices to the intersections of Blackness and Latinidad. "I write to increase visibility of Afro-Latinx experiences because so many people think that Blackness and Latinidad are mutually exclusive, but they are not," says Mendez. "While Afro-Latina/o stories typically focus on New York, It's important to highlight these identities in Texas where there is so little representation." While Jasminne Mendez's writing career continues to blossom, ignore this phenom at your own peril.
After completing high school in San Antonio, Mendez moved to Houston to attend the University of Houston, where she obtained a BA in English and an M.E. in Curriculum and Instruction. Despite being an English major as an undergrad, she stayed connected to her theatre roots, performing in A Raisin in the Sun, For Colored Girls Who Have Considered Suicide When the Rainbow is Enuf, and Yerma on the UH mainstage alongside Houston-favorites Bernardo Cubría and Philip Hays. When she wasn't on stage, she grew into her role as a creative writer, performing poetry in local venues around the Houston area such as Taft Street Coffee House and Avant Garden. In the years since, Mendez has transformed from an emerging talent to a bonafide leader in the Houston arts scene. She is a Canto Mundo Fellow, a VONA Alumni, a Macondo Fellow, and an MFA in Creative writing candidate at the Ranier Writing Workshop at Pacific Lutheran University.
Méndez's first book, Island of Dreams (2013, Floricanto Press), uses poetry and memoir to explore themes such as family relationships, multicultural identity in the United States, food, hair, self-discovery, assimilation, and the supposed American Dream. Positioning her writing from the voice of her teenage self, Méndez's poetry-infused memoir speaks to the difficulty of growing up Afro-Latina in the United States and, ultimately, the protagonist—and the writer—comes to understand the richness and abundance of her cultural identity and history. In the end, she finds a place to call home. Aside from being included in high school and university curriculums across the country, Island of Dreams won the award for Best Young Adult Latino Focused Book at the prestigious Latino Book Awards in 2015.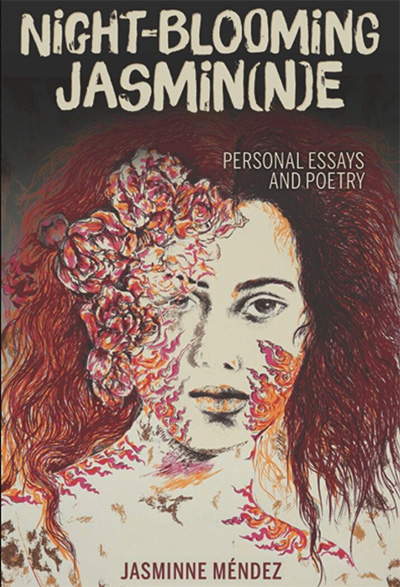 Mendez's second book, Night-Blooming Jasmin(n)e: Personal Essays & Poems, was released in April 2018 by Arte Público Press, the nation's oldest and largest publisher of Latina/o literature based at the University of Houston. The multi-genre memoir focuses on the intersections of race, ethnicity, gender, and chronic illness. After graduating from UH, Mendez's life quickly changed. At 22, she was diagnosed with scleroderma. Six years later, she was diagnosed with lupus. All of a sudden, Mendez had to balance doctor visits and medical procedures with open-mic nights and poetry workshops. She had to learn to decipher EKG results in addition to continuing to master her writing craft. Even so, in Night Blooming Jasmin(n)e, Mendez affirms that these setbacks don't dictate who she is nor who she can become: "The language of a life lived with chronic illness is not something I want to adapt to. I cannot let this hostile vocabulary hijack my story."
After working full-time as a teacher—complete with health insurance and benefits—Mendez left in search of more avenues of creative fulfillment. While everything was seemingly perfect, she wanted to be free to write, perform, and pursue her art. All the while, chronic illness continued to throw a wrench into any and all plans. According to Mendez, "My goal for this book is to highlight how women of color experience chronic illness and infertility. I want to shed light on things that people are usually afraid to talk about so other women can feel less alone in their struggles."
While Mendez's two books have put the writer on the national map, she continues to find much success as a poet, recently winning the prestigious 2018 COG Poetry Prize for her poems "Run, Irelia, Run," "Bounty," and "Return to Water." Major Jackson, the judge, describes Mendez as a writer who "possesses a sense of the poem as sacrament and language hammered into song. One feels a passionate search for lineage and the sensuous turning of thought and imagery that leads to sanctuaries of silence and reverence." Moreover, Mendez is a staunch advocate for more Afro-Latina/o representation in the arts. In April 2018, she launched the Plátano Poetry Café, a blog to amplify the voices of Afro-Latina/o poets.
In addition to her writing career, Mendez remains a community leader in the literary arts scene. In 2016, Mendez co-founded Tintero Projects with her activist/poet/jack-of-all-trades husband Lupe Mendez. Riffing off the Spanish word for inkwell, Tintero Projects aims to provide opportunities for early career Latinx writers in Houston to find a home and grow. The project fills the gap in the spaces available for Latinx writers in the Houston-Galveston region to write, workshop, perform, and receive feedback in an accessible and supportive environment. While Tintero has done writing workshops and open mic nights, perhaps there most notable accomplishments have been collaborations with large organizations in Houston. Since August 2017, Tintero has teamed up with Stages Repertory Theatre to produce a monthly open mic night, feature poet, and Q&A. In November, Tintero organized the highly successful "Around the Block: A Night of Literary Voices," a traveling creative writing performance within the "HOME: So Different, So Appealing" exhibit at the Museum of Fine Arts Houston.
For Jasminne Mendez, building a career and a literary arts community in the Texas Gulf Coast remain crucial aspects to how she defines success. "The literary scene is one of the reasons I chose to stay in Houston after college. I told myself I'd rather be a big fish in a little pond," affirms Mendez, adding "I can have more impact in Houston, amplifying the Afro-Latina/o experience in a place that isn't as well-represented as say Washington Heights. In Houston, I can really be something more. I can be a change-maker for my community."
—TREVOR BUFFONE